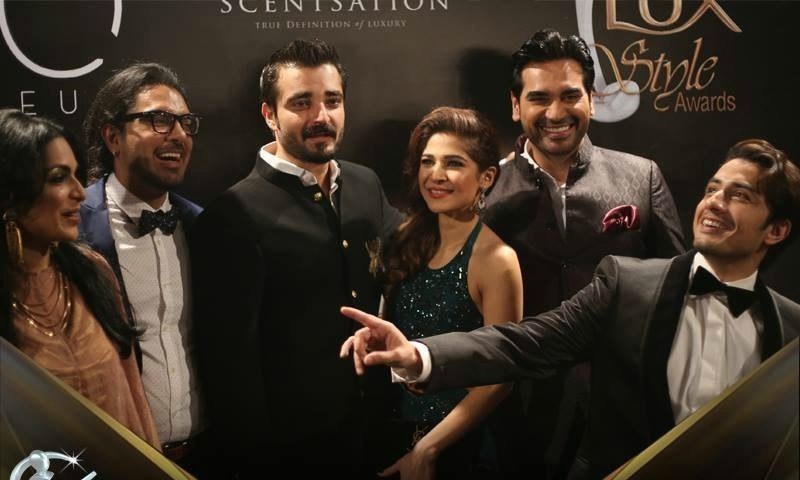 The stage is set, red carpet is rolled out, and the glitzy night will begin any minute now!

One of the most awaited nights - for people who belong to film, music, drama or fashion in one form or another - is here!
It's been 15 years since Lux Style Awards started the initiative to appreciate and recognize talent from four major industries - film, fashion, music and television. The LSA has seen its set of highs and lows, as we saw the grand event reduced to a tea party in 2014 due to security threats. But since then the LSA has made a comeback worthy of a standing ovation.
Last year, the Humsafar pair - Fawad Khan and Mahira Khan - mesmerized the audience as they hosted the entire event and this year's event promises a plethora of exciting performances, tributes, and of course award distribution.
Read: And the nominees for Lux Style Awards 2016 are...
The event will reach your television screens soon enough, but that doesn't mean you miss out on all the excitement tonight. Go grab a cup of chai, some snacks and enjoy the live updates.
---
8:30 pm
---
Celebrities have started to grace the red carpet and veteran actor, Javed Sheikh, and his daughter Momal Sheikh, are one of the few to arrive. Momal is all set for her Bollywood debut, Happy Bhaag Jayegi, which will release on 19th August.
Read: Trailer review: You'll love Happy Bhaag Jayegi's quirky cross-border love story
Faizan Haque, the man who has nailed the art of delivering the 'voice of god', has arrived.
---
8:45 pm
---
Hasnain Lehri, is competing for the Best Model category, reaches the red carpet.
Fareshteh Aslam, the woman behind LSA's media wing looks glamorous in her understated style.
Shiraz Uppal, Hassan Rizvi, Hina Ramzi, Wajahat Rauf, and Shazia Wajahat look like one happy group, although Rauf's directorial debut, Karachi Se Lahore, didn't make it to the final cut.
Read: LSA Nominee Reveal: Of glitz, glamour and grandiose
---
9:00 pm
---
Ali Zafar, the host of the show, is all set for the action in a Giorgio Armani tuxedo with his gorgeous better half, Ayesha Fazli, by his side.
Selfies are pouring in from all corners. Yasir Jaswal's film, Jalaibee, is nominated in the Best Supporting Actor category.
Ali Xeeshan channels the lounge wear trend which, to us, looks more of a fad instead of a long term trend.
And here comes the man behind Jawani Phir Nahi Aani's witty dialogues: Vasay Chaudhry! He'll be hosting a segment alongside Fawad Khan and Ahmed Ali Butt, and will be praying hard to get the Best Supporting Actor award for JPNA.
It's too bad LSA doesn't have the Best Screenplay or writer award category for films.
---
9:15 pm
---
Ayesha Omer looks gorgeous in Tena Durrani; those sleeves and the asymmetrical hemline of her gown is a total winner. Her hair game could've improved though with an up do to off set her collarbone.
While Yasir Hussain sticks to the basics in an elegant black tie, Mohsin Abbas Haider decides to add some colour in his life with a Nomi Ansari ensemble.
Watch out for Hussain's skit and Haider's dance performance with Mahira Khan. Meanwhile, Ali Noor doesn't believe in dressing up formally now, does he?
Noori is nominated in the Album of The Year category for their latest album Begum Gul Bakaoli Sarfarosh.
---
9:30 pm
---
As we wait for people to up the game at the Red Carpet, Mathira arrives draped in a traditional white sari and big jhumkas.
Her classic look seems to have impressed many.
While Parishe James decides to keep it quirky in Nomi Ansari.
Fatima Khan Butt keeps it classic in an off-shoulder customized black gown by Erum Khan. We love the 'drape effect'.
Maya Ali, who'll give tough competition to Mahira Khan in the Best Actress (TV) category for her role in Diyar-e-Dil, has arrived and she looks...umm understated yet lovely.
Read: Why is Maya Ali looking forward to LSA this year? HIP finds out!
Aisha Khan AKA Jeena looks ethereal in an embellished Fahad Hussayn gown and that perfect hair.
---
9:45 pm
---
We really can't say if we're impressed by the red carpet fashion or it has inspired us to follow a certain dress, it is certainly a notch higher than the Hum Awards and Ary Film Awards which failed miserably on this front (the latter even more so).
On that note, we present to you the timeless beauty Atiqa Odho.
The host of the show, Ali Zafar, has also arrived.
---
10:00 pm
---
The show hasn't started yet, and we wonder how late in night will it continue. But wait a second, we just spotted our very own Diyar-e-Dil pair, Osman Khalid Butt and Maya Ali.
Diyar-e-Dil clean swept the Hum Awards, will it be able to do the same here? Probably not, since it has tough competition form Khalilur Rehman Qamar's Sadqay Tumharay. Let's see, who would you choose as the Best On screen couple between Mahira Khan-Adnan Malik and Maya Ali-Osman Khalid Butt? We'd want it to be a draw between the two most popular on screen couples of their time.
On a side note, the couture king Hassan Sheheryar Yasin is here.
---
10:15 pm
---
Mahira Khan gives some final touches to her look. Shahira Lasheen is an Egypt-based designer and we're digging this multi-layered gown worn by Mahira.
Fouzia Aman and Nabila - the ever gorgeous - keep it classic in all white ensembles, but Aman - who's wearing Body Focus dress - adds a bit of drama with her Thari style bangles.
We love how Urwa Hocane has accessorized her strapless gown and gone with a quirky braid instead of the boring curls-on-a-side hairdo we see too often on red carpets.
Mawra Hocane, on the other hand, decides to let her HSY gown do the talking as she keep the accessories to the minimum and sports a no-fuss ponytail.
---
10:30 pm
---
Finally, it looks like the event is about to begin.
Meanwhile on the red carpet, Hamza Ali Abbasi dons his usual attire - a black shalwar kameez and a waist coat. And not to anyone's surprise, he very proudly tells HIP that it's made by a local darzi (tailor).
---
10:45 pm
---
HIP reports live from backstage where Hamza Ali Abbasi, Javed Sheikh and Vasay Chaudhry are getting ready for some on-stage action.
Mahira Khan arrives at the red carpet and is looking gorgeous in an elaborate gown by an Egyptian gown.
Here's the full view.
And this how grand it looks from the back.
Team JPNA, which will surely clean sweep the film category, arrives with their wives. Those who have wives that is.
---
11:00 pm
---
The national anthem begins. And It ends. A guy with crazy hair and beard arrives at the red carpet but it turns out it was a little stunt by Ali Zafar.
Zafar opens the show with a grand performance on a song encapsulating 15 year journey of the Lux Style Awards.
And the poor guy spent his wedding anniversary preparing for this act.
---
11:15 pm
---
Yasir Hussain arrives on stage and we're sure he's going to leave the audience in stitches and he did.
Here's the proof.
TV Awards
The first set of awards are being given out to television category by Vasay Chaudhry and Bushra Ansari.
---
11:30 pm
---
Zeb Bangash wins the Best OST award for Diyar-e-Dil and predictably so. The other nominees in this category were OST's of Alvida, Dusri Biwi, Mohabbat Aag Si and Mol.
"This is my first award," says Bangash and sings the soulful OST on stage winning many hearts all over again.
And as expected, the very next award goes to Sadqay Tumharay as Khalilur Rehman Qamar wins the award for Best Writer beating Adeel Razzaq for Muqaddas, Farhat Ishtiaq for Diyar e Dil, Imran Nazir for Muhabbat Aag Si, and Sana Fahad for Rang Laga. Qamar has also written the script for Humayun Saeed's upcoming film Mein Punjab Nahi Jaongi.
---
11:45 pm
---
Fahad Mustafa and Sarwat Gillani arrive on stage to present the Best Actress award. And as expected, the award goes to Mahira Khan for her stunning portrayal of Shano in Sadqay Tumhare. Maya Ali was a close contender for her role (as Faara) in the yet another popular serial, Diyar-e-Dil.
Next up, is the best Actor and that goes to Faysal Qureshi for Rang Laaga and he dedicates it to Kashmir. Hamza Ali Abbasi, who's quite vocal regarding the Kashmir issue, took no time to appreciate Qureshi.
Read: Facebook deactivates Hamza Ali Abbasi's account for speaking about Kashmir
Diyar-e-Dil, which seemed to be a popular choice amongst the audience ta the Hum Awards, has shockingly failed to receive the two main awards in the television category.
Read: Diyar-e-Dil rules 4th Hum Awards
---
12:00 am
---
The Best Director award also goes to ARY Digital's Rang Laaga and Anjum Shehzad receives it happily.
Finally, we have an award for Diyar-e-Dil! HUM's Founder and President, Sultana Siddiqui, receives the Best TV Play award from HSY and Ayesha Khan who're presenting the current set of awards.
Sohai Ali Abro just mesmerized everyone with her performance on Meesha Shafi's song Eva from almost Oscar-nominated film, Moor.
She asked Shafi to join her and we couldn't help but notice the gorgeous lehnga Abro's wearing for the performance.
It was a short stint though so we're hoping there's more to come.
---
12:15 am
---
Music Awards
Ahmed Ali Butt arrives on stage to host the music awards and the 'Jeena jokes' are on full blast as Butt compares the music industry to Jeena because "inke [music industry ke] bhi maa baap nahi hain."
After calling the music industry an orphan, Butt went ahead and invited Hamza Ali Abbasi on stage for the 'Patari Mein Haath' segment.
Humayun Saeed and Vasay Chaudhry are up next, and now Saeed is getting romantic with Chaudhry on stage, on Butt's insistence.
Ahem. Moving on, it's time for Maya Ali and Osman Khalid Butt to grace the stage and suck helium out of balloons.
Yes, it's not a joke.
Jeena jokes continue, and actually increase and as Aisha Khan herself arrives on stage to meet her new parents who just popped out of the patari (box) placed on stage.
---
12:30 am
---
It's time for Sajal Ali, Fatima Khan, Sadaf Kanwal, and Mawra Hocane to grace the stage in search of a perfect man. Butt, the host, has asked them to reach out to a red curtain and imagine as if they're going to find the most handsome man behind it. And guess who is behind the curtains?
Ahmed Ali Butt.
---
12:45 am
---
Awards are being handed out speedily, as Mawra Hocane and Butt take to the podium.
Here is the list of winners in the music category:
Best Emerging Talent: Slowspin
Best Music Director: Salman Noorani for Mariam by Mooro
Read: Mooroo's new video 'Mariam' uses the Stop-motion animation technique
Album of the Year: Noori for Begum Gul Bakaoli Sarfarosh
Song of The Year: Ali Zafar for Rockstar
The self proclaimed rockstar took to Twitter to thank his fans for all the love.
In between the award giving spree, Quratulain Baloch sang Humsafar and re-created the magic. Well, we're thinking if that was an hint for what's coming up next?
---
1:00 am
---
Surprise! Surprise! We have a Best Dressed category too and the award goes to Mahira Khan and Hamza Ali Abbasi. The latter waits as the former is busy backstage and has to run out barefoot! Yes, Khan ran out barefoot to collect her second award for the evening.
She does, indeed, look gorgeous in that elaborate gown.
Abbasi shares that he has six shalwar kameezes made especially for award functions and he very humbly dedicated the award to his tailor, Haaji Mehmood sahab.
And now we have Urwa Hocane and Farhan Saeed performing on a medley starting with Kya Hoga from Manto, Adil Omar's Nighat and Paras, and finally Zeb Bangash's Yaar-e-Mann.
Saeed wears desi attire for Diyar-e-Dil's OST and is channeling his inner Wali.
---
1:15 am
---
Fashion Awards
Mohsin Abbas Haider and Mawra Hocane are here to host the segment, but almost all celebrities have left the venue except for Fashion peeps.
Award for Achievement in Fashion Design (Lawn) goes to Faraz Manan, who has been working with international celebrities like Kareena Kapoor and Karisma kapoor.
---
1: 30 am
---
The Achievement in Fashion Design (Pret) goes to Generation and rightly so as the retail brand has consistently produced prêt wear for high street for over two decades now. Generation's recent collections have received a warm welcome from fashion critics and masses alike.
It looks like a Faraz Manan kinda night as he grabs the award fro Achievement in Fashion Design (Bridal) too.
---
1:45 am
---
Two stunning ladies, Ushna Shah and Sonya Hussyn, present the Best Menswear Designer award to Amir Adnan. The Best Emerging Talent award goes to photographer, Alee Hassan, who was competing against, Ammara Khan (Designer), Anum Malik (Model), Hira Shah (Model), and Zara Abid (Model).
Zeb Bangash sings Paimona and excuse us while we zone out into a beautiful daydream consisting of green mountains, waterfalls, and cool breeze.
---
2:00 am
---
And Sohai Ali Abro is back with Kapoor & Sons' song Bolna...
...and Khoobsurat's snappy number, Engine Ki Seeti. Any guesses, who's going to be up on the stage in about a minute or so?
Our on ground correspondent was nice enough to point out," Fawad Khan can't dance himself so Sohai's doing it on his behalf."
God bless his acute sense of observation.
Moving on, the man of the (extremely late) moment is here...but via a video. Yes, Fawad Khan and Ahmed Ali Butt, dressed as stereotypical stylists, do their stint in a video where Sohai plays the scapegoat.
---
2:15 am
---
Guess who won the Best Hair & Make up Award? The woman who has made it a habit to collect this award. We're speaking of none other than Nabila!
Fawad Khan was spotted wishing good luck to the talented artist backstage.
The Best Fashion Photographer award goes to Abdullah Haris, although his campaign for Crimson lawn was a forgetful one.
Hasnan Lehri receives the Best Male Model award and went on to share that Hello! Pakistan is doing a story on how Lehri, who is a Balochi, made it so far.
---
2:30 am
---
Best Female Model award goes to Fouzia Aman! And Ahmed Ali Butt and Fawad Khan decide to play a prank on her.
LSA appreciates up coming talent from Fashion schools like AIFD, PSFD, and NCA. Next up, Ali Zafar pays tribute to all those artists and literary people who left us in 2015-16 including Robin Ghosh, Fatima Surriya Bajia, Intezaar Hussain, Jameeluddin Aali, Muhammad Akram, Abdul Sattar Edhi, and Amjad Sabri.
"I will give 50% of my earning from LSA 2016 to Edhi foundation," Ali Zafar announced as he remembered the departed souls.
---
2:45 pm
---
The entire crowd stands up to pay tribute to Amjad Sabri while his family receives the Posthumous Lifetime Achievement award.
---
3:00 am
---
The atmosphere gets emotional at the Lux Style Awards, as Sabri's son sings the last naat sung by the late Qawal.
Amjad Sabri was murdered in cold blood on his way to an Iftar transmission by unknown gunmen during Ramazan.
Film Awards
Sohai Ali Abro and Yasir Hussain arrive to host the last set of awards. Finally.
They're both nominated for the film awards though. Yasir Hussain is nominated the Best Supporting Actor category for Karachi Se Lahore while Sohai's nominated in both, the Best Actress Female and the Best Supporting Actress Female category, for Wrong No. and Jawani Phir Nahi Aani respectively.
---
3:15 am
---
Rahat Fateh Ali Khan wins the Best Singer (Male) for his song Teray Bina Jeena for Bin Roye while the Best Singer (Female) award also goes to Bin Roye. The woman with the magical voice, Abida Parveen, wins it for Maula.
Shouldn't Zeb Bangash share this award with Abida Parveen since she sung half of the sufi song?
The awards move towards he more serious categories and Aisha Khan win the best Supporting Actress award for JPNA, leaving behind Sohai Ali Abro (JPNA), Sarwat Gilani (JPNA), Nimra Bucha (Manto), and Armeena Khan (Bin Roye).
The winner of Best Supporting Actor award, however, is a big surprise. The award goes to Javed Sheikh for Wrong No.! And here we were, thinking that it'll either go to Ahmed Ali Butt or Vasay Chaudhry for JPNA.
Read: LSA : Ahmad Ali Butt requests to remove his name from Best Actor category
---
3:30 am
---
And it's Mahira time!
Mahira Khan starts her performance with Teray Bina Jeena and pulls Humayun Saeed up to the stage with her!
It seems, we were speaking the truth when we said it was 'Mahira time', because it indeed was.
She wins the Best Actress award for Bin Roye and Humayun Saeed (predictably) wins the Best Actor award...no, not for Bin Roye, but for Jawani Phir Nahi Aani.
He recently received the Best actor award at the ARY Film Awards and the Hum Awards.
---
3:45 am
---
Jami Mahmood leaves behind Sarmad Khoosat, Nadeem Baig, Shahzad Kashmiri & Momina Duraid, and Adnan Sarwar, to clinch the Best Director award for Moor.
---
4:00 am
---
Hmaza Ali Abbasi, Ali Zafar, and Fawad Khan present the Best Film award to Moor and surprisingly, Jami Mehmood was up at this ungodly hour to give his acceptance speech via Skype.
Okay, so Skype session didn't work out.
And now Mahira Khan, Sheheryar Munawar, and Mohsin Abbas Haider wrap up the show with Shakarwanda!
Verdict
The fifteenth Lux Style Awards conclude amidst some surprising decisions - like Moor beating Manto in Best Film and Best Director category and Diyar-e-Dil winning only two awards - and some predictable ones - like Nabila, Mahira Khan, and Humayun Saeed winning big.