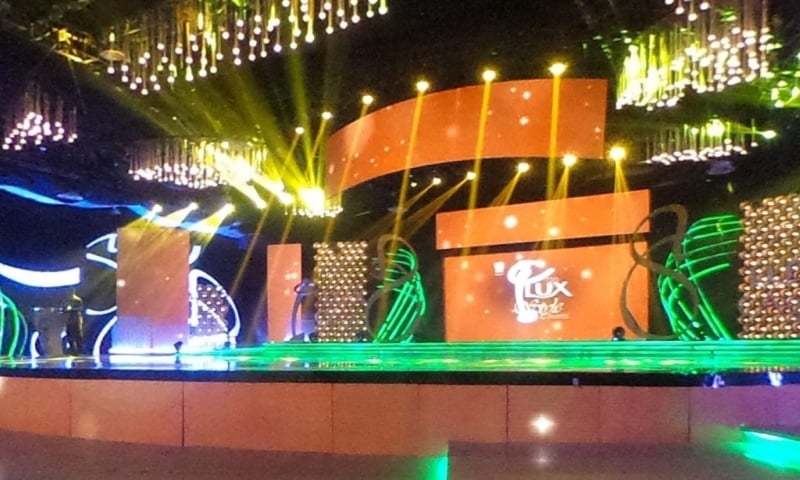 HIP reviews one of the most important events of the year - 15th Lux Style Awards.

Lights, camera, drama! These three things mark the commencement of the most awaited awards show for the Pakistani entertainment industry, the prestigious Lux Style Awards, and, why not? After all, it is the event where all the luminaries and the fashionistas get a chance to show off their latest couture and their fiercest looks, complete with a touch of glitter. Part of the 15th celebrations of the awards, the LSA's this year, reminded us why they remain a force to be reckoned with.
So, grab your reading glasses (or just stay put if you don't own one) as HIP reviews some of the most important happenings of the glitzy night!
The LSA Red Carpet was a hit
Perhaps the only space where one is ought to find more celebrities and journalists per square meter than anywhere else, the LSA Red Carpet this year was a dream of gold and black, albeit equally sweltering and crowded.
What really got us swooning were all the couture gowns and equally satiating tuxedos, which made us, forget about tiny problems like sweat trickling down our backbone. After all, which sane person would worry about a few drops of sweat if they had the scintillating Mahira Khan, in Shahira Lasheen ensemble, in front of them.
With the crème de la crème of the industry teeming in front of cameras, quite a few turned heads thanks to their glamour and style. In what seemed like an evening of matte colours, floral patterns, and monochrome attires, the red carpet was undoubtedly an ode to fashion.
Add the glitz and grandiose with some finger-licking canapés and refreshing mocktails, and you've got yourself the perfect start for a (really) long night to come.
Entertainment, entertainment & entertainment?
What are the two most important ingredients to make your show stand out? Celeb power and Humour! Whilst the balance of these two may have been slightly off by a second or so, the LSAs managed to tickle the funny bone as well as question a few things.
The show started off with Ali Zafar's performance on a song especially made too reminiscence the last fifteen years of the prestigious awards. All seemed quite pleasing amidst the loud applause for the rock star, but not for long.
However, akin to films, when all is going good, something surely has to go wrong. In what turned out to be technical difficulties galore, things had to go awry when quite a few missed their cues to the stage (Yasir Hussain, we're looking at you), and wrong names were announced! Luckily, for anyone who's going to witness this on television, there were several retakes just for that!
Read: Live updates from Lux Style Awards 2016
TV awards preach equality
Moving on to the first set of awards for the television category, given out by Vasay Chaudhry and Bushra Ansari to some of the most deserving nominees, the winners included:
Best TV Play: Diyar-e-Dil
Best Writer: Khalil-ur-Rehman Qamar (Sadqay Tumhare)
Best Director: Anjum Shehzad (Rang Lagaa)
Best OST: Zeb Bangash and Momin Durrani (Diyar-e-Dil)
Best TV Actor: Faysal Qureshi (Rang Lagaa)
Best TV Actress: Mahira Khan (Sadqay Tumhare)
With a healthy mix of shocks for fans of Diyal-e-Dil, which took less awards than expected, and Faysal Qureshi taking home the award for Rang Lagaa, to quite predictable results like Pakistan's most-known diva Mahira Khan taking home the Best TV Actress award, the television category failed to mesmerise as it usually does at the LSA's. That being said, we still can't get over Zeb Bangash's on-stage rendition of DeD!
Sohai's performance sets the tone
However, what was perhaps the highlight of the conclusion of the Television segment at the LSA's this time around was Sohai Ali Abro's performance on the song 'Eva' from Moor. In what was a mix of bright colours and exquisite choreography, Abro danced the night away, while also shaking a leg and a half with Meesha Shafi herself! If seeing these two divas together isn't a delight, then what is?
Arrival of Jeena's 'maa baap' during Music awards
In what is usually considered the least controversial segment and category of awards for the show, quite a few things went awry.
We relaxed and leaned back to have a good laugh when comedienne extraordinaire Ahmed Ali Butt graced the stage for a stint called 'Patari mein haath', but it turned out to be a purported controversy when two actors with dwarfism arrived on stage Jeena's - Ayesha Khan's character from Mann Mayal - 'parents'.
The joke seemed to leave a bad taste in the mouth for many, whilst leaving others in stitches. Despite all of that, Jeena jokes continued as Butt insisted that the music industry is like Jeena because "inke [music industry ke] bhi maa baap nahi hain."
'Too much fun' gets the best of us
The Patari Mein Haath segment that was relatively longer than others since Butt also called Hamza Ali Abbasi, Humayun Saeed, Vasay Chaudhry, Osman Khalid Butt, and Maya Ali on stage to take part in various gags all related to the same patari. Albeit things looked quite dragged, Butt seemed to have had his share of fun on the LSA stage!
Finally the raspy voiced diva Mawra Hocane joined Butt on stage, the winners for the music categories were announced:
Best Emerging Talent: Slowspin
Best Music Director: Salman Noorani for 'Mariam' by Mooro
Album of the Year: Noori for Begum Gul Bakaoli Sarfarosh
Song of The Year: Ali Zafar for 'Rockstar'
Retakes galore
While the seemingly nervous Hocane managed to keep up with Butt's comedy, the technical glitches once again forced the two to make amends and of course, retake scenes. All is fair in love and LSA's, we guess.
However, we're ready to forgive all of that, as this category remained the most interesting and diverse one yet! With victories for Zeerak Ahmed (Slowspin), and Salman Noorani, for his director of Mooro's song 'Mariam,' the LSA's finally welcome the budding talent in the industry.
Urwa and Farhan keep it sensual
After a hurried set of awards, what could one expect? That's right, more performances.
Taking to stage this time around were the reel and real life couple, Urwa Hocane and Farhan Saeed! Dancing literally to both the beat of their own drums and the music medley playing in the background (Ali Sethi's 'Kya Hoga', Adil Omar's 'Nighat and Paras', and, Zeb Bangash's 'Yaar-e-Mann'), the dynamic duo kept the audience in awe of their dancing skills and encapsulating sensuality!
The Runway awards didn't 'run'
They rather crawled their way to the end.
The fashion category is the only category that remains true to the name, Lux Style Awards, and the only awards that couturiers, fashion gurus, and budding designers wait for each year. Of course, this year wasn't any different as some of the biggest names of the fashion industry, first proved their mettle on the red carpet and then waited for their turn to be graced on the stage!
Hosted by Mohsin Abbas Haider and Mawra Hocane, this category perhaps took the longest to finish than any other. Between ten awards, the LSA fashion jury clearly had a tough task at hand. However, one couldn't help but think if the awards just went to the alleged 'it gang' of the industry, which often is seen, partying it up together.
Whatever it may be, it was another feather to these winners' caps, which are already brimming with feats and achievements of gargantuan proportions:
Model of the Year (Male): Hasnain Lehri
Model of the Year (Female): Fouzia Aman
Best Fashion Photographer: Abdullah Harris
Best Hair and Makeup Artist: Nabila
Achievement in Fashion Design (Luxury Pret): Shamaeel Ansari
Achievement in Fashion Design (Prêt): Generation
Achievement in Fashion Design (Bridal): Faraz Manan
Achievement in Fashion Design (Lawn): Faraz Manan
Best Menswear Designer: Amir Adnan
Best Emerging Talent: Alee Hassan (Photographer)
Sohai Ali Abro sets the tone for FK's arrival
The awards, which were presented in two segments, saw Sohai performing once again on a set of songs from Fawad Afzal Khan's Bollywood films.
For anyone familiar with such tactics, knew that it was time for Lux's latest heartthrob to come on stage. However, owing to the fact that Khan doesn't like to perform on stage, Abro took to stage on his songs from Kapoor & Sons and Khoobsurat for a blazing performance! May we also add that a lot of people remained confused about the Fawad-Sohai connection?
Fawad Khan's prank on Fouzia Aman
Unlike last year when Amna Ilyas took everyone by storm with her speech, no such luck was seen this year around albeit the fact that Hasnain Lehri did not forget to mention that he is Baloch, and how 'difficult' it was for him to pursue modeling.
That being said, we still cannot stop swooning over Fouzia Aman and her Body Focus ensemble! And of course, the 'prank' played on her by the Khoobsurat star and Butt. Anyone else reminiscing about those EP days? We sure are.
Remembering The Departed
After the third category of awards was done, it was time to pay tribute to those who left a gaping hole in our hearts and the industry they belonged to such as Robin Ghosh, Fatima Surriya Bajia, Intezaar Hussain, Jameeluddin Aali, Muhammad Akram, Abdul Sattar Edhi, and Amjad Sabri.
However, it was the tribute presented to the late Amjad Sabri, which got people to stand up in respect for the slain Qawal and all the principles he had once stood for. Celebrities joined Ali Zafar and the Sabri clan on stage, for the vigil. Truly a moment that left many in tears, Sabri's son, took to the stage to recite the last naat Amjad Sabri had sung before he was assassinated.
The unpredictable Film awards
We are not sure if the results were a high or a low of the night, but they were surely unpredictable.
After an emotional tribute to those who left us, it was time to boost the morale of those still present at the venue despite the very late hours of the night, which bordered towards morning. Yasir Hussain and Sohai Ali Abro who presented half of the awards before Ali Zafar, once again, arrived on stage to conclude the event after performances by none other than Mahira Khan!
The result was truly shocking for anyone vying for commercial cinema and predicting that yet again films like Jawani Phir Nahi Aani may win! The winners of the category however, remained as follows:
Best Film: Moor
Best Supporting Actor: Javed Sheikh (Wrong No.)
Best Supporting Actress: Ayesha Khan (Jawani Phir Nahi Aani)
Best Director: Jami Mahmood (Moor)
Best Male Singer (Film): Rahat Fateh Ali Khan ('Teray Bina Jeena' OST Bin Roye)
Best Female Singer (Film): Abida Parveen ('Maula' OST Bin Roye)
Best Film Actor: Humayun Saeed (Jawani Phir Nahi Aani)
Best Film Actress: Mahira Khan (Bin Roye)
Blazing ahead of commercial films and Sarmad Khoosat's artsy Manto, it was Jami's Moor, which took home two of the most prestigious awards. Moor's resurrection from the dead (in terms of receiving appreciation) took everyone by surprise and some even raised and eyebrow or two at a certain media conglomerate's involvement in the award ceremony.
However, undoubtedly, while other films may have had their commercial attraction, it was Moor, which showed us what aesthetically appealing films truly look like.
Mahira's performance - a cherry on the top
Thankfully the evening didn't end on an apparent sour note and the sweetheart of the Pakistani entertainment industry, Mahira Khan, took to stage for some much needed respite. She performed on an array of songs ranging from Bin Roye's Teray Bina Jeena' (where she invited Humayun Saeed to dance with her) to her final performance with Sheheryar Munawar on 'Shakar Wandaan Re', which literally was the cherry on top of the night that was the 15th Lux Style Awards!
---
While this year's LSA concludes, it leaves us with amazing memories, unforgettable style, and some oh-so-delectable celeb moments which are sure to keep us entertained until the next edition!