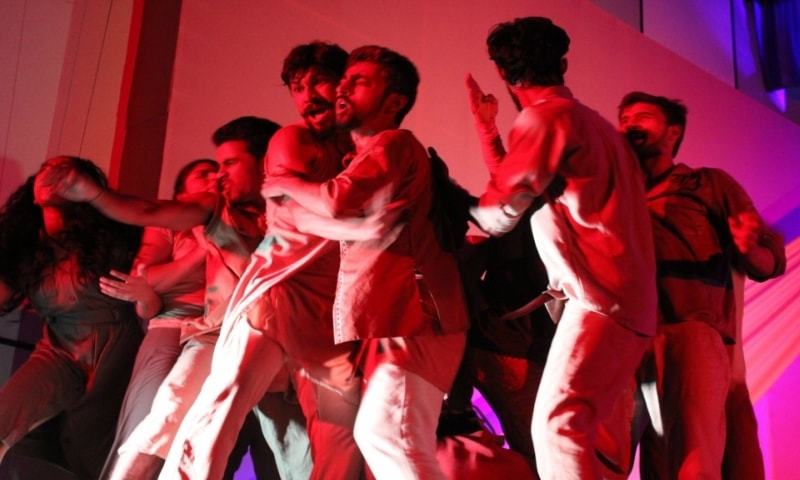 "Theatres are curious places, magician's trick-boxes where the golden memories of dramatic triumphs linger like nostalgic ghosts, and where the unexplainable, the fantastic, the tragic, the comic and the absurd are routine occurrences on and off the stage." Truly, E.A. Bucchianeri explains theatre in the best way possible. It is an experience unmatched; and a life lived nowhere else. Just one of such brilliance on the proscenium arch is Conversations 2016: 'A Love Letter to Karachi'.
Read: Conversations 2016 is an ode to Karachi
Narrating a story of Karachi and an outsider who comes to the city, the dance-based theatre performance delves into the multifaceted layers of the gargantuan metropolis and its often-dystopian outlooks. Simply put, Conversations 2016, is a narrative that shows you how Karachi makes anyone dance to its own beat.
In an hour-long performance, one gets to see various aspects of life in Karachi. Be it the food, its culture, its chaotic streets and clutter, or the fact that it resilience resembles the sea, the theatrical performance reminds that the city is truly about pure passion.
Conversations 2016 is an immersive experience each Karachiite needs to feel. It is showcased brilliantly under the co-direction of dancer extraordinaire, Joshinder Chaggar, and theatrical maestro, Sunil Shanker, along with encapsulating music by Ahsan Bari.
Apart from the two talented performers - Shankar and Chaggar - the show also stars Vajdaan Shah, Abdul Ghani, Cyril James, Kashif Hussain, Abdul Aleem Sheikhani, Shabana Hasan, Syed Amir Ali Naqvi, Almas Fidai, Muneeb Baig, Mahesh Maheshwary, Syed Arsalan, and Najma Kifayat, who all succeed in sustaining the audience's interest with their acting/dancing prowess.
Don't believe us? You will, once you check out the 'Dhamaal' performed in the show!
Read: In the world of theatre, Sunil Shanker reigns supreme
However, one may add that the performance may not appeal everyone. It truly is an experience like Karachi, itself. Many may watch it, but only those who have lived in the city, get to acknowledge the reality of the performance itself. Thus, don't forget to let yourself lose in the magical dance.
If you, like us, yearn to explore the world of theatre in Karachi whilst still enjoying the narrative that is completely and ethnically what the city embodies, look no further, as Conversations 2016 has got you covered. The show will continue till August 14TH at the FTC Auditorium and should not be missed!