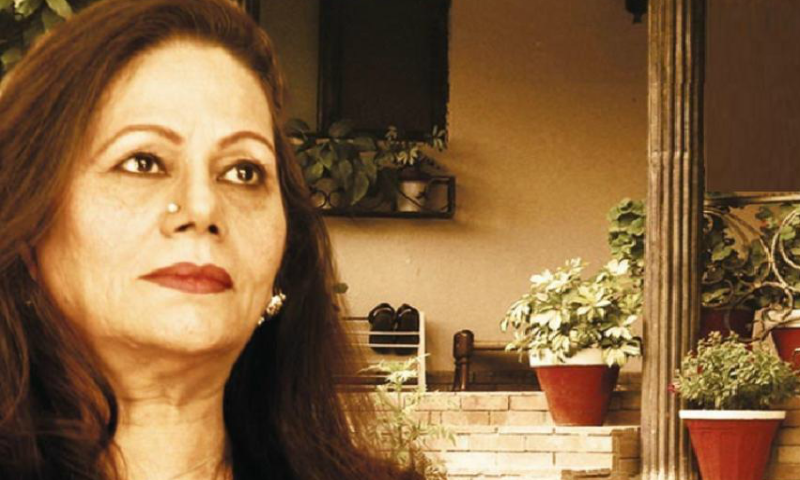 The living legend can be seen in Tum Milay on ARY Digital and in Khuda Gawa for TV One.

Following an incident at the HUM Awards a few years ago (when organisers had allegedly asked her to leave her front row seat so Fawad Khan could sit there), Badar Khalil had an outburst, bade farewell to showbiz, and moved to Canada. But recently, the gifted actress has decided to pleasantly shock all her fans with her comeback after so many years!
She graced the screen in Ahmad Bhatti directorial Tum Milay, co-starring Affan Waheed, Ali Abbas, Sehar Fazal and Khalil's contemporaries, Saba Faisal and Waseem Abbas.
Legendary actress Badar Khalil started her career off by hosting a children's show on PTV but soon became a household name following her stint in television play Bi Jamalo. In her career spanning over four decades, the iconic star has been seen in numerous TV shows and plays including Unkahi, Tanhaiyaan, and Dhoop Kinaraay amongst several more.
Also Read: ARY Digital launches new collection of dramas this summer
After getting in touch with the legend, HIP found out that she has two more projects lined up. She has been roped in for TV One's latest serial Khuda Gawaa and will share screen space with Hassan Niazi, Javed Sheikh and his daughter Momal Sheikh; and she will also be seen in a short play for a series similar to Kitni Girhain Baqi Hain.
"Ab tou Dadi ke roles hee milein gey (laughs), but I find myself lucky to have played so many diversified roles at the same time," Badar Khalil shared. "In Khuda Gawaa, I play a very loveable grandmother. While there's a conflict between the daughter and her father, I sort of come in to sort things out. Tum Milay is the complete opposite; I portray a very modern Dadi who seeks revenge and has a very negative aura about her."
"I also did a short play for Angeline Malik's series, Dil Jalta Hai for Play Entertainment, where I've essayed a woman who has been left at the old home by her children and how that mentally disturbs her," she added about the series which is similar to Kitni Girhain Baqi Hain.
While she believes not much has changed in the industry over the years since she has been away, Khalil will be returning to Canada with some lots of treasured memories from the sets. She shared:
"The people I got to work with this time showered me with love, esteem and respect. I am actually overwhelmed with the civility. I don't see any difference in the industry whatsoever, but I believe the viewers will be able to comment on my performance and how that has evolved."
While performing strong character roles to perfection has always been Badar Khalil's forte, she hasn't yet been a part of the revived local cinema. When asked about her take on being associated to the movement, the actress seemed hesitant to have commented but eventually opened up and claimed to have had her piece of pie.
"Well I have received quite a few offers, but I did two films earlier with Javed Sheikh and I had enough of it then, so I don't think that's on the cards for me anytime soon. If somebody wants to come to Canada and shoot there, I would love to, but anyhow itney actors yahein hain already," she laughed it off.
Also Read: PEMRA sends GEO show-cause notice for airing 'suicide scenes'
While Badar Khalil's contributions to Pakistani heritage deserve applause and appreciation, she has had some rough times in the industry too. And as she decides to bid farewell to the industry, which she served with blood and sweat, Khalil wishes to retire with only the fondest of memories and doesn't wish any ill to anyone.
"I don't wish to keep any grudges. On my visit to Pakistan, I met a lot of my old friends and got to work with a very respectful bunch of people. I would also like to say that I have forgiven Sultana Siddiqui (CEO Hum Network), and I know that she hasn't forgiven me as yet. I hope she does. I don't want to pay farewell to the industry by upsetting anybody at all," she declared.