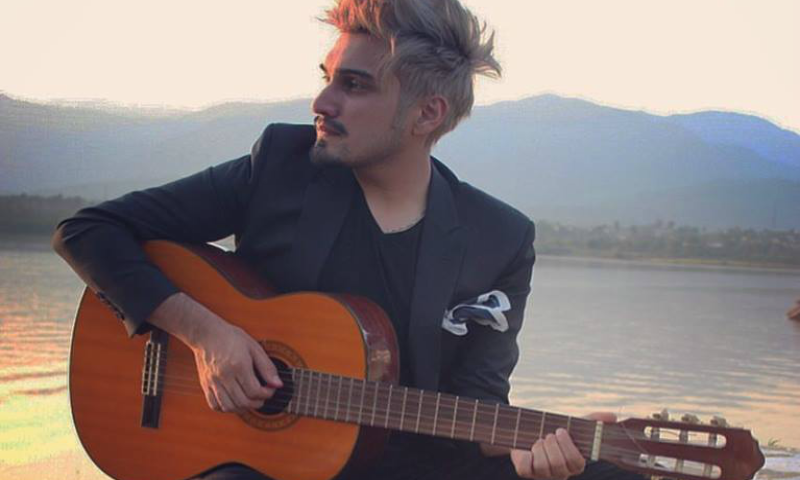 Jaswal will be seen romancing model, Neha Rajpoot, in a serial for ARY Digital.

Singing sensation, Uzair Jaswal, has always managed to grab our attention. From being the once-youngest musician to be featured on Coke Studio, winning big at major award ceremonies for his melodies, to his super radical blonde-dyed hair. And now the singer is back to captivate his fans with yet another hidden talent of his: acting!
He is not only ready for his second cinematic venture, but is also shooting his debut television serial. The actor/singer has played a gangster in his elder brother and an award-winning director, Yasir Jaswal's cinematic debut, Jalaibee, alongside Wiqar Ali Khan, Ali Safina, Danish Taimoor, Sabeeka Imam and Zhalay Sarhadi.
Also Read: Uzair Jaswal's platinum blonde hair trends on social media
Jaswal was spotted shooting the first spell of his debut serial with emerging model-turned-actress, Neha Rajpoot, up north where the rest of the cast will soon join the two for the next leg.
"I only did a cameo in Jalaibee for Yasir Bhai, but I have always been interested in acting. I used to be a part of Islamabad-based theatre productions back in the day and my music videos involve a lot of acting stunts too, so I guess I'm finally trying my hand at it," he shared in an exclusive interview with HIP.
Also Read: Uzair Jaswal's 'Tere Bin' wins award for 'Best Song Of The Year!'
The actor has also been roped in to play the male lead in a commercial romantic comedy. Although he refused to dish any information regarding his next movie, he did reveal that both his projects are entirely different from anything he has ever done before. He'll be seen in completely new avatars.
"I have been getting quite a few offers lately, and I finally found the conviction to venture into acting properly with these two projects. I have just shot the first spell for the serial, but I can assure you it has some pretty big names associated to it," Uzair disclosed. "For the film, I have just met the makers for now, the shoot is scheduled for later this year, so let's hope for the best."
Also Read: Uzair Jaswal to release debut music album
And if you thought music has taken a backseat for Jaswal, well let's just say you've been mistaken. In a world of piracy and online releases, Uzair is also working on his debut album that is slated to come out later this year.