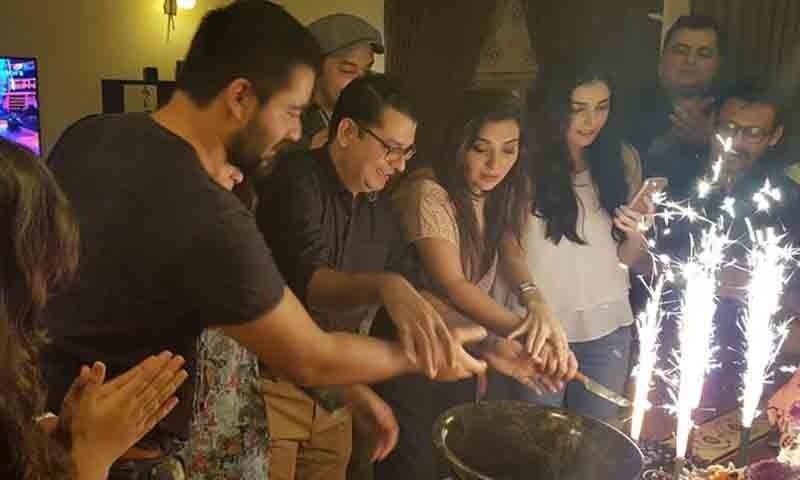 Diyar-e-Dil won the 'Best Play' award at LSA 2016 and Mann Mayal's ruling the ratings chart since its inception.
Mann Mayal's success may be a a mystery in itself, but we cannot deny that it is indeed one of the most watched serials of the season, hence, the makers decided to celebrate the moment. And how could they forget Diyar-e-Dil - a blockbuster drama serial by MD Productions and Haseeb Hassan that set the tone for Mann Mayal.
Haseeb Hassan, director of both MM and DeD, shared what happened at the success party on his Facebook page and we decided to spread the happiness further. The party included Maya Ali, Hamza Ali Abbasi, Aiman Khan, Sanam Saeed, Mariyam Nafees, Aisha Khan, Sana Shahnawaz, Behroze Sabzwari, Humayun Saeed and so on. but wait a second, what about rest of DeD's cast - Osman Khalid Butt, Mikaal Zulfiqar, Hareem Farooq, and all? It looks like they were present in spirit.
Read: 'Diyar-e-Dil' rules 4th Hum Awards
The general belief was that Diyar-e-Dil's team would be spotted listening to sad ghazals in dimly lit rooms after the Lux Style Awards because they couldn't clean sweep the television category as was expected, but the team proved everyone wrong by celebrating the Best Play and the Best OST award with much zeal and enthusiasm.
Read: The highs and lows of 15th Lux Style Awards
Here's what went on at the party.
A gazillion hands grabbed the knife to cut the cake.
Mannu and Sallu's selfie is a must!
The video evidence of 'the moment' as presented by Mannu/Faara herself. I wish we could hear what ensued the peels of laughter.
Apart from DeD and Mann Mayal's cast and crew, celebrities like Bushra Ansari, Hina Bayat, and Humayun Saeed also came to congratulate the team. It looks like Ansari, who's been entertaining us as Aapa Sheedan in Udaari, came directly from the sets of Seeta Bagri.
Read: First Look: Seeta Bagri is a headstrong girl and we love it
Maya Ali seems to be taking some tips and tricks from the veteran actress in a murky corner. On a separate note, we love Maya Ali's ripped jeans and that big grin.
Selfies, of course, are part and parcel of any event these days.
Some more selfies.
And some more.
We finally spotted Sanam Saeed (and Humayun Saeed too laughing uncontrollably in the background)!
Here's a video to summarize the happy occasion where someone was clearly missing Bushra aapi a lot. How many celebrities can you spot in the video?