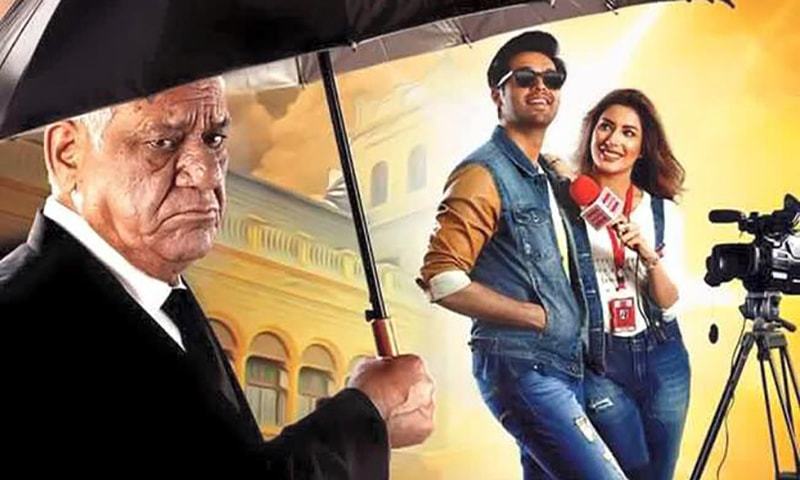 HIP reviews the music from the Fahad Mustafa, Om Puri, and Mehwish Hayat starrer that has been making waves all around
As we all know by now, the revival of Pakistani cinema is now an old forgotten phenomenon. Pakistan's cinema is very much revived and is cruising ahead at top speed. Whether it's commercial successes like Jawani Phir Nahi Aani or parallel narratives like Manto, we've seen the best of cinema in the past few years. That being said, one cannot help but attribute a massive chunk of this success to the music featured in these films, which not only makes the film enjoyable but also adds to the narrative. Moving on the same path, is the Fahad Mustafa, Om Puri, and Mehwish Hayat starrer, Actor in Law.
The film recently held the music launch and released the video for the first single - Dil Dancer by Atif Aslam - amidst a star-studded event. After listening to the album, we conclude that Actor In Law has an interesting mix of melodies that are sure to make you go from tapping your feet to straight-up karaoke mode! If you still haven't heard the songs, let HIP make it easier for you as we review the entire album.
Actor in Law (Original & Reprise) is upbeat
Perhaps the only song, that in its reprised and original version, sounds like an instant party in a can!
Sung by Shani Arshad, Actor in Law is the perfect mix of fast percussion beats and an ethnically desi style. If that's not enough, the quirky and urban lyrics are sure to make you tap your feet to this beat. If this song, by any means, is an example of how the film is going to be, then we can barely contain our excitement!
READ: All that happened at Actor in Law's music launch
Funkaraan will remind you of 90s'
Have you been missing songs that would perhaps remind you of the hits given by the Pakistani music industry in the 90s and early 2000s? Well, look no further as Asrar Shah and Junaid (from Seige band) bring you 'Funkaraan'. With its upbeat and high pitched vocals, the song will surely make it to your playlist. We can surely guarantee that this song will make you shake your head along the rhythm! Just add it to your playlist and you can thank us later.
Khudaya is a song for forlorn lovers
The only sad song in a list of otherwise fast paced tracks, 'Khudaya', seems like that one melancholic tune that is sure to transport you into a world of nostalgia.
However, we can't help but feel as if we've heard it before, especially since it's almost akin to 'Tadap Tadap' from one of Bollywood's biggest hit, Hum Dil De Chuke Sanam. That being said, Rahat Fateh Ali Khan's powerful vocals and distinct singing style makes this a song a single to remember!
Dil Dancer is your 'yo!' song
The most awaited song, 'Dil Dancer', summarizes the entire feel of the film. The song welcomes us to a world of a hopeless romance in a quirky and peppy manner.
Atif Aslam's voice adds the perfect touch and the song reminds us why he remains one of the top names in the music industry here in Pakistan and even across the border! Hence, if a song full of energy yet with a unique subtlety is what you desire, then your 'dil' will definitely dance to the beats of this song!
You can check out the whole playlist here: