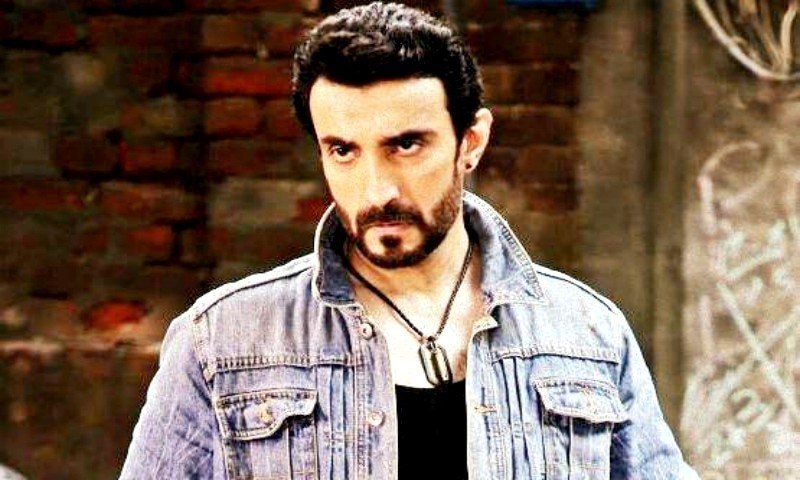 The actor has been roped in to play major roles in four upcoming Pakistani films.

Aamir Qureshi is oozing with talent. Son of veteran Pakistani actor and the original Nuri Nath (antagonist) of the cult classic Maula Jatt, Mustafa Qureshi, Aamir has grown up under the advisory of local cinema's very best. The actor has already been able to mark a niche for himself as the ultimate new-age villain that our industry was in dire need of, just like how his father once did!
The musician-turned-actor has been associated with some of television's recent hits such as Rang Laga, Shehzada Saleem and the ongoing Aijaz Aslam production, Tum Meri Ho. After proving his mettle, Aamir has transitioned from music to acting now. And while his forthcoming film Blind Love is slated for release this Friday, on the 5th of August, we decided to get a hold of him and find out the inside scoop!
Also Read: Saya E Khuda E Zuljalal: a blast from the past
HIP: Firstly, tell us about the projects you are currently working on.
Aamir Qureshi: "Well I had made my silver screen debut with Bhai Log back in 2010 and received excellent feedback. So for now, I'm up to a couple of films. Faisal Bukhari's Blind Love has been delayed a bit and is now releasing on the 5th of August. I play the lead antagonist, it was a challenging part and I hope people appreciate my performance if not the film. Saya e Khuda e Zuljalal was a mega-period film, so that really intrigued me to do it. It will be releasing later this year.
I've also been shooting for Pakistan's first superhero film, Project Ghazi where I play the arms and gadgets' specialist. I've also signed Crew Films' untitled next that is being directed by Abis Raza. Even though I play the villain, it is completely different from whatever I've done previously since it's a light-hearted romantic comedy."
Also Read: Noor Hasan & Indian actress Sara Khan to star in Aabis Raza's next
HIP: SKZ is delayed whereas Khawaab got shelved. Are such incidents discouraging to you as an actor?
AQ: "Well yes, at times I do feel disappointed, but I understand that Waar took four years and ended up giving local cinema a whole new face. So what matters to me the most is actually the outcome. Khawaab may start again with a fresh cast, but I will definitely be a part of it. Saya e Khuda e Zuljalal has been fully completed and is nearing its release. It has to hit cinemas when the time is right. Personally, I'm not counting on that as much because I have other projects in the pipeline too."
Also Read: HIP's Rapid Fire with Aamir Qureshi!
HIP: Most of your roles have been negative or grey-shaded. Do you think that will stereotype you as an antagonist?
AQ: "My character in Project Ghazi is positive, so that will break the monotony (chuckles). Otherwise, I think there's nothing wrong in portraying the evil. Someone's gotta do it and a villain has more screen-space anyhow (laughs). Honestly speaking, I am my own critic and I know that I'm not 'hero-material'. I can do positive character roles but not the main lead. That is something that I've accepted."
HIP: There's an array of new talent in films. What do you think you bring to the table that others don't?
AQ: "I am AQ1 (Aamir Qureshi 1), second to none* - this used to be a line from one of my rap tracks when I used to be a musician (laughs). But to answer your question, I don't think that new-age cinema has seen a proper villain after Shafqat Cheema. Especially somebody who has a well-toned physique. So I think I fit the bill for such roles. And if I may blow my own trumpet, I've ventured into theatre, television and now, films, so I guess I'm a little more aware and experienced."
Also Read: Blind Love's music transports you to the era of flop Bollywood films
HIP: What sort of genres to you tend to experiment with?
AQ: "Well I don't quite believe in planning. I take things as they come and simply go with the flow. But for now, I think I would want to do more action-oriented projects. My father and I are also working on a film of our own. So let's see how things shape up."
Also Read: All that Ali Kazmi is up to this year!
HIP: Do you tend to work on international productions?
AQ: "Well if an interesting project comes up, why not? In fact, I shot an episode for the hit television series, Jailed Abroad alongside Riz Khan. I had also shot for a forthcoming Canadian-Pakistani film titled Sedare. I don't know when it's releasing though. Apart from logistics, I don't think there's much of a difference in our productions either. Directors internationally go by the book, whereas here in Pakistan, we believe in improvising and giving our scenes a natural flow."
HIP: Blind Love is said to have brought back the forgettable 'Lollywood' period for local cinema. What are your thoughts?
AQ: "The masses are fond of thumkas and jhatkas, and Blind Love is a masala movie. I'm sure Mathira's item song will be appreciated. And above all, I feel that the film will contribute to the revival of commercial cinema in Pakistan. Issue-based films only appeal to a certain niche market. Manto for instance was a brilliant film, but only for a limited crowd. So was Mah-e-Mir. Whereas Blind Love caters to all, especially the lower-middle class.
The execution is pretty much at par with what we have seen so far since; it actually gives you that 'film' feel. That's an effect television directors cannot produce. And our DOP, Ali Bukhari is a young and zealous artist, and he has successfully given the film a modern look. At the end of the day, the story might be average, but the execution isn't."
Also Read: Sheheryar Munawar & Syra Shahroz pair up for Project Ghazi!
HIP: Now that you've tried out both mediums, tell us how different you feel television is from cinema?
AQ: "I think 'film' is just a louder medium. In fact it's relatively easier since there aren't many one-take shots. But it's obviously more exerting. You feel more responsible as well; people are paying to watch you, unlike television, you have to give them their money's worth. But you can't quit television for films. You have to set a certain ratio. Believe it or not, television pays our bills, not films. It's ok if you're loaded, but if you act for a living, you have to go both ways."
HIP: Your father, Mustafa Qureshi is a living legend. Did that put any sort of pressure on your shoulders?
AQ: Not at all! I'm a self-made man, I've struggled my way up. In fact, he didn't want me to become an actor; he wanted me to work for a multinational company (laughs). Apart from which, we both have our own style of acting. I don't think my fans expect me to act like him. My mother has always been very supportive. Dad is now also proud of me and we are planning on doing a photo-shoot together.