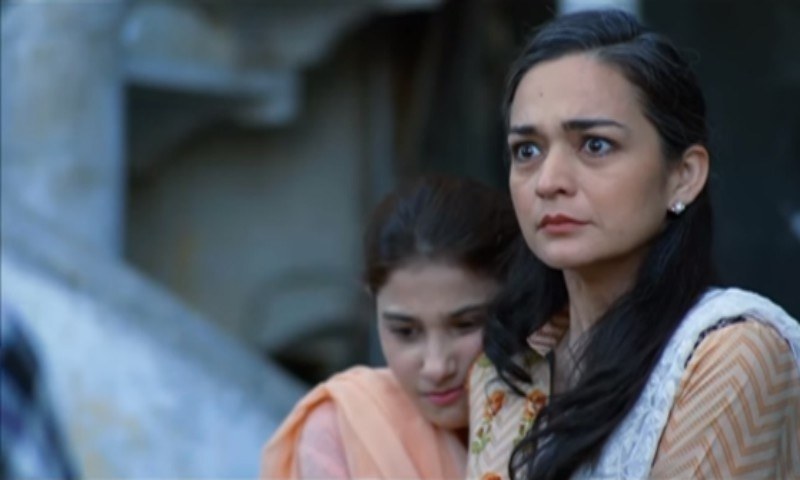 Sajda and Zaibo's heart wrenching past has come in front of them... once again.

The devil was back in Udaari last week and, predictably and unfortunately, he has decided to linger on in Sajda (Samiya Mumtaz) and Zaibo's (Hina Altaf) life. In case you don't know who the devil is (we're judging you), it is Pa Imtiaz (Ahsan Khan) who made a death defying comeback, creating a mayhem in Sajda AKA Tahira madam's peaceful life.
Read: The devil (Imtiaz) is back in Udaari!
Imtiaz, after spotting Sajda in a bakery, eventually lands at their doorstep and is surprised to see the two ladies living a successful life. Meanwhile, for Sajda and Zaibo, it seems as if the Day of Judgement has come early as Imtiaz threatens Sajda that he'll take revenge for her murderous attack.
Once the shock subsides, Sajda remembers what he did to her daughter and she tries to kick him out, but he produces a gun and puts a stop to their hues and cries. Also, Sajda feels vulnerable due to Zaibo's presence.
We can say that this scene didn't only weigh down Sajda and Zaibo, but also the viewers. It gave us goosebumps and our breath was caught in the windpipe until Imtiaz got an emergency call and had to leave, but not before ensuring Sajda that he'll be back soon,
Ahsan Khan's acting prowess makes us skip a beat and we were divided between two polar opposite emotions - hatred towards his character and extreme respect for his performance. Similarly, Samiya Mumtaz and Hina Altaf did a great job as they were completely into the skin of their characters.
Arsh fights for Kashf
Coming to the urban side of the story, Arsh meets Milli and Haris' mother, who works for Kashf Foundation. Arsh is a corporate lawyer and takes care of different cases associated with Kashf's clients.
The audience might feel that the whole scene came across as an advertisement for Kashf in a bid to encourage youth to help the foundation. But if one is a keen observer like us, one can conclude that Arsh might end up fighting the case for Sajda.
This isn't a spoiler, but just a guess.
Back to Pa Imtiaz
Imtiaz leaves Sajda's house, but not before hurling a gazillions threats her way. Sajda, after getting rid of the parasitic Imtiaz, runs into Sheedan open arms. Despite the big shock, Sheedan tries to calm down Sajda and Zaibo while Meeran is nowhere to be seen.
Sajda decides to go back to her place and leaves Zaibo under Sheedan's supervision. However, Zaibo is not happy with the idea. And to calm Zaibo down (and also for her own satisfaction), Sheedan pays Sajda a visit and right on cue enters Imtiaz.
A battle of words takes place right at the door; Sheedan manages to gather a crowd, but Imtiaz's gun makes a reappearance and the crowd disperses. The two women do manage to rid themselves of him, but not before he threatens that he'll make sure Sajda is arrested for attempted murder.
What's frustrating is that Sajda cannot, in fact chooses not to, threaten to do the same to him when she clearly knows that she attacked him to defend her daughter. Yes, she attempted murder, but then he is the one who raped her child twice!
Jaaza comforts Zaibo and reveals...
...That he knew the truth all along! Jaaza (now played by Ins-e-Yazdan) had witnessed the horrific scene that rainy day. He confesses to Zaibo that he saw what Imtiaz did to her six years ago through a window, and the event had haunted him like it had Zaibo. Naturally, his revelation further upsets the weeping Zaibo.
Ins-e-Yazdan does justice to Jaaza's role. His acting skills do lack finesse, but as a debutante, his expressions and reactions are spot on.
Read: Ahsan Khan donates 20 percent of his Udaari earnings to child abuse victims
The episode ends on a horrible note where Sajda and Sheedan are scared to death that what if Imtiaz brings the police or harms Zaibo? We are definitely looking forward to what happens next week in Udaari.