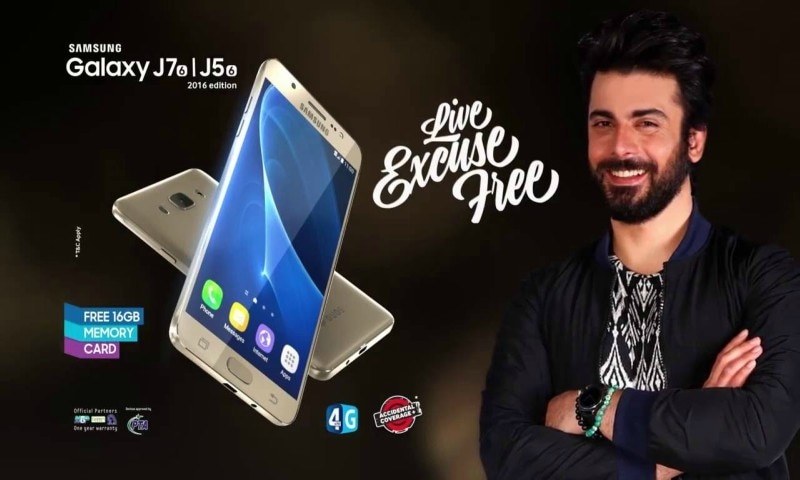 Disclaimer: You won't get enough of Fawad Khan in this TVC.

Fawad Khan is always a treat to watch, and Samsung's J series second TVC features the goodlooking actor once again. While the ad visually is quite impressive, we only get to see Fawad for only 34 brief seconds – and we are not okay with that!
Read: Fawad Khan plays a double role (again) in J series ad
The TVC begins with a dimly lit restaurant scene which instantly gives the audience a gloomy feel. However, the purpose behind this is clearly to prove to potential buyers that the Samsung J series promises bright and clear pictures no matter how dimly lit the background.
Since Fawad is playing a double role (once again), the whole concept of this ad seems monotonous and repetitive. Only Fawad's on screen aura and on point expressions make the ad worth your while.
The two Fawads (the cool one plus the loser one) seem to exchange some 'grandfie' tips once again; according to the cool Fawad, only Sumsung's new J series can handle the task. He tells the inferior one that he'd be able to impress his girlfriend Sana and get her likes on his pictures if he takes them from this specific phone – the camera will take bright and amazing pictures.
With the ad's little show of Fawad Khan, we can also say that they have tried their best to highlight the product and not the celebrity. They have intelligently used a star face to promote their brand by which we can conclude that this campaign and approach is quite effective for Samsung.