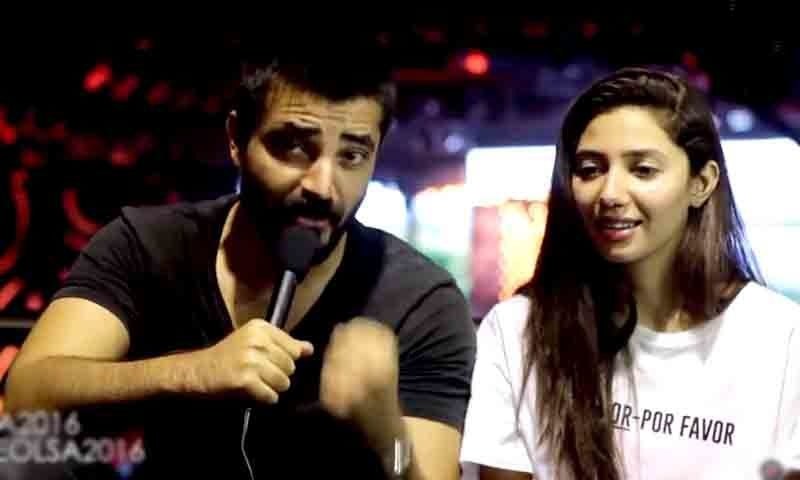 Is this the project that the duo was lightly beating up?

This duo is creating some major aww moments these days. Hamza Ali Abbasi and Mahira Khan recently won the Best Dressed award at the Lux Style Awards and as Khan came running (sans her shoes) to collect the award on stage, where Abbasi was waiting patiently, we had all sorts of filmi moments reeling through our heads. Abbasi could very well play the elusive Raj and Khan could play the law-abiding Simran to perfection.
Read: Are Hamza Ali Abbasi and Mahira Khan 'lightly beating' up a project?
The entire audience (present at the venue and those stalking on social media) in one synchronized motion thought, "They need to sign a film or a drama serial right about now." But someone somewhere was off on a tangent. A tangent that involved designer clothes, smoke machines, and a magazine cover.
Here's the proof.
Diva Magazine decided to rope Khan and Abbasi for their power cover's shoot and they might just have to print double the number of copies this month because they're going to be selling off pretty fast.
Mahira Khan, sporting smokey eyes and nude lips, looked ravishing in Shehla Chatoor while Hamza Abbasi looked dapper in Cotton & Cotton.
In a recently conducted live chat session, Mahira Khan, admitted, while answering a fan's question, that he and Hamza had been offered a few films, but nothing had been decided yet.
"Everyone's asking me this question these days. When we got the award [Best Dressed award at LSA 2016] Hamza said to me that 'this is probably the only time we're going to be together in one frame'," Khan smiled. "He is busy with Maula Jatt and I've just wrapped up Raees. But we should do something together before he quits acting."
Read: Hamza Ali Abbasi and Mahira Khan celebrate 20 years of SKMCH
The last comment was probably a dig at Abbasi's need to stay politically updated, relevant, and outspoken. Nevertheless, it is undeniable that he shares great on-screen (stage) chemistry with Mahira Khan and we'd definitely like to see them perform together in a film or even a drama serial.