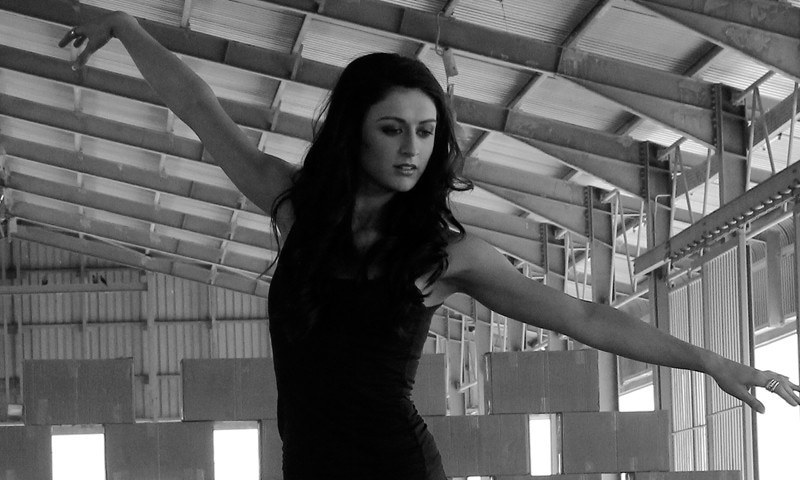 I would love to do more Pakistani movies as I was received with a very warm welcome and a lot of kindness - Madeleine

As we are looking forward to seeing Dance Kahani on the silver screen soon with the whole idea of being the 'first' Pakistani film which explores the underground dance culture on the streets of Karachi, it has kept us seriously intrigued for a while now. Having looked at the promos, the dances look amazing ,but the one thing which honestly makes the movie look good is the bodacious diva herself, Madeleine Hanna, who is the first international multi-talented actress to be featured as a lead in a Pakistani movie, which has been completely shot in the country.
Hanna, a Scottish ballet and contemporary dancer was roped in by the writer and director of the movie, Omar Hassan, to essay the role of a British-Pakistani girl named Nuzhat a.k.a. Nizzy , who ends up in Pakistan due to personal reasons and thinks this is the end of her dream of becoming a ballerina. Dance Kahani is the story of how she survives in a culture she knows nothing of and her encounter with Shobby and Tipu - both who too love to dance freestyle.
READ: Dance Kahani's 'Thoughts of You' is super romantic
With the movie being released on 5th August, HIP decided to contact the Scottish actress to find out a bit more about her and the movie.
How was your experience working in a Pakistani film?
Madeleine Hanna: Working in a Pakistani movie was a fun challenge for me. I had a wonderful experience and learnt a lot about Pakistan and the Pakistani culture. I tried my best to learn Urdu when I was there and of course I had the best teachers (the whole team) encouraging me, that made it fun.
what attracted you towards this particular project?
MH: I was drawn towards Dance Kahani as I always like to challenge myself and try new things. And since I enjoy travelling that too became a plus point for the project.
What was Pakistan like for you, would you visit us again?
MH: I did not know what to expect when coming to Pakistan so I kept an open mind. I was very surprised to see such a diverse place with lots going on. They took me on a tour of Karachi and I loved it and found everything so interesting and full of life so yes definitely I would like to visit again.
READ: Dance and drama enshrouds the theatrical trailer of Dance Kahani
Do you see yourself working in more Pakistani movies?
MH:I would love to do more Pakistani movies as I was received with a very warm welcome from everyone I met and treated with lots of kindness and I hope I did the Pakistani people proud in Dance Kahani.
What were some of your favourite memories from the movie?
MH: My favourite memory from the movie would definitely be shooting in the warehouse as the smell was so bad that I cannot even explain it to you! It was so funny because we were given masks to wear as it was so bad and also there were fumes which were making us sleepy. So every time I looked at members of the cast and crew we just kept laughing as we looked ridiculous in the masks. To be honest there are too many good memories and I consider all the boys from the movie my little brothers now.
Why do you think people should go and watch Dance Kahani?
MH:I think people should go and watch Dance Kahani as it is refreshing. When I came to Pakistan I was so surprised to see so much passion and talent in all the people that I met and I hope that this movie gives a platform for the young generation of Pakistan to follow their dreams and be successful in doing so. I hope people enjoy the movie and look past the flaws as we faced so many problems. Lastly I hope they are proud of the Pakistanis that were involved in making the movie and that it allows for many more to come as it was a big learning experience for all of us.
Apart from Hanna the movie will also feature Alamdar Khan as Shobby and Vernin Uochong as Tipu. If you have watched the step-up series a multiple times then you may want to check this out in a cinema near you.