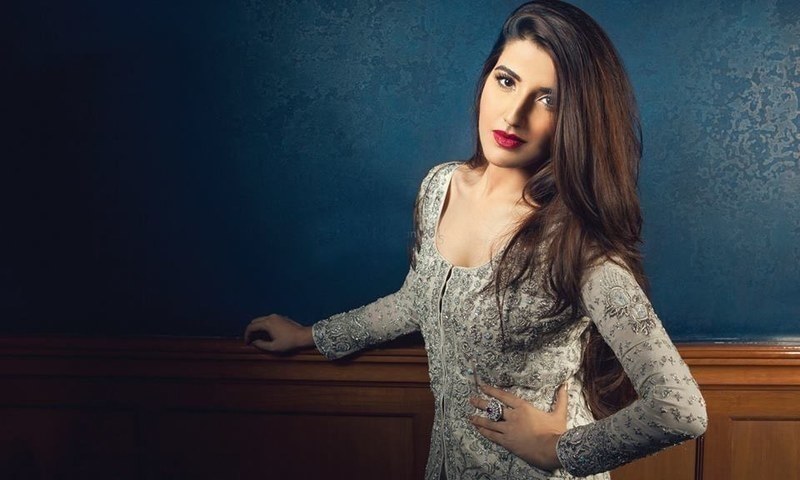 "Well, Sanam is not your usual 'typical love triangle'," says Hareem Farooq

After proving her mettle as Arjumand in Diyar-e-Dil, Hareem Farooq became a household name. The emo-girls hated her for keeping a check on Wali and Faara while the elder generation sighed along with her. Unfortunately, Farooq wasn't able to impress the jurors at award shows, but when you're ruling hearts, you don't really care for awards now, do you?
Hareem Farooq re-emerged on our radar when she decided to produce Janaan, play the female lead in Mehreen Jabbar's Dobara Phir Se, and play a psychotic wife in Sanam.
Read: Rapid Fire: Hareem Farooq loves Madagascar, hates liars
If you don't know what Sanam is then listen carefully.
It is Haseeb Hasan's directorial venture starring Hareem Farooq, Osman Khalid Butt, Maya Ali and Emmad Irfani among others. The serial is written by Mona Haseeb and its a creation of MD Productions. In short, we have a perfect recipe for a blockbuster.
HIP got in touch with Hareem Farooq to talk about the promising venture that is Sanam and her role in it.
"Sanam has a very interesting storyline," said the actress. "I don't want to give away the story or my character right now, but all I can say is that audiences have definitely not seen me in such a role ever before."
When Hareem Farooq were probed by questions regarding her role in the drama, she revealed:
"My character addresses a very serious mental illness which many people fail to diagnose. In fact, it's a global issue in which one who is suffering and the people around them are unable to figure out what is wrong with them."
When asked whether it is a love triangle between Butt, Ali, and Farooq, she replied:
"Hmmmm... maybe. Maybe yes, maybe no (laughs). Well, Sanam is not your usual 'typical love triangle'."
Earlier, while talking to HIP, Haseeb Hasan, also maintained that Sanam is an interesting piece of work and said:
"It's a unique love story," Hasan shared. "Sanam stars Osman and Maya alongside Hareem Farooq, and Hina Bayat. Abid Ali will also make a special appearance. It's always a fun ride working with a team that's more like family. I'm sure it'll be able to bring something new to the table."
Read: Haseeb Hasan's debut film will be an action romance
Let's hope Sanam is as interesting as it sounds and it achieves the same hype like Haseeb's other projects (yes, we're also referring to Mann Mayal because the serial has proven that no publicity is bad publicity). The drama will air on Hum Tv in September, but the exact date is yet to be confirmed.