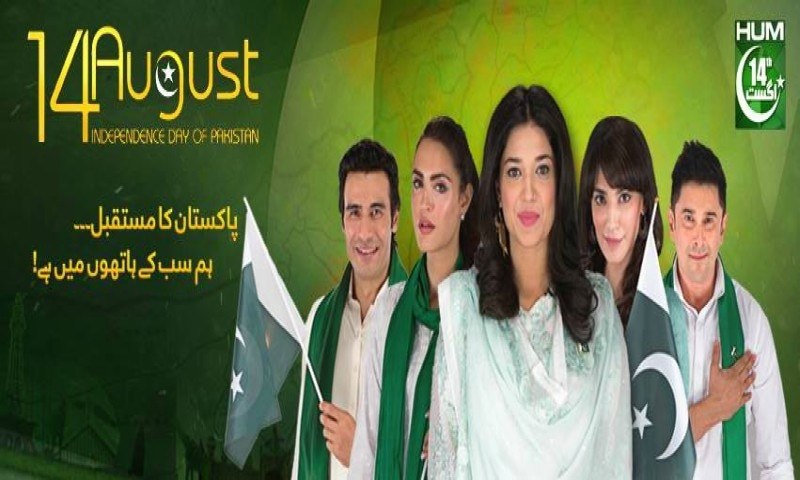 Once you're back from your Independence Day shopping spree, sit back, soak your feet in water, and turn on your TV.

The spirit of independence is in the air, and everyone's inner patriot has surfaced as 14th August nears us. Everything and everyone seems to be drenched in the 'go green' spirit. We see flags popping up on rooftops, car bonnets, and television channels.
Read: Nishat Celebrates Independence Day with Liberation collection
Apart from placing a digital flag in the corner of the screen (or turning their logo green), television channels air dedicated Independence Day shows to express their admiration for their motherland.
There are a number of exciting TV programs lined up this year to satiate your patriotism or even rekindle it.
Jago Pakistan Jago Independence Day special
Hosted by Sanam Jang, Jago Pakistan Jago is a popular morning show, hence, HUM TV plans to air a special Independence Day transmission including a number of celebrities.
The show will stick to its regular timings - from 10:00 am to 12:00 am - on Sunday, 14 August. Wake up a bit early on Sunday, grab your coffee, and celebrate independence with Jang and co.
Coke Studio Season 9
The most awaited edition of Coke Studio is here with a varied team of musicians producing it this time round. The season has specially been released on the eve of 14th August to celebrate the spirit of Azadi.
Although the first episode doesn't feature anthems and patriotic numbers, Coke Studio is something which we, as Pakistanis, are extremely proud of. It shows the true taken of Pakistani musicians and that is enough to double the fun this 14th August.
Dukhtar on Geo TV
Dukhtar, directed by Afia Nathniel and starring Samiya Mumtaz, Mohib Mirza and Ajab Gul among others, will air on Geo TV at 2:00 pm tomorrow. The film received much appreciation by the critics since it was a mainstream attempt to address child marriage and women empowerment.
No doubt, it is one of the best things to look forward to on TV this Independence Day, specially when we are in dire need of content that embeds a useful message of self awareness along with entertainment.
Online world premiere of Shamoon Abbasi's Qassab
Pakistan's first online short film by Shamoon Abbasi is going to premiere tomorrow on Independence Day. Qassab is the first ever short film that will only hit the social media and not release in cinemas or on TV channels.
Earlier, while speaking to *HIP, Shamoon Abbasi shared what the film is all about.
"Qassab means qassai (butcher), but the term has been used to refer to the terrorism which is escalating everyday in Pakistan. I wanted to make a few short films like public service messages for the youth, and that is why we decided to release it on social media only as these are the forums on which they [youth] are far more active."
We must say it is a great initiative and we are all excited to see what the film has in store for us. Make sure you stay connected to your social media platforms and watch this seemingly amazing short film.
Read: Shehzad Roy's Maula is the perfect gift for Independence Day
Team Janaan on ARY's Good Morning Pakistan and The Morning Show
Yes, one of the most awaited movies of the year Janaan's release is round the corner and we all are pretty excited to see our favorite actors sharing some chemistry on the celluloid.
Before the release, Janaan's promotions are on full swing and we spot Bilal Ashraf, Armeena Khan and Ali Rehman promoting the film everywhere and giving us some fun filled moments. Now hold your breath because on 14th August i.e tomorrow, the team of Janaan will be seen on Nida Yasir's Good Morning Pakistan at 9:00 am on ARY Digital, to share their thoughts on the movie and to celebrate Independence Day with their fans.
While half of the members from team Janaan will be making an appearance on Nida Yasir's morning show, the rest will be seen doing a chit chat on Sanam Baloch's The Morning Show at 10:05 on ARY News.
We hope that you wouldn't miss it, so stay glued to your TV screens to catch those charming faces live tomorrow.
Shukria Pakistan Live Concert
We must say that like the spirit of Independence, Janaan is all over the place. You can meet the team of Janaan at Shukria Pakistan Port Grand Concert in Karachi tonight, or else you can also watch them live on your TV screens while sitting at home. The concert will be featuring singers and the movie actors, who will make you groove on their beats along with a fun filled interactive session with the public.
So be there and don't miss it, and if you can't make it, then turn on ARY Zindagi at 9:00 pm and watch them live tonight.
Mr. Shamim Independence Day episode on Hum TV
Poor Mr. Shamim is back but not as a forlorn lover looking for a suitable match, but as a patriot. Yes you heard that right, Hum TV brings you special Independence Day episode of Mr. Shamim which will leave you in fits. The episode will air at 7:30 tomorrow evening.