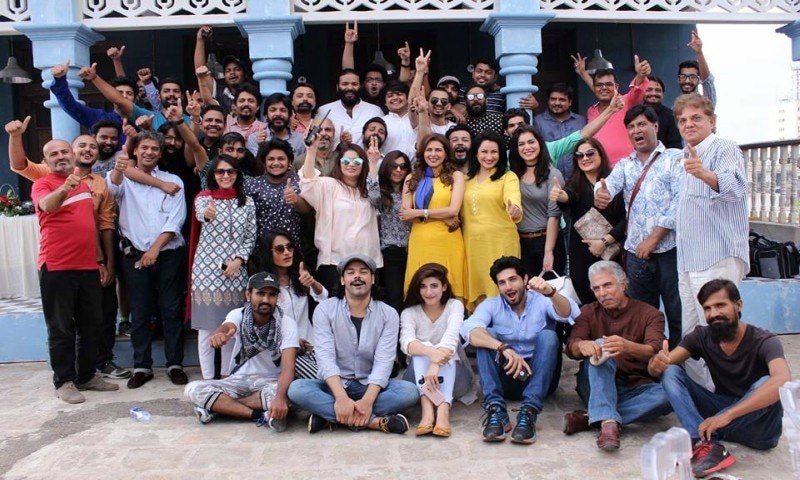 "I believe that Rangreza will bring a complete package for the audience," says director Amir Mohiuddin.

In Karachi's scorching heat and blistering sunlight, Rangreza felt like a breath of fresh air as soon as we hit the set location. The surroundings and the overall feel told a myriad tales about this creation, even before the star cast and the makers could utter a word. Talking to HIP in a meet and greet session with the team, we finally think we solved the curious case of glamorous Rangreza!
Read: Urwa Hocane opens up about Rangreza
The Driving Force, Amir Mohiuddin reveals it all
Talking to the director of the upcoming flick, Amir Mohiuddin, HIP found out quite a few things, as well as the thought-process behind the name.
"Well, I came up with the name 'Rangreza' because it has a beautiful spiritual meaning in depth. Rangreza means the one, who puts different colours into different things. For me, God is the only rangreza who has filled in a lot of colours in different human beings. We all are diversified creations of God and he has made us with different tones. This film has all those colours and this is the reason why we named it as Rangreza. The script incorporates a mix of human values, positivity, the fact that what goes around comes around, music, symphony, love, revenge and many other things. Thats is why it intends to show you a number of colours of human life and personality", the director explained.
After giving a detailed explanation on the idea behind the film, Amir Mohiuddin also said, that while working for almost three years on the script, he had a certain idea on his mind. However, even after knowing what he wanted, he required a proper script with detailing and that's how he met Rangreza's writer, Mr. Akhtar Qayyum, who told him a story which turned out to be the same that he was looking for!
"We both were standing on the same point. We wanted something strong as everyone today has an easy play in terms of script and narrative. People are either experimenting rom-com or they are doing movies based on some agenda. Nobody is talking about 'Pakistani' cinema. The level from where our cinema got discontinued had movies like Aaina and Doraha which people saw at least four or five times as they could relate to those films. Pakistani cinema unfortunately, couldn't reach that level again. And now, we want to bring something which will have a strong story and people will also be able to relate themselves with it. I believe that Rangreza will bring that level by offering a 'complete' package to the audience," Mohiuddin remarked.
Talking about the cast– which has been more controversial than anything else, the director exclaimed,
"Let me reveal that Rangreza is an antagonist based film. Gohar has a very strong character with a harsh and negative feel to it. However, the negativity has been justified with several events in his life which lead him towards being a bad person. I roped him in because I believe till now, he was preparing for Wasim's character ( a dholak player in Rangreza) by doing all those 'minor' villainous roles (laughs). However, this time through Wasim, we will tell you what extent of negativity a person (or Gohar) can reach. So Yes, I am pretty excited and this character is pretty close to my heart."
Mohiuddin also touched base on the topic that had been in everyone's mind; the replacement of Sana Javed with none other than Urwa Hocane.
"I must admit that Urwa has always been my first choice. We contacted her in the beginning but she couldn't sign the project as she had a tight schedule and was busy with Udaari. We got Sana on board but due to some issues, she had to leave. And then finally Urwa came and we got to sign her. Now I feel that Reshmi's character had to go only to Urwa, as she can fit into it perfectly," the director stated.
However when we asked Mohiuddin about Hocane's character, Reshmi, which we thought had a strong resemblance akin to Udaari's Meera, the director nullified the judgement by saying that Reshmi is a girl of modern times unlike Meera who is a hardcore 'gaon ki larki'. She is literate who reads Perveen Shakir and is a pure Karachiite. Whereas, Pakistan's latest heartthrob, Bilal Ashraf will be seen essaying the role of rockstar, who according to Mohiuddin, will show us the actor in a completely new avatar.
About the music of Rangreza
Since, the story of Rangreza revolves around a qawwal family living in Karachi, and has a narrative based on music and romance, the film's sound aesthetics are one of the most important aspects for this production. While the music of the film will also be composed by Akhtar Qayyum, who is also the writer of the movie's script, Mohiuddin feels, the film will be a perfect fusion of modern and classical music. From qawwalis to duet songs and singles, the film aims to provide great finesse in its diverse list of tracks.
Tête-á-Tête with Rangreza's luminaries
Bilal Ashraf as Ali
HIP caught up and asked about his role in the movie.
"Well, my character's name is Ali, who is a pop icon and also a hopeless romantic. For me, its a very special film as I have never played a character like this before. I am really enjoying it!"
Talking about the differences between his upcoming release Janaan with Rangreza, the actor added,
"In Janaan I am playing an uptight, stiff Pathan. But Rangreza is all about love; its flow-y and this is why the character of Ali is very much like that."
About his expectations, Ashraf remains quite hopeful for the film that beautifully shows a musical journey, through a one-of-a-kind narrative. According to Ashraf, Rangreza is gonna make its mark not only in Pakistan but internationally as well.
Urwa Hocane as Reshmi
Talking to HIP, on the sets of the movie, she expressed what she felt towards Rangreza.
"As much as I can tell is that, its a musical love story which has a lot of drama in it. The narrative is flawless! It is too soon to say anything right now that how will we show it on the celluloid, but I must say that I love the script and it is absolutely fantastic. Usually, our narrative is very weak, but this will blow your mind completely."
While we told the actress that Reshmi reminded us of Udaari's Meera, she negated our speculations and stated,
"Its quite different from Meera. Its not close to her at all! I had to work a lot to make it different from Meera since she has been registered a lot by the viewers and they are in love with her. So I had to put in a lot of efforts to create a difference between both the characters."
Gohar Rasheed as Wasim
When we asked Gohar that why is he playing a negative character (again), and how is it different from others, he answered,
"No, I really want to say that its a very different character. It was the most difficult role that I have come across in my entire career. As far as negativity is concerned, I believe that being negative is like being an anti thesis of a hero."
Regarding his expectations from Rangreza the actor remained nervous but equally excited.
"I feel very nervous though but I must say that it is a pure Pakistani content and not inspired by any other industry. My fingers are crossed and I want to say that please do come and watch the film because its a 100% pure and shudh Pakistani film," Rasheed told HIP
Read: HIP Exclusive: Ghana Ali to play the 'bridge' in Rangreza
---
While Rangreza is under its first spell of production in Karachi these days and has covered a successful shooting schedule of ten days, the movie is slated to release in the first half of 2017. Hoping to finish the shoot by December, this year, the team is planning to head towards the North to shoot Rangreza's songs after that.
Now, one has to wait and hope that Rangreza will bring a 'strong storyline' with no Bollywood relevance and a relatively unique cinematic experience as the makers suggest! Time will tell.