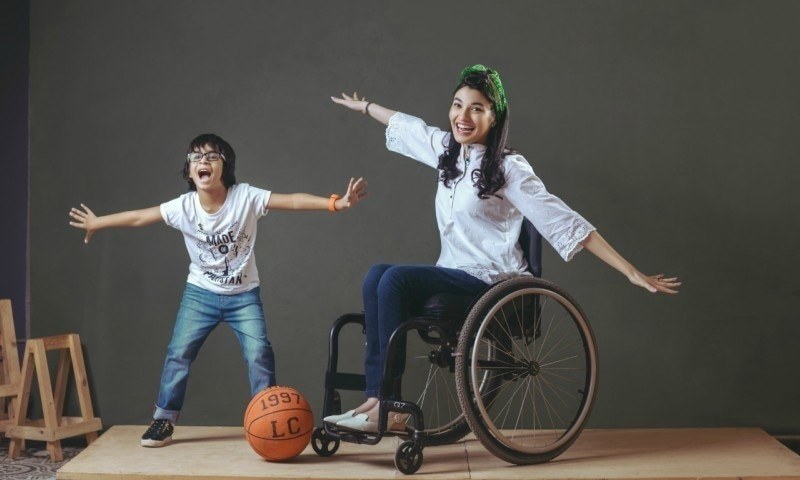 "I want the western world to see Pakistani women as progressive and not mere victims," Muniba Mazari

Muniba Mazari is an inspiration. Despite having lost control of both her legs in a car accident at the tender age of 21 and being bedridden in a hospital for two years, Mazari gathered the courage and the will to live her life to the fullest and tell the world that being bound to a wheel chair is not the end of your life (or even your dreams). There is nothing in this world which you can't achieve.
With that realistic approach, she showed the world and the people - who abandoned her when she needed them the most - that she wasn't less than anyone else and a wheelchair was not going to hold her back from chasing her goals. Today she is a writer, artist, singer, an activist, motivational speaker, a UN goodwill ambassador and was also one of the two Pakistanis to be part of BBC's list of inspirational women in 2015. And if this wasn't enough she is also a doting mother to a son named, Nael.
Read: Muniba Mazari named goodwill ambassador by UN women
HIP recently got a chance to speak to Muniba about work, life, Pakistan and her recent collaboration with Leisure Club's "Made of Pakistan" banner.
How does it feel to be a UN Goodwill Ambassador? Did you ever in your life think that this honor would be bestowed upon you?
To be honest, it felt unreal when I found out about how the UN were considering me to become their Ambassador. I still cannot believe it sometimes. It is truly a blessing from Allah and I feel so honored and grateful for the recognition and I just hope that I can live up to the name.
The people who abandoned you after the accident, did they ever try to contact you and reconcile?
I feel everyone plays a part in people's life. I had many who played an integral part and I am what I am because of them. They are however no longer with me in my life journey and that is okay with me.
How do you handle work, painting and your son?
I don't think I would've been able to do so much, if it wasn't for the support that I have from my mother and my brother. They help me in every aspect of my life be it work, my art or my adorable son. I am just so glad that I have people in my life who love me.
Among all the paintings which you have made, which one is your favorite and why?
My most favorite painting is 'Concerned'; I painted it when I adopted Nael. It is a woman holding a bird in her hand with all her love and caress but at the same time she's concerned and scared. That depicted my true emotions of both joy and fear.
Does Nael share your passion for painting?
Oh yes. Nael is very keen on anything creative and is exploring many mediums including painting.
Read: 10 Most inspiring women of Pakistan
How do you envision Pakistani women and tomorrow's Pakistan?
Pakistani women have a lot to offer. There are some who just need a little push and be told that they can do whatever they want. But the fear of failure or 'log kya kahain gay' is so engraved in our minds that it's hard for not only women, but also for men to let the women achieve what they want to.
We need both the genders to work together to eradicate these fears, to support each other and let the other gender also shine. It is imperative for men of our society to see women as more than mere objects. Understand that it is okay for his wife to work; it is okay for his daughter to get an education. It is vital for all of us to understand that we can only flourish when we work together beyond our gender differences.
You are also a motivational speaker; can you tell us a bit about that?
I have always been a very emotional person, more so after the accident. Also, talking about it, so I can motivate other people was never my intention. I only shared so I could tell people how I felt and it became quite therapeutic for me. I saw so many people who were touched and inspired by my story that they wanted to look at their lives in a positive light.
What was that exact moment when in the hospital you realized that enough is enough, I will take charge of my life now.
It was when I was told by the doctors that I won't be able to walk again and I won't be able to have my own child because of my spine injury. That was the defining moment in my life. I took that as a challenge and decided to overcome all my fears.
What was your recent collaboration with Leisure clubs "Made of Pakistan banner" like?
I instantly clicked with their brand as they stand for the true spirit of Pakistan. We worked together on a campaign for 14th August. It was exciting, inspiring and something I had never done before so I am so glad that I got to be a part of their campaign.
You also recorded a patriotic narration for them; can you tell us a bit about that.
When I read the poem for the first time, I had tears in my eyes. It is the need of the hour to give a wake-up call to everyone. I can't speak Punjabi but I did practice a lot because we wanted this message to reach the masses. And it is my wish to spread the message of hope and humanity.
What more should we be expecting from Muniba the UN goodwill ambassador?
As a goodwill ambassador for UN Women Pakistan I raise voice against gender discrimination. And I also support all the projects that are empowering women and girls in Pakistan under UN Women's flag.
Read: Muniba Mazari: 1st Pakistani in Forbes 30 under 30 list
You truly are an inspiration for us but who has been yours in your life?
There are two people who have always been my inspiration. My mother who keeps reminding me every day that 'This too shall pass!' and Sarmad Tariq; even though he was a quadriplegic yet he achieved so much in life. He always used to say 'Problems are never too big, sometimes we are too small!'
You were also one of the two Pakistanis part of BBC's 100 inspirational women list in 2015, can you share your thoughts with us on that?
I felt so honored to be named in the BBC's 100 inspirational women list because I want the western world to see Pakistani women as progressive and not mere victims, which is how we were portrayed there and it is wrong. In fact, I want the world to see the empowered and strong women of Pakistan.
Describe yourself in three words.
Survivor, Forgiver, Grateful.
Lastly, what special message would you like to give out to the young girls/women who will be reading this?
That breath, which you just took, is a gift! Appreciate it and live your life to the fullest without cribbing. Always remember there are so many people out there who pray for a healthy life and if you have one than be grateful and happy because you are lucky!