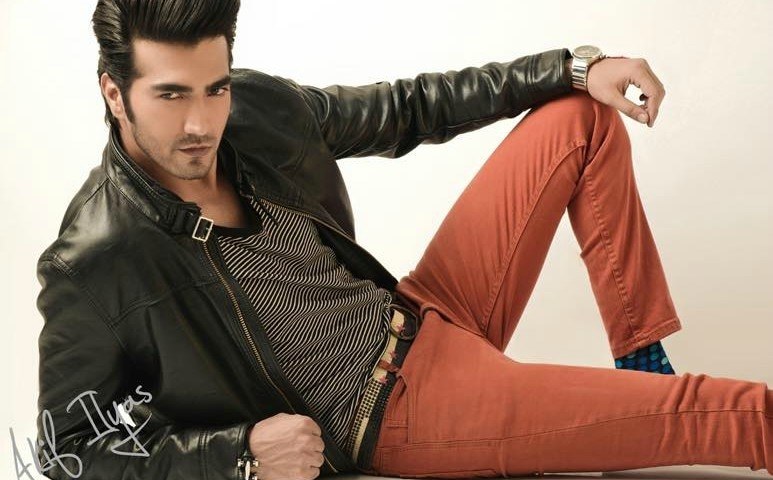 Shahzad Sheikh, son of veteran Pakistani actor and filmmaker, Javed Sheikh, has been in the spotlight ever since his debut as people continue to scrutinize him from top to bottom to gauge if he has lived up to his father's name. After scoring the lead role in highly acclaimed film, Karachi Se Lahore, and giving a strong performance in ARY Digital's play, Vasl-e-Yaar, we can safely say that Sheikh has arrived!
But the actor decided to take a break after Vasl-e-Yaar and is now gearing up to return to our screens after nearly a year.
After a well-received coming of age drama, Dreamers, the actor went on to star in several hit serials including the ensemble project, Ainee Ki Aayegi Baraat alongside his father, Bushra Ansari, Naveen Waqar and others.
Also Read: 'BCW Gold' was a star-studded affair
Amid the dusri-biwi sagas, which continue to rule the television ratings, Shehzad Sheikh dares to bring us a period love story. A story that takes you back to the good old days when shutter shades were the 'thing' and Michael Jackson was the talk of town - yes, we indeed are speaking of the 80's. Featuring the heartthrob alongside Iqra Aziz and Nimra Khan; this drama serial will air on Hum TV in mid-September.
"Choti Si Zindagi is a period love story set in the 80's. It revolves around a small town boy who lands in the city of Karachi. And while his intention is to widen his horizon, he gets caught up with family problems and ends up facing backlash for his efforts," the young actor explained.
While explaining why he signed the project, Sheikh said, "The story itself was promising enough for me to do the project. I have always gone after projects that help me diversify myself as an actor, and this serial gives me an opportunity to do so."
Also Read: Urdu1's 'Arranged Marriage' is a Valentine's Day special
Shehzad Sheikh signs another serial opposite Aiman Khan
And if you thought that was all, you're quite surely mistaken. The actor has also started shooting for 7th Sky Productions' drama serial. Directed by Wajahat Hussain, the serial stars the promising actress, Aiman Khan alongside Sheikh.
"I've just started shooting for an untitled serial. It's your usual run-off-the-mill story that narrates the journey of a foreign-returned guy who gets engaged to his cousin," Sheikh explained. "The reason I took up this serial was that I wanted to be seen in two different characters at the same time. And since I had worked with the director [Wajahat Hussain] a few years back on a serial called Teesri Manzil, I knew that I was working with a professional and reliable team."
Also Read: Caught up in the world of Bollywood: Momal Sheikh talks Happy Bhaag Jayegi
It's movie-time again for Shehzad Sheikh
While the actor has already made his mark on the big screen after playing the antagonist in Humayun Saeed, Mahnoor Baloch and Javed Sheikh starrer Main Hoon Shahid Afridi and the male lead, opposite Ayesha Omar, in Karachi Se Lahore, there is no stopping Shehzad Sheikh.
Following in his father and sister's footsteps, the actor seems to have plans on making a debut across the border, however, for now, he's focusing on two local productions that are slated to begin post Eid-ul-Azha.
"I think art has no boundaries. Wherever good work takes me, I wouldn't hesitate in going there. For instance, I'm really proud of my sister [Momal Sheikh] for her Bollywood debut, Happy Bhaag Jayegi," Sheikh remarked when asked about his views on working in Bollywood. "For now, I'm looking into two films here in Pakistan. One's a romantic comedy whereas the other one is a thriller."
It seems that Shehzad Sheikh is really looking to diversify and that's the only way forward for an actor.