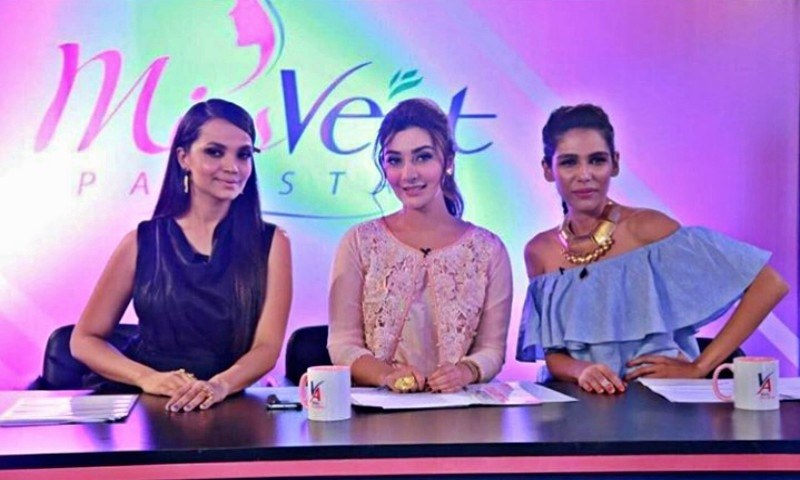 Aamina Sheikh, Aisha Khan and Fayezah Ansari speak to HIP on what makes Veet the best platform for aspirants.
Veet Miss Supermodel has given Pakistan some very talented and passionate models, some of which include, Sadaf Kanwal, Areeba Habib, Saima Azhar, and Hira Hussain amongst others, and this time it is no different While the brand celebrates feminism and beauty –regardless of colour and race, it's all about being the best you can be. And, with the founding of Veet Academy this year, the brains behind the platform, have stayed true to their promise, by grooming fresh and aspiring talent to do wonders for the Pakistan's fashion industry as they provide a complete package.
While previously, the pioneers of fashion, Frieha Altaf and Nabila were associated with the show, amongst supermodels like Amna Ilyas, Cybil Chowdhry, and Mehwish Hayat, this year all the contestants will be mentored by seasoned model of Pakistan, Fayezah Ansari. Apart from Ansari, they will be judged by veteran photographer, Tapu Javeri, model-turned-actress, Aamina Sheikh and the multiple award-winning actress, Aisha Khan a.k.a. Jeena.
Also Read: What went down at the Miss Veet 2016 auditions in Lahore
And to find out more about how the madness goes, HIP paid a visit to the sets of the Islamabad auditions. Drained and exhausted with the gruelling auditions that took place in Karachi and Lahore, the judges and the mentor were as zealous as ever to pick out the best four gals from the capital of the country.
While it was glamour galore right, left and centre, as the aspiring models flaunted their uber chic ensembles, the ambience was full of nervousness. Yet, the sultry essence that Veet embodies did not take a backseat at all. We have to say, we were pleasantly surprised to see the liberation that our country has now started opening up to with brands such as Veet, where women can achieve what they want to, they are able to stand on their own at almost all walks of life and similarly, open new gateways for budding divas.
Also Read: Miss Veet Pakistan gets bigger and better!
And after having waited for almost half an hour, we were accompanied by the management of Veet to conduct short conversations with the women of substance –the judges, as they continued their hunt to find new faces for the industry.
Aamina Sheikh
First up, we spoke to the actress who has ruled the industry with her acting prowess and her chiseled features that remain photographers' favourite, Aamina Sheikh. The actress who has contributed to fashion, television and film immensely, is now all geared up to share her experiences with the future of the entertainment industry.
"We are judging girls on a certain criteria. * Miss Veet Pakistan* is hunting for a few accepts so that we know what to groom and what to look out for; considering the challenges that we have for them in the show. So we are very particular at the moment," the actress revealed. "So far it's been good. We found very unique faces from Karachi, Lahore has beautiful girls and now here we are in Islamabad."
Also Read: Aamina Sheikh is back with a bang!
The Maat actress was also all praises for Veet and the platform that it has formed to unconventionally welcome new talent. She further added,
"I think it's an excellent platform. And they've taken it a notch further from Veet Miss Supermodel to Miss Veet Pakistan, where we are looking for a complete woman. Something that will help our contestants in life, in a long-run. So it's bigger, it's better and it's a lot more fun."
Aisha Khan
Aisha Khan is a name that needs no introduction. From having bagged two major awards this year for her performance in Jawani Phir Nahi Ani, and having topped the celluloid for her character, Jeena in the ongoing serial Mann Mayal, Aisha is all charged up to now broaden her horizon and take potential talent under her wings.
"I think I took up the challenge mainly because of the fact that I have the experience. I started very early, when I was sixteen and a half. And I think the younger a girl is, she's more raw and can be moulded according to whoever she aspires to be," Aisha explains. "I think judging is the hardest role I've ever played. You need to be brutally honest, but I guess the contestants also must take it as a contest. For an actor like myself, who's been successful due to these people, and to be harsh with them is definability no piece of cake."
Also Read: On the sets of Hum TV's 'Mann Mayal'
Describing the basis on which the 12 contestants have been chosen, the Waar star believes that the hunt is to find the perfect woman who is able to shine on her own. Khan stated,
"We are looking for a girl who can stand out, who never gets overshadowed, somebody who's determined and focused, and willing to work hard, seek for advice and gracefully accept the reality. She needs to be edgy, well-spoken, and a full package overall. And I think actors like myself and Aamina, are exactly that. We have a responsibility on our shoulders, we are public figures and I think doesn't limit oneself to only being just an actor."
Fayezah Ansari
Fayezah Ansari, who happened to be one of last's season's judges returns, but this time as a mentor. The highly controversial model, who has always picked unconventional work for herself will now be guiding the candidates on how to survive in the ruthless world of showbiz.
"Young girls aspire to be supermodels, because that's easy. But how long can you go on with it, after a few years you need to branch off to acting, VJ-ing or anything for that matter of fact," Ansari shared with HIP. "So this time we not looking for potential supermodels, but role models. Girls who can go on to become inspirational women."
Also Read: If Bigg Boss was in Pakistan…
The modelling pioneer, Ansari also disclosed that she was never a fan of judging people, however, tutoring is a whole new ball game that she looks forward to.
"I hate judging people. I can't go on to tell people to change certain things about themselves. But when it comes to mentoring; I like to tweak a little bit of their flaws and help them become better personalities and better superstars. I am very excited to be a part of such a platform again, and feel equally honoured to be a mentor this time," she explained.
Also Read: Veet Miss Supermodel 2015 grand finale
Now that the auditions are done and dusted, Fayezah Ansari, Aamina Sheikh, Aisha Khan, Tapu Javeri along with host, Azfar Rehman will be taking the 12 gorgeous competitors to scenic Sri Lanka latter this month. Let the glamour games begin!