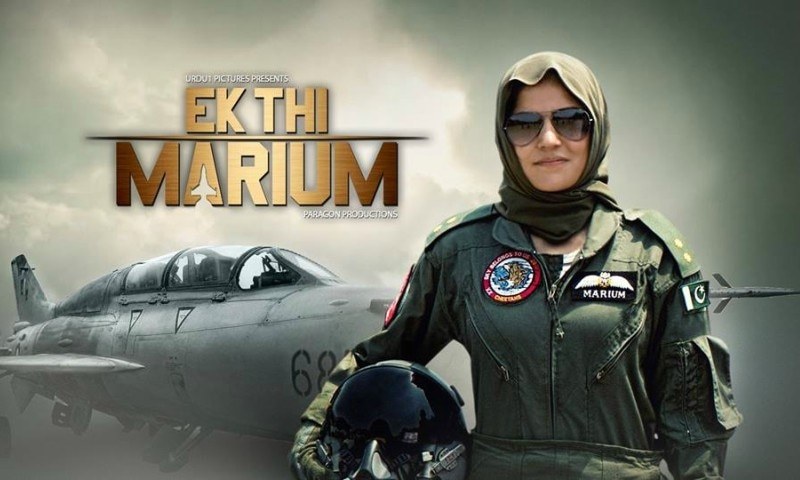 Sanam Baloch plays the late female pilot's role to perfection and we can't wait to watch the telefilm.

Outstanding is the only word which comes to our mind to describe anything directed by Sarmad Khoosat. The man is talented, passionate, and his hard work shines bright on the screen every single time. Ek Thi Marium's trailer just restored our faith in his talent even more.
Based on a true story, Ek Thi Marium is about Pakistan's first female pilot called Marium Mukhtiar who lost her life after her PAF jet crashed in Mianwali during a routine exercise. Urdu 1 and Khoosat along with Umera Ahmed (who penned the script) decided to pay tribute to the young martyr through a telefilm this Defence Day.
Read: Ek Thi Marium's teaser evokes a sense of pride
After seeing the trailer, we can say that Sanam Baloch seems to have understood Marium Mukhtiar's personality so well that you cannot help but connect with her. Everything, from her expressions to her walk, gives us an insight into how the real Mukhtiar must have been like. The decision to select Baloch to play the female pilot was a good one as the actress is one of the finest in her generation.
Let's talk about the trailer a bit. It gives us an glimpse into Marium Mukhtiar's life and shows us how supportive her mother (played by Hina Bayat) was of her dreams and encouraged her at every step. Mukhtiar's mother taught her to never give up especially during the time when Mukhtar herself doubted her decision of entering the air force. Even within few seconds of the trailer, we could tell that Baloch and Bayat share a great on screen chemistry as the mother-daughter duo.
Khoosat (and his editor) has successfully managed to convey the struggle, which Mukhtar underwent to become a fighter pilot, in the short trailer. Again, the production quality and the direction looks absolutely flawless.
Read: Sanam Baloch to star in Sarmad Khoosat's Defence Day telefilm
Ek Thi Marium will air on 6th September 2016 only on Urdu 1 to pay tribute to Pakistan's first female fighter pilot. In the meanwhile, click here to see the trailer and do share your views with us.