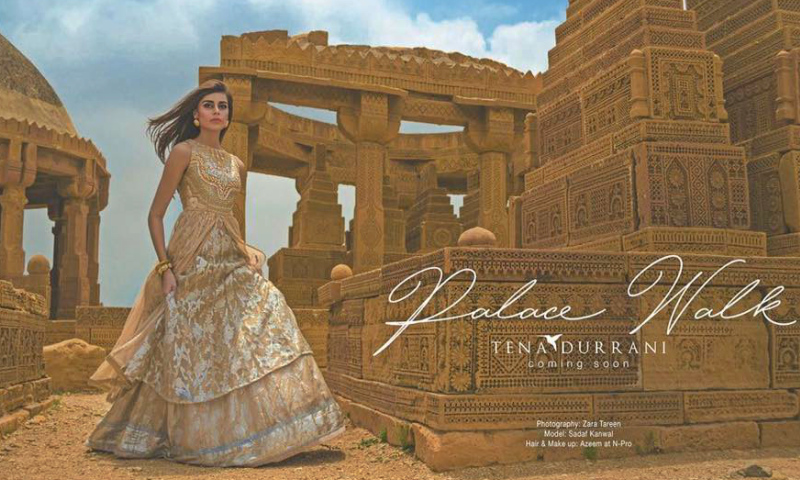 We speak with both, the photographer and the politician, to clarify what they actually want.

What do you do when someone who has just eaten a burger says, " Burgers are unhealthy one shouldn't eat it!"? Well, you politely remind them of 'their' most recent interaction with the food item. Something similar happened when Sharmila Faruqi took to Twitter to express her discomfort regarding designers using heritage sites for conducting photo shoots.
The former adviser to the Chief Minister Sindh wasn't aware that the photographer Zara Tareen, who took photographs at the Chowkandi graveyard, will reciprocate with equal force.
Sharmila Faruqi, who is spotted in copious talk shows, is quite vocal about things which disturb her or the nation as a whole, but her extravagant engagement function held at Mohatta Palace (a heritage site) a year ago hurt her stance this time around.
Read: Who's Fakhr-e-Alam? Asks PPP leader Shehla Raza
As expected, people didn't take a second to nullify her critique and immediately reminded Sharmila of her star studded engagement at Mohatta Palace and the Sindh Festival, which was held in Mohenjo Daro under the leadership of PPP.
Read: Celebs express shock and grief on Qandeel Baloch's death
Nevertheless Zara Tareen, the photographer behind the photo shoot of Tena Durrani's recent collection, Palace Walk, thanked people for admiring her skills and took digs at Faruqi for her lavish engagement held at the heritage site.
HIP got in touch with both the ladies to find out their stance regarding the matter.
I didn't mean to criticize the brand or the photographer: Sharmila Faruqi
Faruqi clarified that her intention was not to hurt the brand or the photographer, she just doesn't want businesses to hurt sanctity of graveyards.
"I didn't mean to criticize the brand or the photographer's work particularly. Its just that you need to maintain the sanctity of a historical place. Chowkandi tombs are actually graveyards which have a sacred value behind their history. It is highly unethical to shoot over there (or places like this) for a lawn or any other brand. These historical sites shouldn't be used for commercial purposes."
"If you really wish to bring the beauty of those places at the forefront, you should make a documentary on them rather than using them to promote commercialism," Sharmila Faruqi added.
If heritage sites should be preserved and not used for commercial purpose, then how does she justify using Mohatta Palace for her engagement and Mohenjo Daro for Sindh Festival? Faruqi maintained that both these places are not graveyards.
"People and the photographer kept on pinpointing over why I organized my engagement at Mohatta and why PPP arranged Sindh Festival at Mohenjo Daro. In that regard I would like to mention that Mohatta and Mohenjo Daro both are not graveyards," Frauqi explained. "Mohatta Palace has been used for events previously as well. It is a venue which is given on rent to people to do events and ceremonies. They have a proper board of governors from whom you have to take permission, and my father and I did go under all formalities before taking it on rent."
While shedding light over the Singh Festival, Sharmila revealed that the festival didn't take place on the actual site where the city is situated (again, Mohenjo Daro is not a graveyard or a holy place).
She told us that the place where the festival was taking place was far away from the ruins of Mohenjo Daro and didn't affect the site.
"The festival's purpose was not to promote any commercial gain of the party. No revenue was generated from the festival and we didn't charge 5 or 10,000 rupee tickets from people either. It was actually organized to highlight our heritage assets and to draw world's attention on urgent preventive intervention needed there."
Sharmila Faruqi then threw a number of questions at those who're accusing her of double standards.
"Would anyone tolerate it if their ancestral graveyards are used for a lawn or luxury brand shoot? I feel that these people are unfortunate who can't understand the simple logic behind it. I don't intend to criticize anyone but it is quite disappointing to see them commenting on personal level."
Faruqi further revealed that she and her team were currently working on historical sites and just two weeks ago, they did a preventive intervention at Chowkandi and other places.
The cultural minister concluded her stance by suggesting that people should be banned to go to such sites and shoot for commercial purposes. If they are looking for antique locations, they can use places like Frere Hall and Mohatta which are available for such activities.
I am willing to work with Sharmila Faruqi to preserve our heritage: Zara Tareen
Next up is Zara Tareen's stance who engaged into a Twitter war with the politician.
"The shoot was for a third party and I was a photographer who was there to do her job as paid to do so," tareen explained first up. "If Miss Faruqi genuinely cares for preservation and promotion of our heritage sites, I am willing to extend a friendly hand and meet with her to see how we can involve the arts in the promotion of such sites and go about doing things that are beneficial for the empowerment of our rich culture. Efforts need to be encouraged not discouraged. I haven't blocked her on any media, she is more than welcome to message me."
She elaborated her statement while appreciating Sharmila Faruqi's measures to preserve Pakistani culture and its historical sites.
"I would love to come and see all the work you have done as a cultural minister and tweet about that and see if we can put this behind and how we can use such opportunities for promotion of national heritage," she added.
Sharmila Faruqi invited Zara Tareen for a chat about the prevention of such sites and Tareen accepted the invitation with open heart.
"I welcome that invite. I would like to speak with you specifically about how we can make it easier for the arts community to promote and highlight these sites when opportunities like this arise and what incentives can be out in place to encourage keeping out shoots, commercials and films inside of Pakistan instead of taking them out. See you soon."
Hopefully, this war against 'who better saves the heritage and how' will reach beneficial conclusion. What matters is that heritage and art go hand in hand, and if old sites are being utilized without being harmed, then why not market them to the world through photoshoots and documentaries, both?