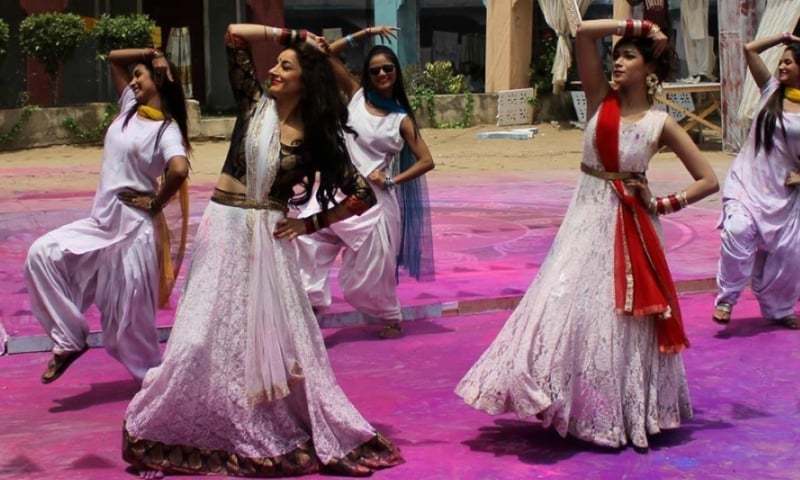 Talking about her role and the experiences she had on set, the actress reveals all in an exclusive interview.

The sweltering heat enshrouds Karachi. The commotion of the city grows tenfold as downtown traffic takes over avenues, and life in the metropolis continues like any other day. Amidst such quotidian tasks, colours and music take over and in the distance, cameras roll and the director yells 'cut'. Exactly that is what we saw, as we got to the sets of Adnan Siddiqui's debut production, Seeta Bagri.
Claimed to be one of the most expensive productions in Pakistani television industry's history, the sets screamed heritage. Whether it was the rustic Karachi Goan Association building or the production design intricately designed to match it, Siddiqui's production had an aura of class that one doesn't get to see on many sets. Might we add, all the equipment being used was simply any filmmaker's dream!
Narrating the story of a Hindu girl named Seeta (Sarwat Gilani), who is stern in her ways of life whilst also having a side to her that is obscuring yet beautiful, we find her in a life of activism, doing what's right, and loving those around her. Having said that, she is also the one who lives in the moment and makes other feel alive too. So what exactly makes her different? HIP asked the leading lady, herself in an exclusive on-set interview.
Sarwat Gilani as Seeta
HIP: We don't see many actors going for a subject that focuses on minorities or their stories. Why did you choose this role?
Sarwat Gilani: I primarily took the role because it was a very different subject and not a lot of people want to indulge in this subject, especially in times like these that Pakistan is going through, but as an artist we have a responsibility towards everyone whether they are Pakistani Hindus, or any minority living in the country. Secondly, I chose it because Adnan has been a very dear friend and this was first production venture! So, I guess everyone on board with him is either here because of the subject, or to support him! He has always stood out as a classy person and we have had many conversations over the responsibilities an actor has. So, we were pretty much on the same page and I felt very safe as an artist working with him.
HIP: As we know, Seeta is a responsible girl, who has an activist streak to her. Do you feel personally connected to her?
SG: Seeta is not dominating, but she is very rule-oriented. She is all for women education, and rights for both men and women. Seeta actually comes from the Hindu Goddess (Devi) Sita, who is very positive, and that's the characterization the director and writer conceived for her. She is the epitome of pureness and at the same time, she is a fighter. She is a beautiful character that Iqbal Hussain did complete justice to. I can personally relate to her because I am like that as well. I would slap men in buses and bazaars if they misbehaved with not only me but also with those around me, and Seeta is exactly that. At the same time, she is also someone who prioritizes her loved ones.
HIP: We also heard that you specifically learnt Hindi for this project along with Hindu traditions. How was that experience?
SG: We had a girl Surita, who is an artist from NAPA, who would tell us how to do Pooja, and all our lives we saw that only in Bollywood. It was very intriguing and at the end of the day, I learnt that all religions preach the same message of being a good person, to love God and to speak the truth. That's what I like about it. Traditions and cultures just add colours to religion to make them worldly, otherwise they'll be spiritual to which, you can't relate to.
HIP: There's a dance sequence that will introduce the audiences to Seeta before the drama releases. Tell us a little about that.
SG: I hope the audiences like it! I was very uncomfortable initially, but then both our choreographers, they really made us comfortable by giving us steps that were easy. I did have to take permission from home, even though I am married with a child, but I had to ask my family if I could dance on screen. But overall, it was amazing since it's a new concept and you hardly see so much money being invested into production value! This is really raising the bar and I am glad I am a part of the revolution.
HIP: Lastly, is there anything else you would like to tell the readers?
SG: It's very easy getting in the industry, but it's very difficult to work here with a responsibility on your shoulders. We're not just here to entertain people, we are also here to educate. So I would say, please support that value systems that our elders and forefathers have instilled within us. You can be anyone, but you can also be someone with values!
---
While Gilani befittingly plays the lead role, the acting powerhouse Bushra Ansari, the legendary Qavi Khan, Shameen Khan, and Syed Jibran, also accompany her in supporting roles, which hold their own unique dynamics in the drama. Seeta Bagri, which is all set to air on TV One from October, surely seems like a delight you wouldn't want to miss out on.
Stay connected with HIP as we bring you more about the drama, soon!