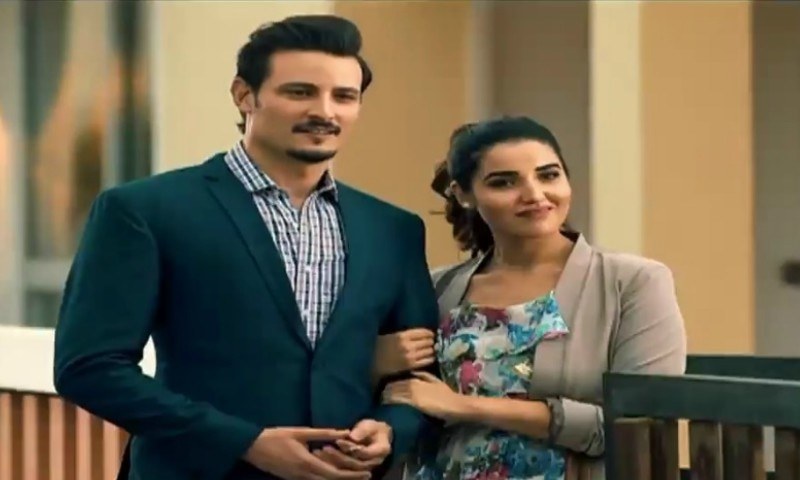 Yes and no. Yes, because Diyar-e-Dil had our dil (ignore the cheesiness) and no, because Mann Mayal refuses to mayal our mann (translation: woo our heart or rather our brain). It has all the right ingredients in terms of casting, director and the production quality - gauging form the teasers - but Maya Ali's long hair and helpless eyes are scarily reminiscent of Mann Mayal which has us worried.
Don't get us wrong, Ali is one of the strongest links in Mann Mayal in terms of acting, but the fact that her expressions remind us of a drama serial which is rather torturous, does not go in favour of Sanam. Or maybe it does, because Mann Mayal is topping the ratings charts ever since it went on air.
Read: Hareem Farooq, Osman Khalid Butt wrap up Sanam
Coming to Sanam, the first look(s) of Haseeb Hassan's upcoming directorial venture has us excited which is natural because it boasts of the famous on-screen couple, Maya Ali and Osman Khalid Butt. And it has Hareem Farooq AKA Diyar-e-Dil's famous Mommy Arjumand!
Here have a look and please pay close attention to how Butt looks at Ali while his wife hangs on his arms delivering dialogues like, "tum doosri larkion ki taraf dekhtai bhi nahi". Little do you know Hareem!
Yes, Hareem Farooq plays Osman Khalid Butt's wife in Sanam and no, it is not incest; Farooq was only Butt's on screen mother in Diyar-e-Dil and we need to understand the difference and accept it. Maya Ali, on the other hand, is shown as an assuming forlorn lover who turns out to be a husband-stealer!
At least that's what the promo suggests. Have a look at how Ali and Butt are prancing their way to happiness.
Read: "I would've been married by now, if I wasn't an actress," says Maya Ali
We finally see Osman Khalid Butt as the quintessential romantic hero in Sanam as opposed to being a mommy's boy like he was in Aun Zara, DeD and Aik Nayi Cindrella. But let's wait for the serial to on air before jumping to conclusions.
Written by Mona Haseeb and produced by MD Productions, Sanam will air on HUM TV soon.