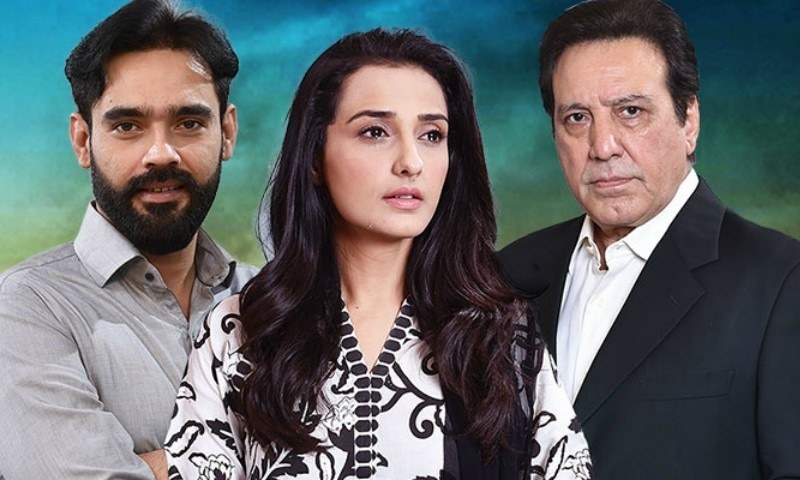 We had gotten used to seeing plays with strong story line and superb acting from TvOne after watching Main Sitara, Mann Pyasa, and teaser of their upcoming serial Seeta Bagri, we had high hopes from their latest drama serial, Khuda Gawah, which stars the lovely father-daughter duo Javed and Momal Sheikh, but four episodes down, the play has nothing new to offer. The serial fails to hook the viewers; in short, it doesn't compel you to tune in to it next week to find what happens next.
Penned by Irum and Saima Wasi, the story is quite straight forward.
Faizan (Javed Sheikh) has a daughter called Munaza (Momal Sheikh), whom he adores and fulfills every single wish of hers, no matter how expensive or unattainable. Living with them is Dadi ( Badar Khalil) - who is a breath of fresh air in this run-of-a-mill story - and is very loving towards Munaza.
Now, Munaza's mother is very strict and does not like that her husband spoils her rotten simply because she worries how her daughter will adjust in "doosra ghar" (her susraal) if she always gets her own way.
The play starts off on a very happy note and besides the two Sheikhs, we also see Hassan Niazi as Shehroze, who is Munaza's cousin and is madly in love with her. Since they're cousins and have conveniently fallen in love with each other to everyone's delight, the two get engaged. But the twist in the tale is that just as they are preparing to exchange rings, Munaza's mother has an accident on her way to the venue and gets killed.
If you're thinking, her death is the 'twist' then we'd suggest you rewind your mind and read ahead. Munaza's mother has a deep (very) dark secret! And before calling it quits in the hospital, she decides to impart the piece of very controversial information that Munaza is not Faizan's daughter to, of course, Faizan and her mother in law (Badar Khalil).
But, the twist doesn't end here; before she could tell Faizan who Munaza's real father is, she passes away!
Read: Caught up in the world of Bollywood, Momal Sheikh talks Happy Bhaag Jayegi
And the drama serial takes a turn for all things bad.
The doting father transforms into a man who cannot stand the sight of Munaza. The phuppo - Shehroze's mother - doesn't want a daughter-in-law with a dodgy lineage. Munaza, who was earlier a cheerful person, resorts to wearing black clothes and crying all day (and even night) long.
The only two people who love her like before are Shehroze and Dadi. Faizan hates her so much that even the sight of her in the same room as him sends him in a fit of rage.
Who is Munaza's real father? Will Faizan accept her as his daughter again? Will Sheroze and Munaza get married?
These are the questions which the audience should be dying to get answers to, but unfortunately, we, as the audience, aren't going to have a cardiac arrest even if these questions are left unanswered simply because the serial's execution lacks the punch. We've simpler plots do good on television but Khuda Gawah, despite its twists and turns, is just another serial on our television.
Directed by Asim Ali and produced by Gold Bridge media , Khuda Gawah's four episodes have only managed to give us an idea of what the future holds. Let's hope the serial picks up pace.
The saving grace of this play is Badar Khalil who plays the loving and supporting Dadi and it is good to see the veteran actress back on our screens. Another person who is acting very well is Hassan Niazi; his expressions and the whole body language makes the play bearable.
Read: Badar Khalil bids farewell to showbiz with two serials and a play
We will keep an eye out for Khuda Gawah as it is unfair to write off a play based on its first few episodes.