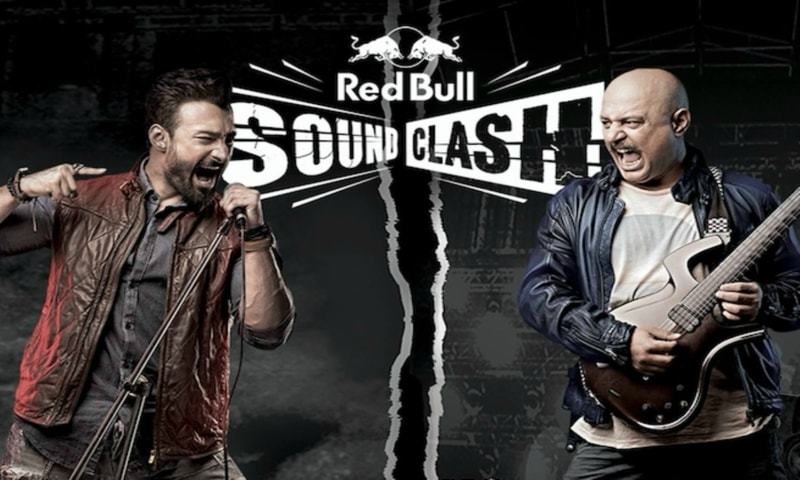 Gumby and DJ Faisal Baig open up to HIP about their expectations from tonight.

While the common thought may remain that the Pakistani music industry is almost moribund, the hype we saw created around Red Bull's 'Sound Clash' in the last few weeks told us a different story. With a title that promises a battle of epic proportions, Red Bull has brought now to Pakistan is what the nation had been yearning for a long time; a respite.
Starring not only the two mainliners Ali Azmat and Umair Jaswal, the show will also feature Pakistan's favourite drummer Louis J. Pinto A.K.A. Gumby, and renowned DJ, Faisal Baig, apart from a surprise 'wildcard entry', who are all set to rock the venue tonight! Expecting only the best from the grand music ensemble, HIP struck a conversation with the drummer about what we would witness at the event tonight!
Talking to HIP about Sound Clash, Gumby remained all praises, as he looks forward to tonight with a feeling that 'rock n' roll' needs to come back in action. Adding that he witnessed this concept last year in Germany after which he wanted to introduce it to Pakistan, the drummer said,
"This isn't a battle, it is just a night to appreciate music, feel good and have fun!"
When asked who he was anticipating to win, he added that all musicians were not only his friends but inspirations to him in different ways. He reminisced about how after completing four seasons with Coke Studio, he took this break to reinvent his perspective of music and help in efforts such as Sound Clash.
The drumming prodigy is now aiming more for live concepts, and believes his concept for Redbull is a part of that.
"It is easy to criticise ,but it is difficult to make things work. It requires effort to put together something with a lot of heart and soul," Gumby added.
Besides him, the crowd will also see the comical Ahmed Ali Butt, and also witness the magic of DJ Faisal Baig, who will be seen building energy and raising the levels of adrenaline rush that can only be expected by the eccentric musician.
confirming his rather neutral stance, Baig said,
"I am not collaborating with any band, I will just be there to give energy and keep everyone charged!"
So, if you have been anticipating only the best up to now, gear up for a night of your life, as a realisation of the evolution of Pakistani music would be witnessed on gargantuan amounts. Get ready to bang your heads and yes, keep a Red Bull with you, you never know when you might need wings.