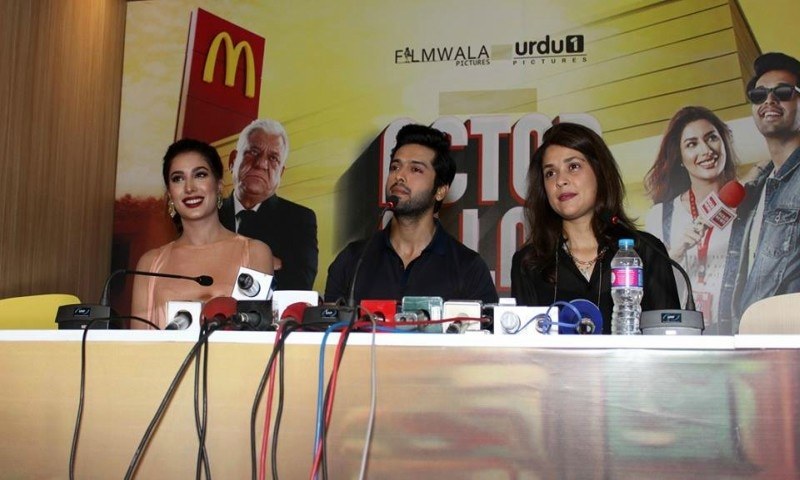 "We want you to help us promote our film," Fahad Mustafa requests the press.

The city of lights turned into city of plights on Saturday, but there was no stopping Actor In Law's team from carrying out their film's promotional activity. They went on to have a chat with media and bloggers at a local restaurant. The film is almost two weeks away from its release, hence, the excitement and enthusiasm surrounding it is rising with every passing day.
The purpose of the meet up, or for that matter the entire promotional campaign, is to ask people to support the film and the makers' efforts and become part of quality cinema and judging by the trailer, Actor In Law does promise quality if nothing else.
Read: All that happened at Actor in Law's music launch
Fahad Mustafa's appeal to media
Since we all know there are three major releases - Actor in Law, Janaan and Zindagi Kitny Haseen Hai - this Eid-ul-Azha, the competition is pretty tough among all the makers, actors and even the media partners who are backing them. Although increased competition will help filmmakers bring their best out eventually, right now it has led to a media war of sorts and it is upsetting to see channels refusing to let films (being backed by their rival media houses) to promote on their channels.
"It feels quite bizarre when other channels refrain from promoting our film or even showing our songs on their channel even when they have no issues in playing Hindi movie songs and trailers," Fahad Mustafa said while addressing the media. "I have often seen Shah Rukh Khan and Salman Khan's film songs being played on these channels but they don't want to play any Pakistani movie's trailers or songs which is not made under their banner."
He added, "Actor in Law has a wide range of people associated with it. We have songs sung by Atif Aslam, Rahat Fateh Ali Khan and Asrar who have millions of fans all over the world. Even I have a big fan following but these channels don't put up our news or show a glance from the film which is sad."
The only thing actors and producers can rely on, is working hard and making sure their film pulls crowd despite not being promoted as well as is the norm globally.
"Now all we can do is work hard and bring our best. It is very easy to make a film in this country but very tough to promote it because nobody cooperates," Mustafa continued to highlight the pertinent issue. "I am saying this because till now I have worked in three films and have experienced how much pain we actors bear in order to promote our movies."
While asking for media's support to promote Actor in Law, Mustafa, who plays a struggling actor in the film, said:
"There are a lot of cameras and media persons here, and we want you to help us promote our film. It is a very good effort and we want that every Pakistani kid should know about AIL's release, as we have worked really hard and we believe that no matter how good or bad it is, since it's a Pakistani movie, everyone should come and watch it."
Lastly, Fahad Mustafa revealed that AIL 'is a purely a Pakistani story' and it addresses general people and our country's issues with the help of satire. The movie is one of its kind and all the actors involved in the film have never played such kind of roles before and according to the actor, if media and people support it, it can bring a huge progress in Pakistani cinema.
Actor in Law is unique: Mehwish Hayat
When asked about her stance related to the film, Mehwish Hayat, who plays a journalist in AIL, pointed at the press and said,
"First of all I would say that my character in the film is very unique since I am playing you guys," said Hayat. "I am doing what you guys do in your day to day life. When I was shooting, I realized about the struggles and problems you guys go through in your profession. After doing this role, I must confess, that my respect for the entire journalist community has increased."
Read: Atif Aslam talks to HIP about Actor In Law's music and more
"Fahad was right when he said that we have worked really hard for the film so please support our film and do watch it because it entails the story of every Pakistani out there. The subject is also very unique and nobody has ever made a film on it because it's tough to handle such topics. Whatever is said in it, is said in a humorous way and has a message which needs to reach public," she added.
Directed by Nabeel Qureshi, co-written and produced by Fizza Ali Meerza - the team behind acclaimed film, Na Maloom Afraad -, Actor In Law is one of the most awaited film from the upcoming crop. Moreover, with established actors - who enjoy large fan bases - like Mehwish Hayat, Fahad Mustafa and Om Puri, the film definitely has an edge over Janaan and Zindagi Kitni Haseen Hai. Let's see if it meets, exceeds, or fails to meet the expectations.