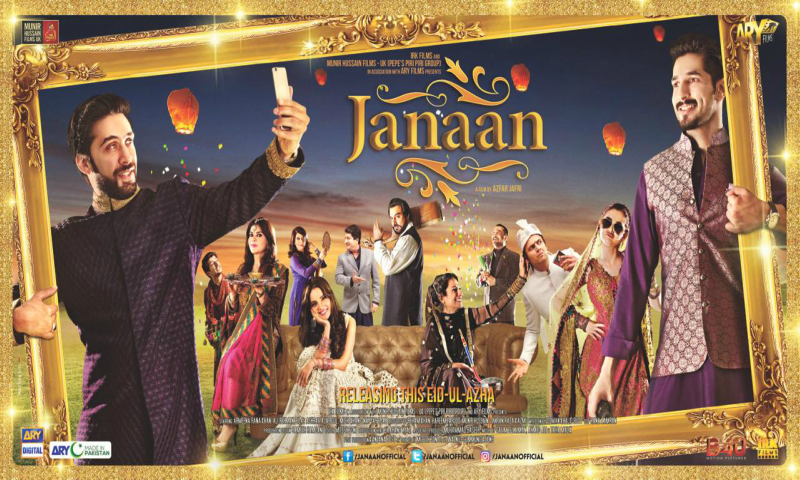 Speaking exclusively to HIP, the trio talked about Janaan, their undying chemistry and what went on behind the scenes!
While many think that a film may be successful due to its star power and entertainment factor, professionals in the industry are well aware the main driving force is the crew/team behind the camera - without them, there would be no movie. Whether it is the overworked Director of Photography working hard at it in the sweltering heat, or the producer, who overlooks every intricate detail, if the film is a super hit, it's a joint effort! Proving just that, are the brains behind Janaan, co-producers Hareem Farooq and Imran Raza Kazmi, and director Azfar Jafri.
READ: HIP Exclusive: Team Janaan goes in-depth
Speaking exclusively to HIP, the trio talked about Janaan, their undying chemistry and all that went on behind the scenes!
HIP: Define what is Janaan to you?
Azfar Jafri: Janaan is a very different experience for me than our last project, Siyaah. It is something that we were not originally working on. But, we decided that we have to do something, which would be relatable to the entire world, and not just Pakistan. So we came up with some concepts that were breaking the stereotypes our society had created, especially regarding the Pashtoons. And to quote Imran, "We Pakistanis are as normally abnormal as everyone else." (laughs)
Imran Raza Kazmi: Janaan is not an experimental film and it gives out a very strong message. Having said that, Janaan is just a product to show how normal we are! It has escapism, and we all want that.
Hareem Farooq: It's a very good film (laughs). Janaan for me is something that will definitely bring a change. It will actually inspire and educate our audience. It will inspire more people into this field, to make films! If nothing else, at least what I am confident about is that it would change perceptions about cinema. I am not going to say that it's a perfect film but we have tried and worked really hard on it! We've tried breaking stereotypes and that was our intention.
HIP: Do you think this is different from Bollywood?
IRK: This is what I keep telling people. We can never separate ourselves from them. We were a part of the same area, the subcontinent. For example: they like to dance on mehendis, we do too. We like colours, so do they. So there will always be some resemblance in this aspect. But, at the same time, the main story is Pakistani. The main difference is that our stories are not over the top and more realistic and that's how our film industry can always differentiate from Bollywood.
HIP: A lot of things change from the script to the final product. How was your experience shooting this film?
IRK: It was very tough. In Pakistan, shooting a film is always hard because we lack resources and budgets. But, when you have a very good team, a lot of work is easily done. Our actors were really supportive so it helped. Plus, I have known her [Hareem] since 12 years and she's like my 'sister from another mister' (laughs), so it was easy in that aspect! And then with Azfar, the best thing is that he improvises on location. He is not the sort of person who wants everything on point. Whatever he improvises is always better than what's written on the script! So that's his quality!
HF: The best thing about him [Azfar] is that he has a lot of technical knowledge, so that helped massively.
AJ: I think it comes from Siyaah. On that project, we were the spot boys, and almost everything!
HIP: From a journey of a shoestring budget for Siyaah to a mega-budget film like Janaan, were there creative conflicts?
IRK: I think the kind of chemistry and rules we have, it works out for us. Plus, when the entire team sees that we have a united front, it serves as an example.
AJ: We brainstorm a lot! We do argue over things and not just accept things, but we bring in our directorial and production perspectives, and we respect each other's opinions. So, we decide on an ending note that always is a solution.
HF: We solve things and remain united, and I think that helps!
HIP: How was your experience working with three powerful personalities as your protagonists?
HF: The best part is that our chemistry with the actors was very important in order to come out with a good product with positive energy! I think, not just the three of them but the entire cast had a good vibe to them. My biggest strength were my actors because I was learning production in reality.
AJ: I think the biggest strength to the team was that we also had a very powerful person in the production side, and that was Hareem! She is equally powerful. And, that's what really created that balance.
IRK: I agree, because of Hareem, the actors were always on time. She knew what the limitations for the actors were so she used to help them while at the same time, helping the production.
HIP: What were the most cherished moments from the shoot?
AJ: I think it is yet to come, on the 13th of September (laughs).
IRK: I think the most memorable moments are those, which were the toughest, and for us, it was the 30-hour spell of shoot that we had, and in the end, one of our crew members caught fire! Luckily, we saved him but that we'll always remember.
HF: From the starting of the production to this day, everything has been memorable. Like laughing like crazy on random jokes. You create your memories, and that's with everyone!
HIP: If given a chance, would you do it all over again?
IRK: Of course! Our main goal has always been the script, and if in the future if we make another film, we'd love to have the same actors.
HF: Definitely! We would totally do this all over again. We have to take cinema forward!
AJ: Of course, why not!
HIP: Lastly, any message for our readers?
IRK: Watch Janaan on Eid-Ul- Azha!
HF: Be more accepting towards cinema. I am not just saying to do that with our film, but everyone at the moment is experiment and working really hard. They are trying to revive cinema, so support them. Everyone has strict budgets and circumstances at the moment, and we really need to be accepting of the smaller things in our films.