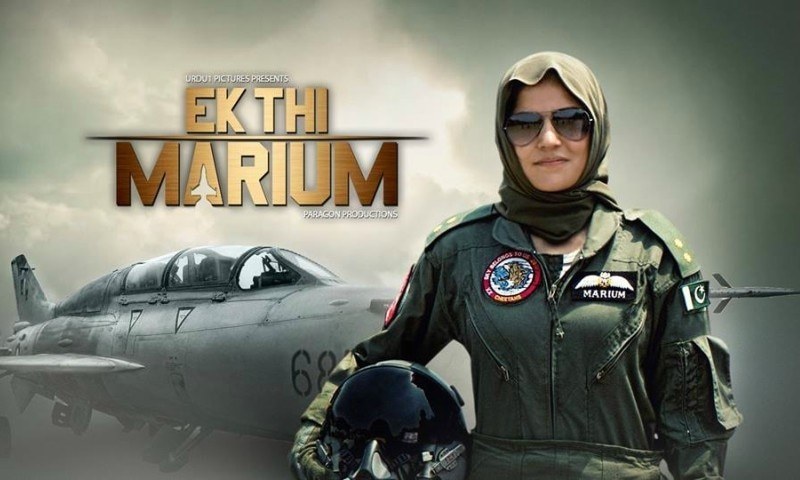 "The instructors were impressed and they even asked me to join Air Force (laughs)," Sanam Baloch shares.
"Basanta mar gaya! Basanta mar gaya!" Bano exclaimed joyfully as she danced about the dead body of Basanta, her husband, and enabled us to feel the relief she felt. The woman who made us cry our hearts out in Dastaan was Sanam Baloch. She lived the character, and made us live it too, every time she appeared in a drama serial; be it as Zara in Daam, Kiran in Kankar or the hateful Shahla in Doraha.
After a sabbatical of around three years, Baloch is all set to appear on our screen with Sarmad Khoosat's Defence Day telefilm, Ek Thi Marium - a serial based on our real life hero, Marium Mukhtiar.
Mukhtiar was Pakistan's first fighter pilot, but she lost her life after her PAF jet crashed in Mianwali during a routine exercise, leaving the world too soon.
Read: Ek Thi Marium's trailer will leave you speechless
What was your motivation to play this role?
Sanam Baloch: Ever since I heard about Marium and her plane crash, I was into her story. I have always been critical of how women are percieved in our society. They are thought to be weak and emotional unstable and what not.
Then I came across Marium Mukhtiar, an Air Force pilot, being trained for hard core fighter jet flying. Where most of the men dare not tread, there is this 'weak and emotionally unstable' woman saying 'Look at me. I am a woman and I can do this'. Isn't this incredible?. She proved my point right that women are as capable as anyone at anything. So I was hooked to her story even before I was offered this telefilm.
What are the lessons you learnt from Marium's life?
Resolve. Courage. The courage to stand up, look into the eyes of fear and say " Don't come back to me, I am over you". And this is all we need to do wonders in life.
What do you love about her character?
Her focus. When I met her family and friends, I realised she was an extremely focused individual. She set a goal for herself and she got there. She was a perfectionist.
Read: Sanam Baloch to star in Sarmad Khoosat's Defence Day telefilm
What should viewers expect from this film?
A moving story of a remarkable girl. A self-driven individual who saw life and death differently. She lived wonderfully and she died a martyr. Who wouldn't want to watch such a story?
How did you prepare for the role in terms of rehearsals and physical training?
I still haven't been able to decipher my method to acting. it just happens there and then. May be I want to be in the moment while it is being done. So for this character, my approach was the same, that is to get into her head.
I asked myself a lot of questions about Marium. What motivated her? What did she feel bad about How would she cry, smile and love and all. And it helped me a lot while doing the scenes. I made up a sketch of the basic character and then allowed myself to react to situations the character experienced. Since people have seen her talk, they know her.
And I've never played a real life character before, so I had to be extra careful of everything. For example, I noticed she wore a specific wrist watch. I knew people wouldn't notice such a detail but I made sure I wear such a watch too. It had to be less of myself and more of her and it was challenging.
I loved doing all the physical training. I loved sports when I was young and that made things easier for me. And you know what the instructors were impressed and they even asked me to join Air Force (laughs).
Read: Ek Thi Marium teaser invokes a sense of pride
While filming this movie do you feel like you were impacted personally from the story?
First thing that struck me, apart from the story, was the tough training that our forces go through. One has to be extremely tough, both mentally and physically, to survive. We shot a lot of scenes at the Risalpur Academy and I got to see their routine up close and I must say I was impressed. Hats off to all the cadets.
I jumped off a 36 feet tall structure, I flew a trainer plane, Mashaaq, marched while holding a really heavy gun, ran, did awkward exercises, and all this has made me stronger. Marium Mukhtiar ne maut ka dar khatam kar diya hai. Thank you Marium, my friend.
Do you have any message for the audience about this telefilm?
All the mothers and fathers and men and women and girls and boys, basically all the Pakistanis, do watch this telefilm. And allow your daughters, sisters, and wives to pursue their dreams. They will make you proud. Ye Marium ki nahin, Pakistan ki beti ki kahani hai [This isn't just Marium's story, it is the story of every Pakistani girl].
See you on 6th September at 8pm only on Urdu1!
We leave you with the trailer of Ek Thi Marium.