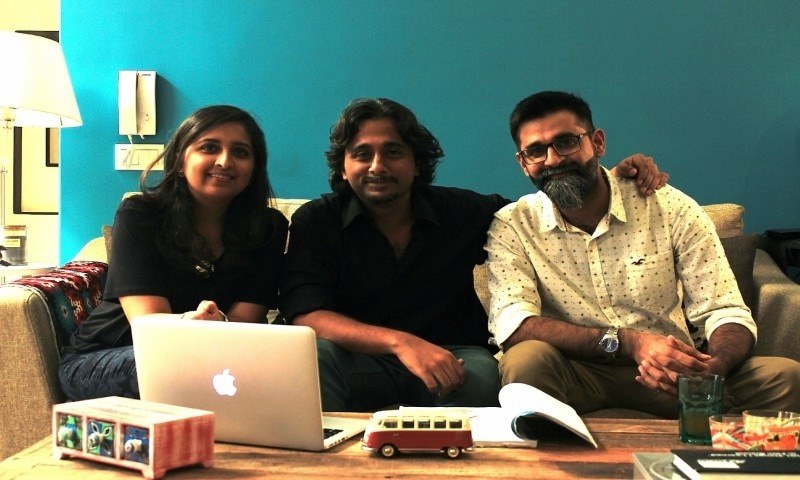 Chalay Thay Saath, starring Syra Shahroz and Kent S. Leung, has a unique story-line.

Pakistani cinema has come a long way - gone are the days when plots and storylines were predictable and cliche. With every new release, we see a new direction and a refreshing approach to storytelling. The trio of Umer Adil, Sheikh Shiraz Mubashir and Beenish Umer have come to the fore with their film titled Chalay Thay Saath (CTS); it has a unique storyline and is far from the usual run-of-the-mill subjects and we simply cannot wait!
Read: HIP Exclusive: Kent S. Leung talks about his Pakistani debut with Chalay Thay Saath
Chalay Thay Saath with an ensemble cast starring Syra Shahroz, Kent S. Leung, Behrooz Sabzwari, Mansha Pasha, Zhalay Sarhadi, Shamim Hilaly, Faris Khalid and Osama Tahir aims to bring to the viewers something new with its unique story-line and fresh treatment.
HIP sat down with the trio to discuss how they decided to make a movie together and how they've been friends since they were kids plus lots more...
How did you guys come up with the movie's concept?
Umer Adil- the director/producer of Chalay Thay Saath
First of all I would like to tell you that the title Chalay Thay Saath is actually fitting to us as we three began our journey as friends and ended up working on this film together. We have known each other since Kindergarten. Shiraz is successful; a business tycoon (laughs), and Beenish and I with our creative careers give this film a diversified team of producers.
Sheikh Shiraz Mubashir, the executive producer
Actually, Beenish and Umer were up to something and I also wanted to collaborate with them. So when Umer told me about the concept of the film and I pushed him to make it happen and from then we stuck to it. We have a data of thirty years (laughs) and we thought to incorporate some of it in this film. I must say it appears to be amazing and I had a great experience working with these guys. I am really new to this but it is all going well and I am sure people will love CTS when it hits the screens.
UA: It all started when my team and I did a few projects in Gilgit- Baltistan, more than ten years ago. I was totally mesmerized by the beauty of the region and its people. So when the oppurtunity of this film opened up, we met up with Atiya Zaidi a dear friend and a very respected writer and colleague and convinced her to write the script for us. She was really excited after listening to our ideas and thought to give it a shot!
Producer, Beenish Umer
Chalay Thay Saath is a story which revolves around a group of friends setting out on a journey together which turns out to be more than just a vacation for all of them; it becomes a journey of self discovery for each of them individually. This film is very close to our hearts we have worked hard for CTS to have its own identity. We have kept it very real. Our story is based on real incidents and the overall look and the feel is real too. It is a good mix of romance, comedy and drama so there is lots in store for the audiences.
Why did you decide to cast Syra and Kent for Chalay Thay Saath?
UA: Syra is a very talented actor and her career is at a rise. She has a great fan following and when we were developing the character of 'Resham' who is played by Syra, she completely fit the bill. We were lucky to rope her in.
BU: The camera loves Syra and she has really done a great job by uplifting the character she plays with her natural charm. Kent was really our knight in shining armour. He was great to work with, easygoing and friendly, goodlooking and willing to come for filming to Pakistan (smiles). We had a couple of people shortlisted for the role and then chose Kent as he was most befitting to the role.
What was his response when you offered him the role?
BU: Kent was excited since it was a prominent character in a film which was not Chinese or specifically for the Chinese audience. He was a little apprehensive about working in Pakistan but he is a good sport and had a good experience of working here.
What do you want to say about the current cinematic revival, how would CTS contribute to it?
UA: We have got phenomenal talent here and it is great to see more and more films coming up. The audience needs to support these films by stepping out and going to the cinema. That said the gap between foreign and local content is big, the competition is tough, but every film that comes out has a lot to contribute to the market and we hope to do that CTS as well.
Was there any thought of promoting Pakistan-China relations behind the making of CTS?
UA: To a major extent, our media highlights either Pakistan- US relationship or Pakistan-India and if there is something left to show, they focus on Pakistan- Afghanistan relations. We wanted to show a positive reality associated with our country, we have an age-old natural and political alignment with China and we should celebrate that. But CTS is not political in any way, it just hints towards emotional ties between the countries.
Since we know that Pakistan and China share a fraternal bond on which CTS is based, we have also come to know that Bollywood is also making a film called Tube light starring Salman Khan and a Chinese actress. What do you want to say about that?
UA: Yes we know about that, but we came up with the idea two years back (laughs). I think cinema audience and outreach is becoming more global. China is a huge market for south Asian content, and maybe that's the reason why producers are also working on diversified subject matter which caters to more than just their own country.
How did you decide the locations and how was the shoot schedule?
BU: The locations were already decided on recce and were chosen due to their relevance to the story. The shoots were very tough (laughs). We mostly had day shoots so we had to make an early start around 4 a.m. every day. The weather was unpredictable and we were also filming in Ramadan with a crew of 80 people. So yeah it was pretty hectic.
UA: We managed to pull off one of the longest spells in that region especially for urbanites like us who don't have much experience of living in mountains. Despite the regular hospital visits with some or the other crew member falling sick due to exposure to the sun, or the cold and rain, we managed pretty well.
SS: Also, while deciding the locations, we wanted that we promote our landscapes and natural beauty. Whenever we watch Bollywood movies, we often see Goa, Shimla and other renowned places which define India in a real sense. So we thought why not promote the beauty in our land.
What else would you like to share with our readers?
UA: CTS is different and as with any film, a lot of hard work has gone into it. It will definitely add a new flavor to the current cinematic trend in the country.
Read: Syra Shahroz's debut film 'Chalay Thay Saath' is about finding love
SS: This film brings out the softer side of Pakistan and its ties with China. It will serve as a milestone in the industry, I believe.