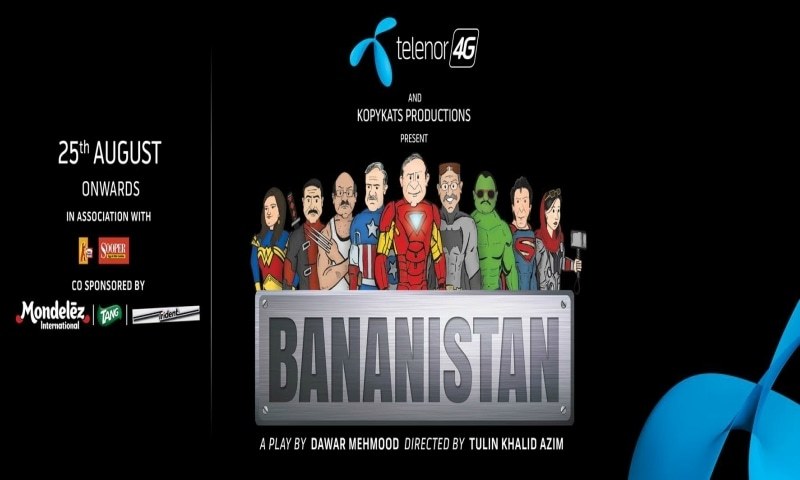 Let's see why Karachi is going bananas over Bananistan…

Following the success of Siachin, Angan Terha, Ponay 14 August and Sawa 14 August, KopyKats has now come up with Bananistan - an unmistakable yet captivating story. It's a mind boggling stage show which involves the eventual fate of a nation taking after Pakistan. The show takes us to the time of 2030 where a totally distinctive circumstance is seen - the nation around then is a direct inverse of what it is today.
It portrays a country under martial law and the main method for amusement is theater. Another stage show is going to start in which different government officials have participated. Bananistan is speaking to our lawmakers humorously. It is certain that the show keeps you entranced from starting till end.
Read: Ajoka Theatre is heading to destination 'India'
The play-inside a-play, titled "Mere Sultan Ka Fatima Gul Se Ishq e Mamnoon", is a worn out romantic tale and nothing more. In any case, it is one that raises a huge amount of comedic circumstances for the makers to investigate and that too, to such an extent that every one of the jokes they could consider, they dragged the play on for two hours.
Despite the fact that Dawar Mehmood (the brain behind the play), who plays Imran Khan, Shafqat Khan (Qaim Ali Shah) and Taha (Nawaz Sharif) do a brilliant mimic of the politicos, it is Mustafa Chaudhry who takes the show as Maulana Fazlur Rehman. From his rough voice to his joggers-over-shalwar kameez, his character was imaginatively investigated. Like us, on the off chance that you thought mimicry was the most minimized shared factor of amusement, Chaudhry will alter your opinion with his over-the-top, unbound, insane conduct.
Read: Of Conversations and Theatre: HIP talks to Almas Fidai
All in all, an everyday sold-out show of Bananistan is making everyone chuckle wildly until they no more can!