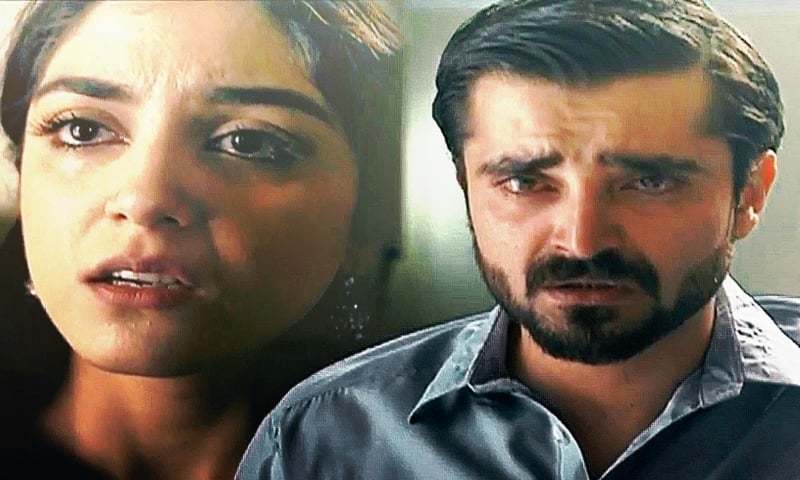 The chemistry seen between Manahil and Saluaddin in the first few episodes reignites in the final episode.

The show we all love to hate, our guilty pleasure has finally come to an end! As one sensible soul on Twitter stated, we would've been spared the misery (of over 30 episodes) if only Salahuddin (Hamza Ali Abbasi) had opened Mannu's (Maya Ali) door in the fourth episode. But he didn't, and Mann Mayal, which came to us as a blessing in the first few episodes, somehow ended up being something totally opposite. Manahil and Salauddin's painful love story, Jeena's unhealthy obsession with Salahuddin, Mikael's failure as a husband and father, near deaths, actual deaths and multiple heartbreaks led us to the final (quite predictable) moment of Mann Mayal.
The moment where Mannu hug it out and decide to put an end to their (and our) misery.
It's overwhelming to think Mann Mayal will no longer air on our television screens and wash away our Monday blues (those Jeena jokes provided much needed comic relief). The flashbacks of the previous episodes shown in the last episode really made the viewers nostalgic, reminding them of what this drama used to be. Something that started off with so much potential, got caught up in a mess in the middle, went completely off track by the end, but did it make up for all the mess in the last episode?
After killing off all the pestering characters, this last episode was fully focused on Saluaddin and Manahil's love story.
It was great to see Manahil take up her education once again as she finally understood that 'shaadi sabse zaroori cheez nahi hoti', but her mother (Saba Hameed), being a stereotypical desi mother, isn't satisfied with her daughter's decision. It's sad to see that even after seeing her daughter go through so much, she continues to ignore the importance of education. No one really supports Manahil's sane decision apart from her father.
Meanwhile, the chemistry between Manahil and Saluaddin, seen in the first few episodes, reignited in the final episode. The meaningful and emotional scene of Saluaddin not opening the door on Manahil was recreated, but this time it was Salahuddin who begged Mannu to open the door. We fell in love with Maya Ali's acting then and yesterday, we experienced those strong emotions yet again. It was therapeutic to see Manahil finally get her revenge on Salahudin for not letting her in, and as a result ruining her life.
Perhaps what made this episode intense were the flashbacks from initial episodes. These flashback reintroduced the long forgotten emotional connection we had once developed with Mann Mayal. But alas, the final episode could still not make up for the mess it created in the middle.
However, the recreation of the scenes on the balcony and at the door were definitely a winner and even if they didn't wash away the feeling of being exploited at the hands of a talented team - Haseeb Hasan, Sameera Fazal, Hamza Ali Abbasi, Talat Hussain, Maya Ali and many more - it was definitely heart touching and showed us what the drama once was and how far it has reached and hey, all's well that ends well!