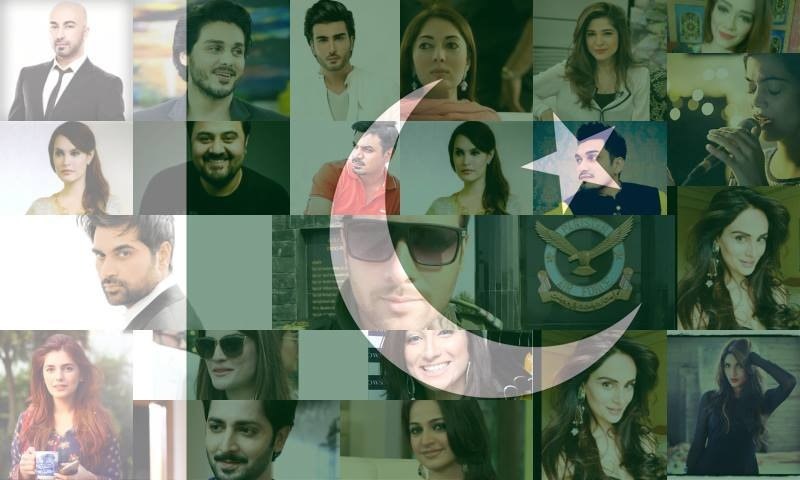 We ask celebrities about their all time favourite patriotic songs!

In a fast-moving country like Pakistan, which usually follows the concept of 'out of sight, out of mind' a little too religiously; there exist people whom one cannot forget due to all they have done for the nation. One such example is our armed forces. Whether it's battling all the odds of weather at some of the harshest border fronts in the world, or fighting a David VS Goliath battle against vicious enemies, this Defence Day serves as a reminder to solemnly remember all the sacrifices made for this nation.
Join us as we ask celebrities what their favourite patriotic songs are in remembrance of those who protect us during dark times.
1. Dil Dil Pakistan
Perhaps that one song that everyone knows and can't stop humming to, 'Dil Dil Pakistan' is the epitome of being Pakistani.
All time favourite of: Danish Taimoor
2. Aye Putar Hata Tey Nahi Wikde
A classic by the ethereal Noor Jehan, this song is enough to bring tears into anyone's eye who has ever thought of this nation as their own.
All time favourite of: Amna Malik, Imran Abbas, and Ahmed Ali Butt.
3. Chand Meri Zameen Phool Mera Watan
A classic that not a lot of people usually know of, this song remains an epitome of graceful lyrics and equally solemn remembrance.
All time favourite of: Sharmila Faruqi
4. Lab Pe Ati Hai Dua
A classic of Allama Iqbal, at no point in this nation's independence can one forget this beautiful poetry.
All time favourite of: Sara Haider
5. Aye Watan Ke Sajeelay Jawanon
A song that can still boost the morale of all in the nation, it reminds us of all that the armed forces have persevered and how Noor Jehan remembers them in her eternal vocals.
All time favourite of: Nadia Hussain, HSY, Anoushey Ashraf, Rose Mohammad, and Momina Mustehsan.
6. Aye Rah-e-Haq Ke Shaheedo
A track originally written as a tribute to the armed forces of Pakistan, decades ago, 'Aye Rah-e-Haq Ke Shaheedo' is the epitome of all that the nation has persevered. From conflict to war, the song narrates the story of all those who lost their lives in the name of this nation.
All time favourite of: Ahsan Khan
7. Aye Watan Pyare Watan
A song that is truly an ode to what this land stands for, our hearts go out whenever we hear this beautiful rendition.
All time favourite of: Humayun Saeed, Noor Bukhari, and Zhalay Sarhadi.
8. Sohni Dharti
A song that narrates the story of a land of gold, it reminds us of the beauty this land encapsulates within itself.
All time favourite of: Mehreen Syed
9. Wattan Ki Mitti
A song that evokes the smell of this fertile land, it reminds us of all that this nation has remained a witness to!
All time favourite of: Vasay Chauhdry and Ayesha Omar.
Aye Jawaan
A song that one remembers not just because of its lyrics and music, but also the fact that this was a patriotic staple at school celebrations throughout the 90s.
All time favourite of: Uzair Jaswal