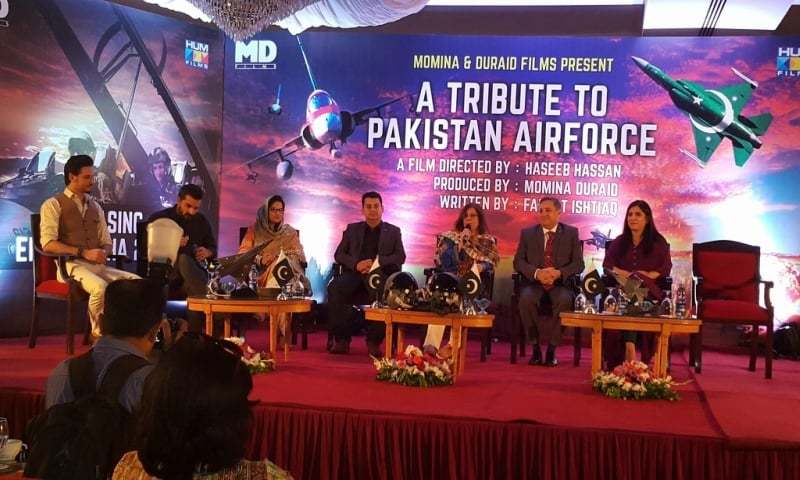 With Hamza Abbasi, Osman Khalid Butt, momina Duraid, and Haseeb Hassan, the project promises to be the next big thing!

Momina & Duraid Films held a press conference this Wednesday to announce their upcoming cinematic venture, Parwaz Hay Junoon that pays tribute to Pakistan Air Force for its commitment to protect and defend the freedom our nation stands for. This mega movie will be released on Eid-ul-Azha 2017, which also coincides with the Air Force Week thus making it the most appropriate time to acknowledge and express our gratitude to our fighter pilots and the entire force behind them for their dedicated service to the nation.
Producer of Parwaz Hay Junoon, Momina Duraid announced that MD Film's second cinematic venture will feature in leading roles the most sought after celebrities of Pakistan's entertainment industry, including heartthrobs Hamza Ali Abbasi and Osman Khalid Butt. The female lead of the movie is yet to be chosen and suggestions are invited from viewers as to whom they want to see opposite these talented male leads. Rumor has it that it might be the Bin Roye protagonist.
Read: We finally know who Mahira Khan's 'light-eyed' hero might be!
Other than the male leads, most of the supporting characters will be played by real time cadet, fighter pilots and air force personnel to enhance the authenticity of the project. This film will mark directorial debut of Haseeb Hasan who has previously mesmerized the television audiences with hit serials like Diyar-e-Dil and Mann Mayal. The script for Parwaz Hay Junoon is written by the famous novelist and drama writer Farhat Ishtiaq who has given us hit projects like Humsafar, Udaari and Bin Roye.

Shooting for the film will begin in October 2016. HUM Films will be the official distribution and marketing partner for the movie with HUM Network Limited as the official media partner. MD Films further said that a certain percentage of all profits made out of this film will be donated to the families of the martyrs of the Air Force.