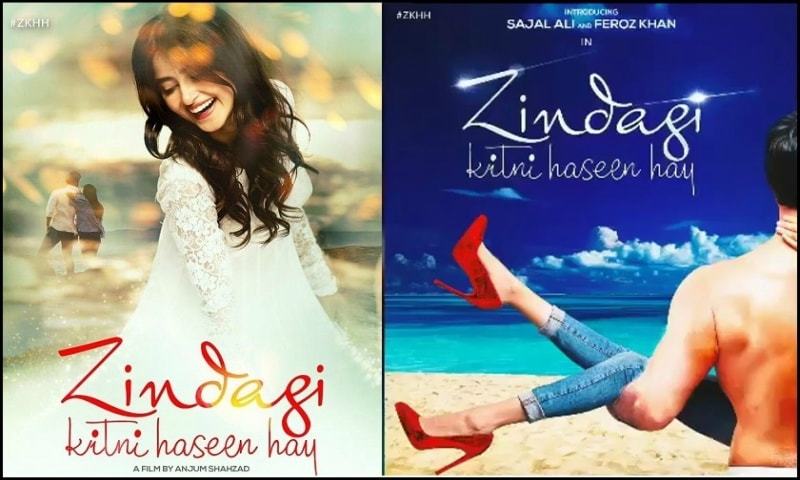 Is this the big screen debut, Feroze Khan and Sajal Ali, used to dream about?

HIP Rating: 3 out of 5
One of television's hottest on screen (and off screen) couples Sajal Ali and Feroze Khan have finally made their debut on the silver screen with one of the year's most awaited films. Directed by Anjum Shehzad under the banner of Geo Films & RC Films in association with Kingfisher Films, Zindagi Kitni Haseen Hai was premiered at Nueplex in a star studded affair last night. And let us tell you, the movie will take you on an emotional roller coaster ride!
So where do we begin - the direction by Anjum Shehzad is on point and we'd give him a 10/10 for that! The storyline is well knitted and the execution, brilliant. It is essentially about a couple (Sajal and Feroz) who are madly in love; the story revolves around the duo and the troubles their relationship faces. Feroze, who plays the role of Zain, is a struggling film maker who is trying to fulfill his father's dream. Sajal, on the other hand, plays the role of Mahira - a housewife who tries her level best to keep the household together as Zain tries to fulfill his goals.
The songs are almost picture perfect and blend well with the storyline. However, there's a tune after almost every 20-30 minutes and that makes it feel more like a musical - not that we minded!
Nevertheless, hats off to lead stars Sajal and Feroz who made the film shine bright. Nabeel Qureshi (Faraz) also looks amazing on screen and has done justice to his supporting role; Cheema Sahab, however, disappoints the audience due to some weak punch lines. The only good part was the song they gave importance to - "Neray Aa."
It could have been a very strong film given the storyline but a few statements were very disturbing where the public was stereotyped; it also felt at a lot of points that a lot of hatred was shown towards morning show hosts and dramas. However, the movie takes a very good turn after the interval. The fight scene of the hero and villain has a very Bollywood feel to it - but the song "Ali Ali" after that is a big win. Another positive is the conceptual idea (which could have been executed in a much better manner) - they related drowning to death & depression; it is believed that people suffering from depression and anxiety feel suffocated thus the feeling of drowning becomes relatable.
To conclude the review, we would say the cast did a great job; we welcome Sajal Ali, Feroze Khan & Nabeel Qureshi to the silver screen. With big arms! The roles did demand intense expressions and all of them did justice to their parts. It is a one-time good watch.