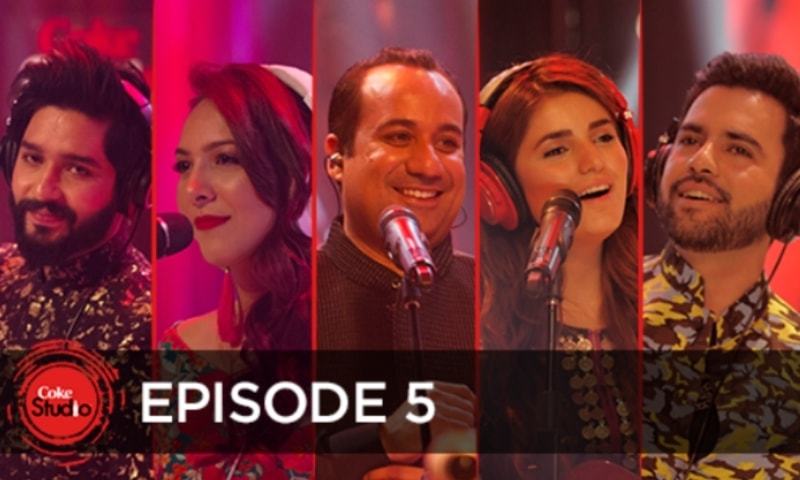 Read with HIP, as we explore whether episode 5 of Season 9 continues to dazzle the viewers.

While Pakistan's most renowned music platform, Coke Studio, comes to its few last episodes, the show seems to be garnering even more attention for its spellbinding fusions one after another after the success of last week's episode. However, does that still give us the bragging rights we happily enjoy with the latest episode on air? Read with HIP, as we explore whether episode 5 of Season 9 continues to dazzle the viewers.
Sadaa –Rahat Fateh Ali Khan
After the mesmerising rendition of 'Afreen Afreen', which became the bastion of this season, one of Pakistan's most celebrated vocalists, Rahat Fateh Ali Khan, is back with 'Sadaa'. The song, which works as vessel to a world of serenity, take the pure and powerful vocals of Khan and create a Dhamaal of epic proportions to honour Lal Shahbaz Qalandar. Composed by the dynastic singer, himself, the traditional rhythms of the Dholak perfectly juxtaposes with the western style of drums, bass and electric guitar, which provide the song with its signature fusion.
Jhalliya –Javed Bashir Masooma Anwar and Shahzad Nawaz
Perhaps that one song that you wouldn't mind crooning to due to its eccentric yet powerful style, 'Jhalliya' works as the perfect mix of soul and passion that you really need to hear today. Sung by the duo of Javed Bashir and Masooma Anwar, it works as an interesting mix of visibly deep vocals and and an equally enthralling set of tunes, which are surely the strengths of 'Jhalliya'. In an original composition by Faakhir Mehmood, the Sufi style of song –which has been a baseline of the platform, once again proves its importance in creating products of pure ingenuity.
Main Raasta –Momina Mustehsan and Junaid Khan
While everyone expected this season's standout vocalist, Momina Mustehsan, to sing yet another sweet mellifluous rendition after 'Afreen Afreen', the singer displayed her true sense of vocal range by collaborating with Junaid Khan for 'Main Raasta'. In what could only be defined as an explosive blend of a pop rock, this anthem is surely one for the books, thanks to a signature style given by Noori that surely screams with its heavy instrumental use. If there is one song from this season that by far excels from the rest on its sheer magnitude of rock it's this!
Shamaan Pai Gaiyaan/Kee Dam Da Bharosa –Rachel Viccaji and Kashif Ali
A song, which much like its other Punjabi predecessors, creates an invigorating aura that can truly only be attributed to the brilliance Coke Studio creates, 'Shamaan Pai Gaiyaan / Kee Dam Da Bharosa' is bizarrely interesting duet featuring Kashif Ali and Rachel Viccaji. In what originally was sung by Naseebo Lal, the first track in the song left us wanting for more. However, by the second track, we were wondering if this truly something to write home about. That being said, the high-energy of the song still manages to keep one elated. Add the slick bass solo by Amir Azhar–who also played the mandolin for the original track sung by Madam Noor Jehan in 1996, to the blend, and you have a song you surely need to listen to.