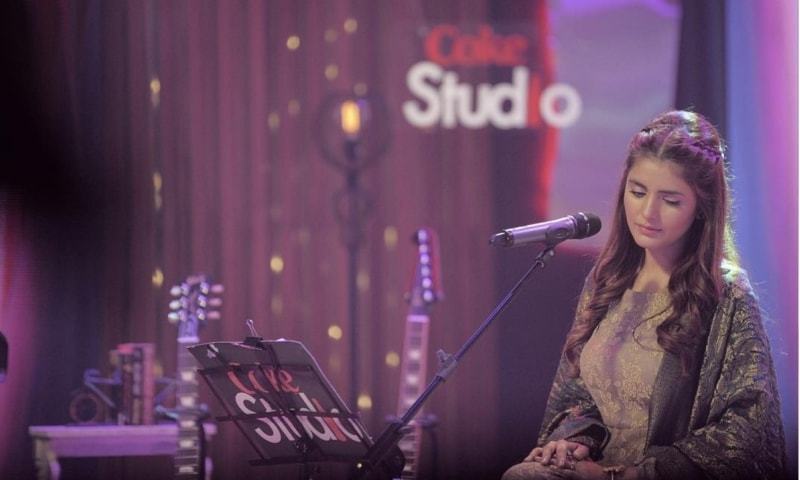 With one success after another, it surely seems that Pakistan's most coveted music platform, Coke Studio, has proved the sheer amount of talent this country holds in its artistes on a global scale. Whether it's the perfect tune or the deepest vocals, this year has been an epitome of pure musical pleasure, which the whole concept of the show is all about. And, taking the same concept of bliss forward, is none other than the breakout star of season 9, Momina Mustehsan.
Captivating her listeners with a duet written for the books with Rahat Fateh Ali Khan's rendition of 'Afreen Afreen', Mustehsan proved that talent knows no bounds or professions. The singer reveals all, as she talks about her experience with Coke Studio, what's in store for the future, and her overnight insane popularity.
HIP: How was your experience with Coke Studio? Who approached you for it?
Momina Mustehsan: It was great! I got to explore different genres and showcase something different in each song. Considering the freedom I got, I don't think anyone could have gotten a better debut than this (I'm extremely grateful). I got approached individually by each producer, and Strings was kind enough to make an exception for me by letting me be one of the only two artists (other being Rahat Fateh Ali Khan) to work with 3 producers this season.
HIP: Did you expect Afreen Afreen to become such a hit for you?
MM: Not at all! Afreen was a very last minute stint. I hadn't even gotten a single chance to rehearse with the band. The song itself is a classic and RFAK is a living legend, and with Faakhir's new beautiful arrangement, it had to do well. But for me to get such a huge response from it and get highlighted to this extent, I did not expect that.
HIP: How was your duet experience with Rahat Fateh Ali Khan?
MM: It was amazing! He is one of the most humble people I've ever come across. He was great moral support all through.
HIP: How have you been dealing with this instant popularity?
MM: Initially, it made me extremely uneasy and stressed. But I've started dealing with it. Fame isn't a bed of roses. Most people don't realize that, neither do they realize that my aim wasn't to get famous and I did not ask for this attention. I'm just like any other girl wanting to live a happy life, and decided to take an opportunity that I stumbled upon because of my passion for music.
HIP: People often bring in 'looks' as a reason for the fame; what do you have to say on that?
MM: It's sad and I wish I could deny it, but it's true. This isn't something that just applies to Pakistan, but it's what happens globally, maybe not to that big of an extent. If someone is trying to showcase their beauty, that's another thing. But we should try and judge people on the basis of what they're actually trying to put out there.
In my case, this was the first time I came on television. I already had a significant following before and I had done successful projects. I would not have made it to Coke Studio if I did not have the talent.
HIP: You have also sung for Bollywood. How was that experience?
MM: It was pretty interesting actually. It was entirely online and I recorded myself in New York.
HIP: Are there any projects coming soon? What's next for Momina?
MM: I'm working on a educational initiate that I have titled "Parhain Gain Tou Barhain Gae" to provide quality elementary education to kids deprived of schools for whatever reason. I'm also working on building solar powered coolers for vaccine transport, inspired by the work at a lab I interned at during college in New York. I am also trying to start the narrative against cyber bullying and how it is becoming a real problem in our lives.
As for music and showbiz, I have been flooded with offers from everywhere. But as I mentioned before, my aim was never fame. I would never take up a project just for the sake of attention. If I do further projects, I would want them to be substantial and with a positive impactful message.
HIP: What do you have to say to your fans?
MM: I would want to thank them from the bottom of my heart for giving me so much love and respect! And I would also want to encourage them to try and find something positive in everything and everyone, and appreciate any display of effort by anyone. We have to help build each other up!