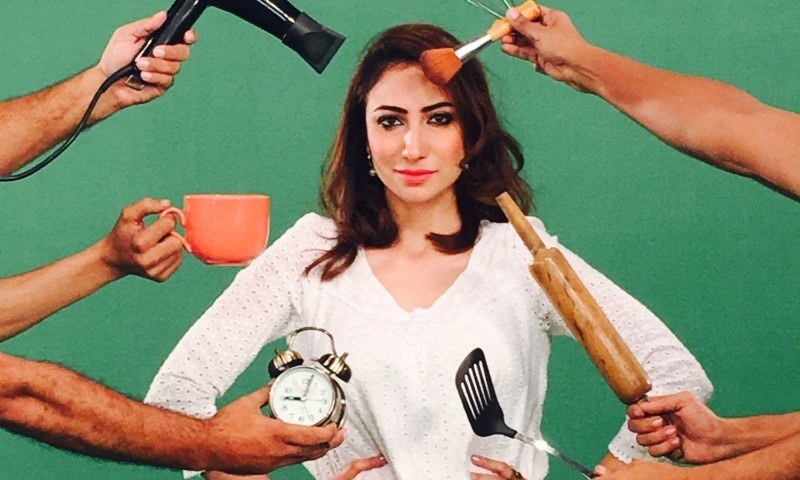 Chai Toast Aur Host sounds like a breath of fresh air in the morning show segment.

It's nine in the morning, your children (if you have any) have either left for school or are snoring happily after their early morning meltdown, and now you're free to have a cup of tea and gossip with your friends, but the issue is, some of them have probably gone back to sleep or are still asleep while others have left for their offices or gym class. What do you do in such circumstances when life suddenly feels meaningless and mundane?
You turn on your television, but at this weird hour, the only thing you can catch up on are the very many weddings on various morning shows or 'buy one get three free' offers being shoved down our throat through telemarketing. By this time you might just call it a day and snuggle back in your bed till it's time to make lunch. But wait a second, Dawn News plans to launch a brand new morning show on Monday and it's nothing like your regular morning show. At least, that's what the makers claim.
Read: HIP in 2015: Morning shows' ratings vs reality
Anoushey Ashraf, who was earlier hosting the morning show at HTV, has joined Dawn's Creative Head, Kiran Yazdani, to give us Chai, Tost Aur Host. We're already in love with the name. It reminds us of the many times we've spent slumbering with our friends with never ending stream of chai.
Why leave HTV and join Dawn News, was our first question to Anoushey Ashraf - the host of the show.
"I had a brilliant run with HTV and got a great audience to connect with there as well. But all good things must come to an end at some point. Maybe for other better things to begin?," Ashraf recounts. "HTV will always be dear to me but it's a new Dawn in my life and I'm excited about being on a bigger platform with a morning show here."
Dawn, on the other hand, chose Ashraf because she epitomizes the concept of their upcoming morning show, Kiran Yazdani - the project lead - explained.
"Anoushey is a versatile person, she has a girl next door persona, the quality to reach out to a stranger and make him or her feel comfortable within seconds," the Project Lead reveals. "She's well informed, well traveled, confident and well spoken. She's a perfect embodiment of a progressive woman of today who is strong from the outside and soft and loving from the inside."
The shows is being termed as 'not your usual morning show', how has Dawn's team achieved that?
"We're going to try hard to take our audience away from the stuff they've been seeing on TV for too many years. I feel most of them are exhausted with the content on television and they're ready for something new. We'll try and keep it upbeat and informative with a variety of different topics to appeal to everyone's taste. The idea is to create a show that would make you pause, refresh and kick start your mornings everyday! Fingerscrossed!" the VJ turned host explains and we couldn't agree more.
Read: Dawn Media Group enters films
The morning shows that we've been witnessing for the past few years do anything but 'kickstart' our day.
The project lead, Kiran Yazdani, also reveals how different the show is because that's the first question which popped in our minds - why should we watch a morning show if we've witnessed its clones time and again and are left scarred for life.
"It isn't a morning show really it is a live play. Which revolves around a life of a progressive woman, who is a homemaker, a working lady, an artist, a friend, an advice seeker and a light hearted person, a simple girl with large ambitions," Yazdani shares. "The show evolves as she interacts with people from different walks of life, the artists, the movers and shakers, the philosophers, the poets, the singers, quirky friends and curious neighbours. Each episode begins with a new morning,a new interaction and a new discovery in her life and for the audience watching the show."
While we trust in the girl Yazdani's referring to, can the masses also relate with Anoushey Ashraf and the kind of lifestyle or choices she advocates. Isn't she 'too cool' for our morning show target audience?
The host of the show doesn't believe in underestimating the intelligence of her audience, "Like I said earlier. Me and my team at Dawn genuinely feel Pakistani ladies are ready for something new in the morning show slot. I really think they'll respond to something if the content is good. Right now they're taking whatever we give them. Why not give them something cooler, more intelligent and hip? It's worth a shot. Never underestimate the intelligence of your audience."
Read: Sick of 'dhoom dharakka' in morning shows? Watch out for A-Plus' new show!
What exactly is the target audience of Dawn's latest morning show and are they ready for some toast or do they prefer their parathas a bit too much?
"Our target audience is essentially progressive housewives, homemakers. The research on our previous morning showed an interesting gap in our viewership, the rating ranged highest in segment A and segment D," shares Yazdani who comes from the Ad world and has a keen understanding of what the audience wants to see. "There was need to bridge that gap and go back to the drawing board, to create a show which was more relatable and inspired from trends of social media, the trends that you and I like to share. To repackage the concept of a morning show and educate our viewers through our story."
So, what's the story?
"The concept stems from the idea of a dining table, the table which is a housewife's domain and pride. A dining table that sets the mood of the people sitting around it, it is a common meeting point of the house and brings all the family members together, whether it is an important discussion or an everyday meal a dining table never fails to serve its hosts," the project lead explains the importance of a dining table in ones life and how an entire show can be constructed from it. "There was a need to show housewives that this dining table is not any table it is their playfield."
What gave birth to Chai, Toast Aur Host?
Yazdani tells us that with a low rating the morning show at Dawn was not doing well. She took this project as a challenge and worked on a concept that could perhaps break the monotony and possibly declutter the morning show rat race.
"We also pitched this concept to Asharays (home and kitchen experts). They agreed to spend three million in building a house (the set) for our show. I strongly believe that we underestimate our audience, we believe spending large amounts on flamboyant sets and elaborate staged weddings on morning shows sells and appeals to the house wives and women in general. Every channel is following the same formula. There is a need to pause, rethink and refresh the mindsets of our audience and offer them useful content packaged tastefully," she adds.
"This show is not only designed to break the morning show mindset but to explore the versatility of early hours of the day. This project is close to my heart and an attempt to break the barriers of the media/ channel industry, the team at Dawn is working hard to bring this show to life."
In the end, we asked Anoushey Ashraf's plans for the morning show?
"My plan is to give it my best shot. To work hard and to work on it with honesty. I'll bring my own personality to it but we'll keep it interactive enough to make sure the audience remains glued! About the first episode, let's just say we'll have a bunch of fun characters, me and lots of hassi mazaak! You've got to tune in to see."
Chai, Toast Aur Host sounds right up our alley and on days when we're fortunate enough to wake up by nine in the morning then we'll definitely tune in to Dawn News.