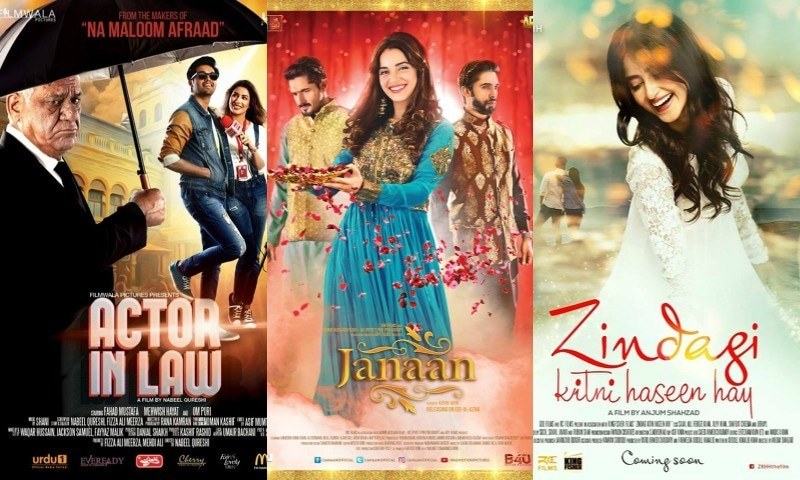 We speak with exhibitors, conduct polls, and read reviews to make a calculated guess.

Three Pakistani films - Janaan, Actor In Law, and Zindagi Kitni Haseen Hai - have been building up a storm for the past 15 days with their promotional activities and nationwide premieres (well, that is only true in Janaan's case). ARY films' Janaan was the most hyped film of the trio hands down with its effective social media strategies, Urdu1's Actor In Law ranked second as its star-studded cast travelled from Karachi to Multan, conducted press conferences and managed to create word of mouth, while Geo Films' Zindagi Kitni Haseen Hai did conduct on-ground promotional activities, it's promotional strategy was weak as compared to Janaan and Actor In Law.
Will this impact their box office figures? We'll have to wait and watch, but what we can do, is make a calculated guess, and for that we conducted polls and contacted exhibitors to know which film was doing best in terms of Advance booking.
"All three films are at par," Mohsin Yaseen, General Marketing Manager maintained prior to the premieres and even after the premieres when reviews started coming out fast and steady.
If we look at the reviews then Zindagi Kitni Haseen Hai is one tragic tale with outstanding performances by Feroze Khan, the child artist (Jibraiyl Ahmed Rajput), and brilliant direction by Anjum Shehzad. It is definitely a big leap (in the right direction) from his previous venture, Mah-e-Mir.
Read: In Focus: ZKHH is a one-time must watch
Janaan, directed by young filmmaker Azfer Jaffri, is a fun-filled extravaganza and its unique selling proposition (USP) is its humour and 'Pakistaniat' (as some film critics call it). The young cast - Ali Rehman KHan, Armeena Rana Khan, Bilal Ashraf, Usman Mukhtar, and Hania Aamir - won hearts, and so did Osman Khalid Butt's funny one-liners, but the production quality and budget was far less than Actor In Law and it showed.
Read: In Focus: Janaan invites you to the celebration of life
Actor In Law, starring Mehwish Hayat, Om Puri, and Fahad Mustafa in the lead, was being rated high due to all the star power, high budget and experience, and the post-premiere reviews back the assumption. It is no doubt the finest made film out of the three films releasing this Eid Ul Azha.
In short, Actor in Law is ranked first, Janaan second, and Zindagi Kitni Haseen Hai comes third if we look at the initial reviews.
Nadeem Mandviwalla, CEO of Mandviwalla Entertainment, reiterates the popular belief.
"Actor in Law's response is much better than other two films in terms of advance booking," he told HIP, but Mohsin Yaseen maintained that all three films are receiving similar response.
"40 to 50% tickets are booked for all three [Janaan, ZKHH, and Actor In Law]," Cinepax' GM maintains.
While the exhibitors seem divided - as one claims all three at our par and the other believes Actor in Law is more in demand at the ticket counter - we can look at the poll result to gauge the audience's interest.
According to the poll conducted on our site, Janaan is leading with 55.8% votes, Actor iN Law is close behind with 40.4% votes, and ZKHH lags behind with 3.9% votes. It is pertinent to note that both, Janaan and Actor In Law, had 50% votes each initially, but then Janaan crept ahead in the last few days, and that can be attributed to the team's very many hilarious snap stories, and Daewoo adventures.
The poll conducted on Twitter, however, tells a slightly different story and is in line with what Nadeem Mandviwalla stated.
The CEO of Mandviwalla Entertainment further clarified that they're maintaining a balance between the number of shows for all three films. Yaseen also seconded Mandviwalla, "All the films are getting same number of shows."
With no Bollywood film being allowed to screen this Eid and exhibitors deciding to give equal playing ground to every Pakistani film, it now goes down to the content of the three films and how powerful it is.