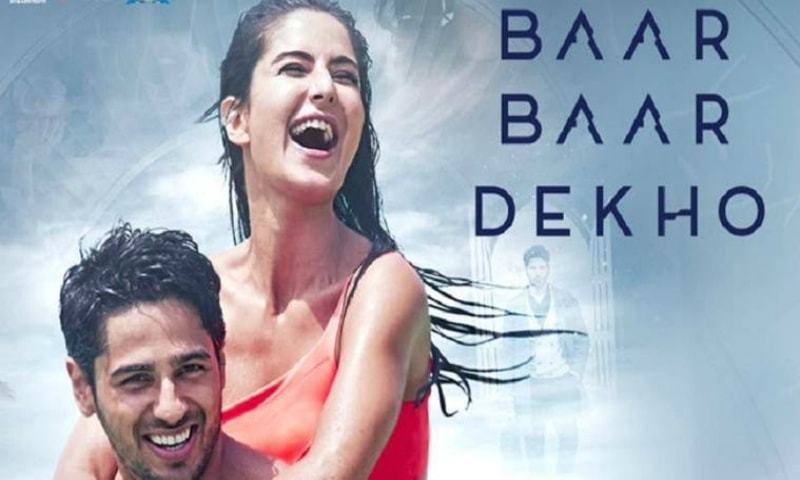 HIP Rating: 2 out of 5 Stars
What if one day you wake up and realise that you have the power to travel to your future and see a glimpse of how your life has turned out? Or, what if you travel to the future, only to find yourself in a state of distress and isolation? Would you want to do it or change the way things have been? The latter is exactly what Baar Baar Dekho is all about!
While the concept of seeing a glimpse of your future has been an eternal part of cinema and literature ever since Charles Dicken's A Christmas Carol, we find Bollywood's own touch on the story as we find the stringent mathematician Jai Varma (Sidharth Malhotra) waking up one day after a fight with his fiancée Diya Kapoor (Katrina Kaif) to find himself fast forwarded in time to their honeymoon in Thailand, as he tries to pick up the clues of his life and time travel.
Directed by Nitya Mehra under the Dharma Productions banner, Baar Baar Dekho is a story that in all of its conventional Bollywood style manages to create a hackneyed film, which leaves us wondering why we couldn't time travel out of the cinema. After all, how many times can the concept of hindsight be introduced until it becomes a redundant theme? The answer is just once.
Although the initial one-hour of the film, the confusion and the following regret over his mistakes that make him want to change his habits and return back to reality, keep us cheering for the actor, the second half takes away even the slightest tangent of interest from Baar Baar Dekho due to its overt use of science-fiction and absurd technology, that we really could have lived without. Whether it was the number of songs that remained nothing to write home about, or the hit and miss puns, the film grew on the viewer in its own annoying way. Believe us, 'Kaala Chashma' didn't help either!
That being said, the film does manage to salvage itself slightly, thanks to the acting prowess shown by Sidharth Malhotra, and the supporting cast of veteran actress, Sarika, and TV's Ram Kapoor, who still performs better in an underwhelming narrative in comparison to Katrina Kaif's limited acting. However, what we still do not get is how BBD managed to gross over 80+ lacs in its first day, in comparison to Akira's 2.5 crore approximate in its first week with all its flaws! We guess that's what celeb power is about!
For a film that aims at being an intellectual commentary on life and the way we deal with our loved ones, opportunities, and destiny, it ended up being a clichéd mess that wanted to spread a message of enjoying the smaller things in life, but in reality, just spread boredom. Baar Baar Dekho ends up becoming a problematic narrative instead of one made to solve the issues of the 21st century man.
If you still want to watch the film and see the drama of future VS present unfold on the silver screen, check out Baar Baar Dekho and tell us what you think!