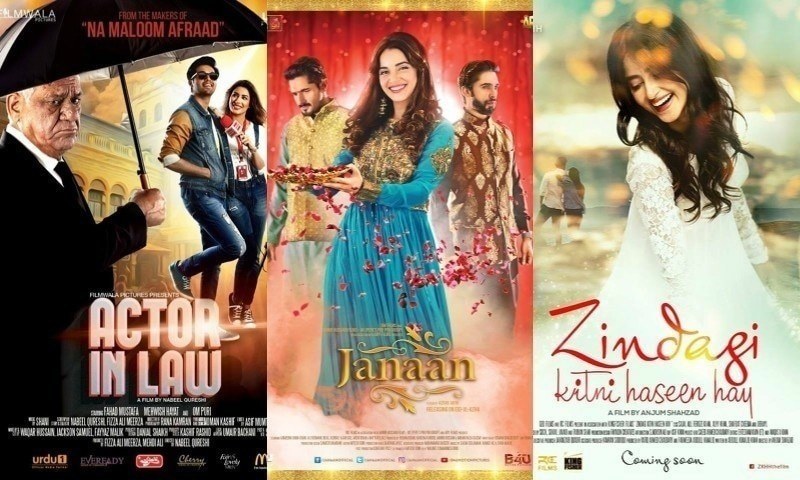 Was it Janaan, Zindagi Kitni Haseen Hai, or Actor In Law?

This Eid our cinemas offered an open playing field to Pakistani movies, and our talented directors and producers stood up to the task and gave us three entertaining movies. Be it Actor-in-law, Zindagi Kitni Haseen Hai or Janaan; we were spoiled for choice this Eid. But this also led the viewers to take the crucial decision of which movie to watch first?
Only Box Office reports can tell us which film did viewers prefer to watch this Eid.
Urdu 1's Actor In Law has been the first preference at many places, bagging Rs 3.95cr approx in two days and analysts predict that it will continue to earn over Rs 1cr daily though business might be a bit slow today as it is a normal working day but with weekend in tow, we can expect the numbers to escalate.
ARY Films' Janaan raked in Rs 2.4cr approx in two days and it will be interesting to see how it goes from here on since the film had an international release and was the most marketed one amongst the lot. Overall numbers are good as there was some tough competition from ZKHH and Actor In Law since both these films star well-known faces in front of the camera and behind the camera.
Geo Films' Zindagi Kitni Haseen Hai's demand at mass centers is quite decent but still looking at the Eid period, the business was very slow. The films is fluctuating between good shows - in terms of occupancy - and slow days, but the trend suggests, the film is getting back on track.
The movie raked in over 1.15cr approx which is quite a decent result given the competition and for a film which wasn't marketed as effectively as the other two.
In short, the Eid craze didn't really help the box office business as expected and we saw the lowest numbers on Eid in recent times with prime plexes like Atrium not going sold out.