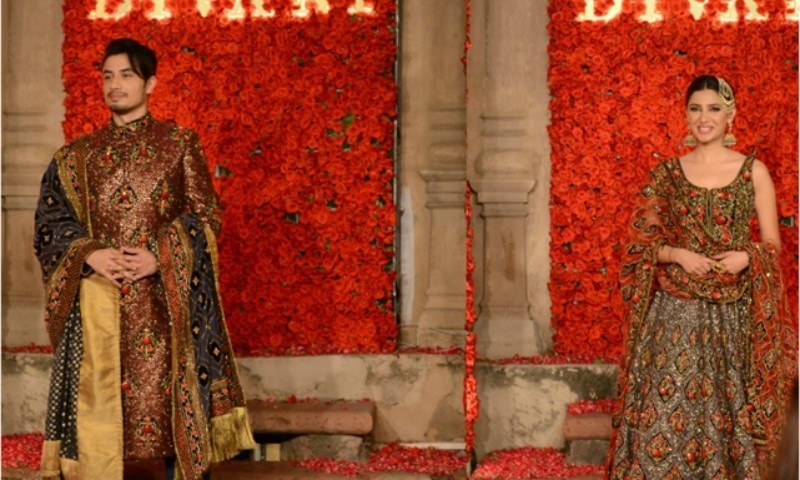 With Ali Zafar and Mahira Khan as showstoppers & Rahat Fateh Ali Khan singing live, this was a night to remember
Never before has a Thursday night been so exciting as the one we recently spent at Mian Yousuf Sallahuddin's Haveli, Barood Khana. The haveli opened its doors to the fashion savvy people from the fashion and entertainment industry and socialites who all gathered to witness the Bridal Couture 2016 collection titled Bagh-e-Bahar by Diva'ni Pakistan.
With HSY hosting the show, Rahat Fateh Ali Khan's live performance and Ali Zafar and Mahira Khan stopping the show; what else could one ask for?
Diva'ni was introduced to India in 2013 by Yash Raj Films and KBSH Private Limited, which is one of the largest heritage fashion houses based out of New Delhi. It is also the creative genius behind Anushka Sharma's bridal look in Sultan's song Sachi Muchi.
The fashion house launched its flagship store in Lahore this year which saw a lot of success, and now Diva'ni's exclusive preview of their new line was an event which no one wanted to miss.
Read on as we unveil all that took place at the event.
Festooned with rose petals and candles, Barood Khana looked like a picture of elegance as it played host to the likes of HSY, Kamiar Rokni, Gohar Rasheed, Ali Safina and Saira of SairaShakira. It only took two announcements from HSY to clear the walkways - which were placed in between the audience across the haveli - hence proving that holding small scale interactive showcases is so much better, in terms of punctuality and organisation, than frenzied bridal weeks. The audience has your full attention and you have full control over the way you want to exhibit your collection.
Read: DIVA'NI in Pakistan: Where fashion meets Bollywood
With everyone seated, the show finally began and HSY introduced the maestro, Rahat Fateh Ali Khan, who opened the show with a live performance and even sang our favourite song Afreen Afreen. The models entered one by one while Rahat continued to enthrall the audiences with his magical voice.
The collection of Bagh-e-Bahar, which was crafted across 300 days by 1,000 artists with more than 10 million stitches, was created keeping in mind the timeless Mughal Era and the golden period of the Royal Dynasties. The purpose of this show was to take patrons on a mystical journey through historic art movements.
Mehreen Syed, Hira Tareen, Rubya Chaudhry, Nooray Bhatti and Cybil Chowdhry managed to carry the clothes with a lot of grace even though the clothes were very heavy and there were times when one thought that the models might have a tough time walking in them.
Anam Malik deserves a special mention, who despite having lost her balance did not panic and decided to sit, making it look as if that was the actual plan.
Coming back to the show, the choreography by HSY was a job well done but then again how could it not be on point with HSY heading it. As we all know, the man is a perfectionist.The only issue which we had was with professional photographers who were blocking the view making it difficult for us to enjoy each and every piece.
Maybe they can reserve a separate pavilion for them next time around from where they can easily take pictures and not get disturbed by (or disturb) the guests. Despite the occasionally blocked views, we did manage to pick our five most favorite pieces from the Bagh-e-Bihar collection. Here, have a look.
The collection was a blend of beautiful colors brought together by the signature vintage rose motif hand-woven with sheer intricacy. Where we saw Mahira Khan clad in a regal ensemble, we also saw Mehreen Syed in an embellished jumpsuit and then you also had an off shoulder choli with angel eyes but where the women were being experimented upon, the men's collection left a lot to be desired and despite Ali Zafar being the showstopper, it was Hasnain Lehri who completely stole the show from him.
The highlight of the evening without any doubt was when Mahira Khan came out on Afreen Afreen being sung by Rahat Fateh Ali Khan. Mahira carried herself and the clothes with such grace and poise that it just made us fall madly in love with her all over again.
Mahira Khan's radiant smile just had everyone looking at her in complete awe. It was a perfect ending to a wonderful evening.
For those interested in Diva'ni's Bagh –e- Bahar collection, it will be on display at their flagship store on MM Alam road from 24th till 26th September.