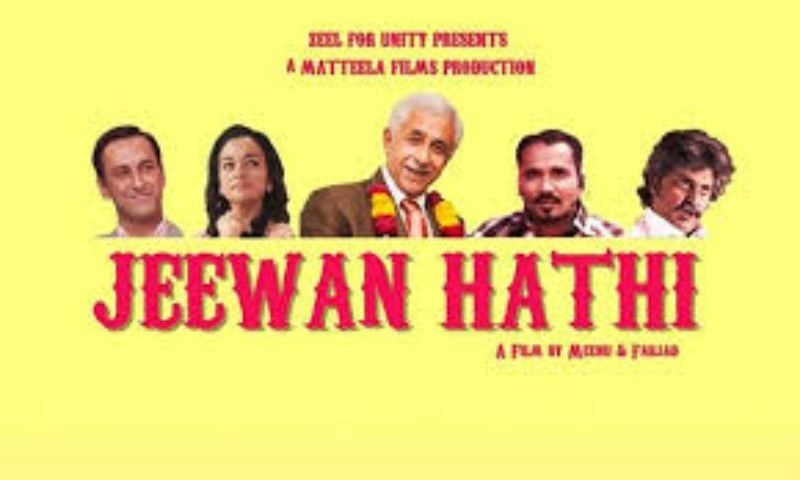 Jeevan Hathi is one of the six films from Zee Network's 'Zeal for Unity' project and stars Naseeruddin Shah and Hina Dilpazeer as husband and wife in the lead roles. The comedy film is directed by the Zinda Bhaag duo Farjad Nabi and Meenu Gaur and is written by Fasih Bari Khan and focuses on corruption and malpractice in our media industry in a comical way.
Jeevan Hathi besides Shah and Dilpazeer also stars Adnan Jaffar, Saifee Hassan, Nazarul Hasan and Kiran Tabeer.
Read: Meenu Gaur and Farjad Nabi on Zee's unity project and Jeevan Haathi
This is not the first time that Shah has acted in a Pakistani movie; he earlier appeared in Shoaib Mansoor's Khuda Kay Liye and Meenu Kaur and Farjad Nabi's Zinda Bhaag. This will mark Hina Dilpazeer's debut on the silver screen and knowing her comic timing, we're excited to say the least.
Besides Jeevan Hathi, other movies that were part of the Zeal For Unity festival included Mehreen Jabbar's Lala Begum, Sabiha Sumar's Chotay Shah, Siraj-ul-Haq's Mohabbat Ki Akhri Kahaani, Khalid Ahmed's Laloolal.com and Shahbaz Sumar's Khaemae Mein Matt Jhankain.
Read: Hina Dilpazeer on Meenu and Farjad's Jeevan Haathi
The movie was shot entirely in Karachi and has even been officially selected for the London Indian Film Festival, MISAFF Toronto Film Festival, and Jagran Film Festival this year. Jeevan Hathi is all set to release across Pakistan on 4TH November.