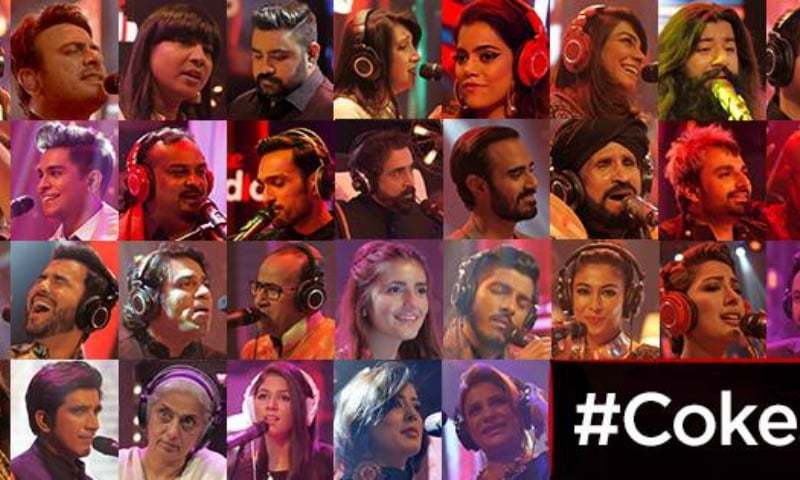 Giving us the best that season 9 had to offer, the final episode left us with a heart brimming with hope
In a journey that had been full of harmonious vocals, blissful melodies, and pure ethereal tunes, Coke studio season 9 remained a prime example of the strength of Pakistani music that truly knew no bounds. Whether it was giving life to old songs with new renditions or creating fusion of epic proportions, Pakistan's most revered music platform kept us busy when everything else only defined only a dystopian future. Thus, when the last episode of the season aired, we couldn't help but realise the sheer magnitude of influence the show had on the revival of Pakistani music.
Delving into the finale of Coke Studio Season 9, read with HIP as we review the tunes of this season for the very last time.
Sab Jag Soye –Quratulain Balouch and Shuja Haider
A melody etched into our minds due to the eternal magic of Noorjehan's voice, 'Chandni Raatein' remained a staple for anyone who has ever fallen in love. Now, Coke Studio has spun its own weave on the track with 'Sab Jag Soye'. In what is truly a well-crafted melody – the song is a duet performed by Quratulain Balouch and music director and vocalist, Shuja Haider in a completely distinct style. Whether it is the way QB sings in her signature panache, or the way Haider brings his timely yet strong, melodic vocals, the song made us realise we'd enjoy Malika-e-Tarannum's lyrics in any way possible, but of course, never comparing with the real one.
Tu Kuja Man Kuja –Shiraz Uppal and Rafaqat Ali Khan
A Qawwali that saw its inception in the durgahs of the Sufi inspired lands in the Subcontinent; 'Tu Kuja Man Kuja' is an ethereal piece that was made famous by none other than the magical maestro of Pakistan, Nusrat Fateh Ali Khan. Built upon a recurring structure that manages to encapsulate the listener from its inception, Rafaqat Ali Khan's effortless vocals creates a nostalgic aura that is hard to ignore. Accompanied by Shiraz Uppal, the song achieves a high amount of solitude and serenity that transcends the boundaries between Sufi music and fusion.
Nimma Nimma –Shani Arshad
With a plethora of rock and pop songs mushrooming in each season, only a few songs focus on its own identity, and Shani Arshad's 'Nimma Nimma' is the perfect example. Paying homage mother, the track perfectly captures the longing one has for those who we love unconditionally through thick and thin. Composed by the singer himself, the subtle lyrics penned by Sabir Zafar raise the song to its otherworldly essence. That being said, perhaps, a better structure of the song would have made it an ever better track to listen to, as the song does not fit the atmosphere the finale had created. However, if nothing else, do not miss this song for it epic flute solo, and lyrics that are sure to resonate with anyone reminiscing the bond between a child and their mother.
O Re –Noori
If there's one band this season, which we simply couldn't get enough of, it's Noori. While Begum Gul Bakaoli Sarfarosh has made waves ever since its release, their presence on Coke Studio only raised the bar of their lyrical prowess. Now, with 'O Re' –a pop-rock track that beautifully plays with nostalgia that the band has always provided, Noori has achieved an exquisite level of comfort that proved their mettle while remaining subtle. Written, composed, and performed by the band itself, the tune had actually been shelved in the duo's vault for a good 8 years! Offering a good amount of pure listening pleasure, the single might be a rare release that you surely don't want to miss out on.
Dil Kamla –Natasha Khan and Faakhir Mehmood
Although this season has remained a bastion of good music in the Coke Studio series, majority of tracks composed by singer-cum-music director Faakhir Mehmood have gotten slack from the listeners. However, it seems all of that has changed as 'Dil Kamla' finally silences the haters with its pure aural magic as the singer redeems himself. Bringing traditional Punjabi folk into the light in its own way, 'Dil Kamla' is an intricate collaboration performed by Natasha Khan and the 'Maahi Ve' singer. A single that is defined by its mellow tunes that could woo any romanticist, the fusion of classic pop rock and ethnic harmonies surely make this a song we love Faakhir for!
Rang –Rahat Fateh Ali Khan and Amjad Sabri
A song that perhaps remains the most important in all of Coke Studio history due to the presence of the biggest name in Qawwali to exist in Pakistan in the 21st century, Amjad Sabri, 'Rang' is as heart-wrenching as it gets. A song that was reportedly sung approximately 40 years ago in a traditional durgah style Qawwali at a shrine by two of Pakistan's maestros and the predecessors to their respected musical thrones, Ghulam Farid Sabri with Nusrat Fateh Ali Khan, the song still echoes in the mind of anyone who has even the slightest knowledge of the Sufi tradition in Pakistan.
Working on the ethereal Kalaam of Amir Khusro, 'Rang' has been the most anticipated performance of Coke Studio's Season 9 not just due to Sabri's cold-blooded murder, but also since it marked the return of two families in collaboration for one beautiful prose after almost four decades . Recorded in the first and only take, the song unfolds as a mesmerising rendition that welcomes the listener to step into the world of pure eternal music that could only be attributed to the magic of Sufi music. Creating an intricate yet equally powerful jugalbandi between Sabri and Khan, the track serves as the perfect farewell left by the slain Qawwal. Ready to ignite a never-ending passion towards music, this Kalaam with all of its raw, soulful inflections is surely something that should not be missed at all!