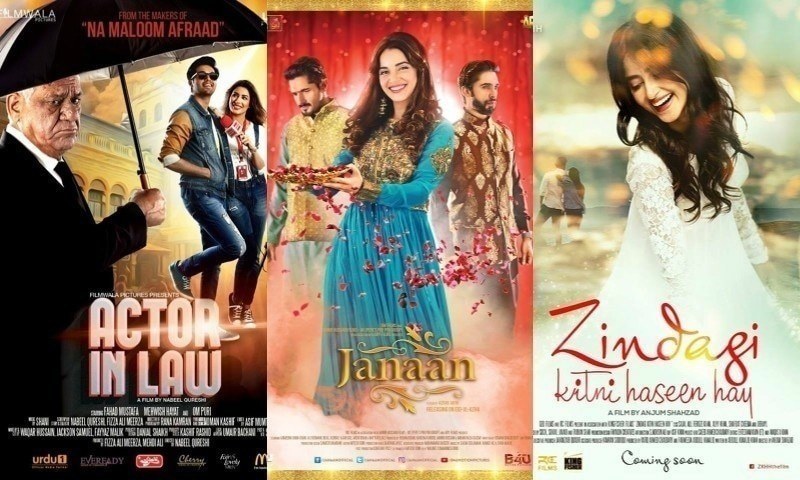 The surprise package on the box office is Ashir Azeem's Maalik.

This Eid we saw three Pakistani films ruling our cinema screens as there was no Indian or English film in sight, and our filmmakers had an open field to impress the eager audience. Box office figures suggest that Janaan, Zindagi Kitni Haseen Hai, and Actor In Law did a decent job in impressing the viewers.
Actor In Law led the way by earning Rs 17.3 crore in 13 days Janaan earned Rs 11.2 crore, and Zindagi Kitni Haseen Hai lagged behind with Rs 5.4 crore.
According to Box Office Detail, Actor in law will soon become the third Pakistani film to cross the Rs 20-crore mark after Waar and Jawani Phir Nahi Aani since it has resonated with the masses while Janaan is doing well in the metros and isn't earning much in small centres. ZKHH started off well during the Eid holidays but the film's business has slumped ever since.
Mandviwalla Entertainment's Chief Executive, Nadeem Mandviwalla, also told a similar story, "If we speak of occupancy from Friday 23rd to Sunday 25th then Actor In Law saw 90 to 95%, Janaan had 85 to 89% and ZKHH had 75 to 79% occupancy."
Read: Box office Report: Which film ruled the Eid weekend?
The next question naturally was if the exhibitors are thinking of reducing the number of shows or taking down ZKHH due to its relatively low numbers?
"No we don't plan to take down Zindagi Kitni Haseen Hai," he confirmed.
The chief executive also spoke about Ashir Azeem's Maalik which is doing well with 96 to 99% occupancy, but the high percentage can be attributed to the limited number of shows. Nevertheless, the figure suggests that people are interested in watching the film which was recently cleared for screening by the Sindh High Court.
Meanwhile, Janaan has broken Waar's record at the UK's box office, already made it to No.8 in the UK Box Office Top Ten (according to Reuters) and scored a congratulatory message from the producer of Waar, Dr. Hasan Waqas Rana.