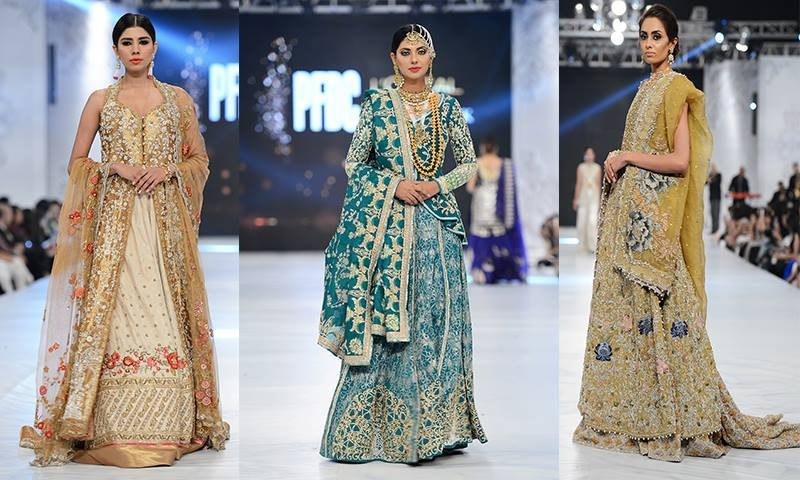 Celebrity showstoppers, rich wedding couture and more...

A nation where bridal fashion in all of its opulence and glamour remains an unfathomable obsession, it is up to the couturiers to set the benchmark each year for the ever-growing trousseau that every bride needs. And perfectly complimenting this idea, like always for the past six years now, is the PFDC L'Oréal Bridal Week in all of its three-day glory.
Starting the week with all of its usual rituals, the crème de la crème of the Pakistani society amalgamated in the royal city of Lahore for Day 1 of the much-anticipated annual showcase. From the high-society's finest lot, who of course manage to turn any event into pure PR gold, to the Anna Wintours of Pakistan – AKA the front row mix of top-notch fashion journalists, designers, and celebs, PLBW manages to attract the right crowd each time, and this time was no different! Thus, when the renowned Black Carpet was laid down, it wasn't hard to find the finest basking in the shining glory as they walked down in their couture.
Read: Line up for PLBW is out and it looks promising
However, amidst the jewel-toned venue, where the assimilation of fashion and vanity went hand-in-hand, the sheer magnitude of crowd gathered perhaps was enough to irk those who came to the event not to be pushed and mishandled through a tiny entrance. Albeit, a few hiccups always mark a fashion week in Pakistan, it came at a cost of destroyed Louis Vuitton shoes and couture gowns.
That being said, no apparent third world problem could hinder the sight for sore eyes on the ramp once the crowd settled. Showcasing five different brands/designers, PLBW Day 1 commenced with a bang, as an intricate juxtaposition of the sartorial and out-of-the-box.
HSY
In what was perhaps, the largest collection witnessed on the PLBW'16 runway, Hassan Sheheryar Yasin's 'The Kingdom', started Day 1 with its all of its svelte perfection.
Showcased through 4 different capsules, each depicting a different stage of a woman's life, the collection adorned in the gold toned palette, screamed HSY in all of its proportions. Titled Kalajar, Mahkar, Khat-e-Sahil, and Sherastan, respectively, each capsule brought its own tonal range, paying homage to what it represented.
From coming out into the world to embracing a woman's freedom, where she is fierce, independent, HSY's elements were enough to speak on their own in their transitional colours tones, which went from monochrome to graphic prints, and, ultimately, royal jacquards in sepia. Albeit, the collection seemed to be playing on the safer side when it came to womenswear; the menswear is where the designer shines.
With an array of some of the most-renowned names of the modeling world being a part of the capsules, leading television and film sister act, Mawra and Urwa Hocane also participated in HSY's showcase as showstoppers; the duo was a vision in gold.
Saniya Maskatiya
Sania Maskatiya's 'August Dream' felt like an ode to monsoon wedding, which could fill any hall with an aroma of freshly cut flowers and the scents of henna. Featuring the usual pastel colours with tinges of vibrancy, Maskatiya's collection focused on the juxtaposition of budding floral work with traditional tones, which we see the designer stick with each showcase. It's almost getting monotonous now and we'd really love to see Maskatiya step out of her comfort zone in bridal wear.
With Shahzad Noor as the showstopper, August Dream was a collection that had nothing to write home about, apart from the aptly designed silhouettes and cuts, which we already know Maskatiya is the best example of in Pakistan.
Read: The best of PLBW Day 3
Bank Alfalah Rising Talent Showcase
Each year, Bank Alfalah Rising Talent showcase brings the best of budding designers to the PLBW stage with the promise of promoting the talent the nation has. This year was no different, as 3 designers, Aamina Naeem, Maryam Amjad, and Sara Naqvi presented their distinct capsules.
While Naeem made her ramp debut at PFDC L'Oréal Paris Bridal Week 2016 with a collection titled 'Bourgeois Mistress de Haute Naissance' –which took its inspiration from the juxtaposition of an 18th century mistress Madame Pompadour and Madonna in shades of pink, Amjad's capsule titled 'Medusa' was seemingly inspired by the under-water serene life, and the jellyfish and its lifecycle in all of its marine inspired tones. However, it was Naqvi's collection 'Sarkash Rajkumari', portraying Naqvi's fascination with Pakistan's culture, history and heritage of the Mughal Era, which stole the show.
Although the Bank Alfalah showcase always manages to be the showcase that piques the interest of fashionistas, two out of the three capsules remained experimentations, which made us question whether the collections were created with the essence of PLBW in mind or rather as costumes made on the ordinary.
However, with the royal feel of Naqvi's collection, with its rich base fabrics like Indian tissue, tissue net and organza in the impeccable trousseau-increasing palette of classics gold, reds and maroons on A-line silhouettes, all could be forgiven as we've found our favourite budding designer with a big future.
Saira*Shakira
Perhaps, best known for their luxe 3D prints and silhouettes Saira Shakira's bridal collection for PFDC L'Oréal Paris Bridal Week 2016 titled 'Zohra' was an opulent dream in earthy tones. Embellished with intricate embroidery on soulful muted pastels with hints of crimson and gold, Saira Shakira's capsule may have played it safe, but it played so gracefully. 'Zohra' featured from long and flowy to sleek cuts, the collection, featuring both womenswear and menswear pieces, and simultaneously gave us vibrant visions of a sunny wedding. Add all of that up with one of Pakistan's leading music artist Hadiqa Kiani participating in the designer's showcase as a celebrity showstopper, and you had a capsule good to go.
Read: Urdu 1 partners with PLBW 2015
The House of Kamiar Rokni
As the saying goes, save the best for the last, and PLBW Day 1 did exactly that. With the finale of Day-1 inching in, the capsule presented by the design trio Kamiar Rokni, Tia Noon and Rehan Bashir under the banner of House of Kamiar Rokni, remained tirelessly flawless. Titled 'Heritage 2016', the collection, with its array of cuts, silhouettes, and experimental tones, showed the widest gamut of the designer label in all of its perfection.
Seemingly drawing its inspiration from the traditional Pakistani wedding, which often ranges days on an extent, Rokni's timeless capsule became a spectacle of sartorial fabrics. From heavy velvets to pure silks complemented with the back-breaking craftsmanship that integrates the traditional zardozi, resham and gotta (tinsel) with accents of pearl and crystal embroidery, Heritage 2016 presented every blushing bride's favourite trousseau ready to be taken.
Showcasing three distinct colour stories between the soft and pastel palette of pinks, aqua, and whites to an assortment of vibrant colors as an ode to the traditional Mayun and Mehndi colours, to the final shades of solid jewel, Rokni's versatile collection was a solution to finding inspiration for each day of the Pakistani wedding.