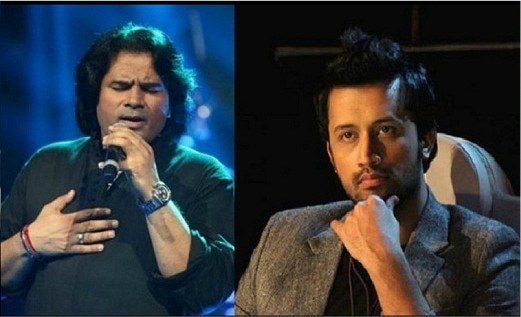 After Fawad Khan and Mahira Khan, our musicians face the repercussions of tension between India and Pakistan.
There were times when Pakistan refused to screen Indian films in its cinemas and India made anti-Pakistan films like Gadar, but then came a time when the two countries enjoyed a civil association which allowed our artists to work in Bollywood and Indian producers to screen their films in Pakistan. Things were looking good on the political front too as Indian Prime Minister Narendra Modi, in a goodwill gesture, even travelled to Lahore to attend Prime Minister Nawaz Sharif's granddaughter's wedding. But ever since the Uri attacks in Kashmir, which left 18 Indian military personnel dead, tension between the two countries have been on the rise and sadly it has trickled down to the entertainment industry.
Earlier, the Maharashtra Navnirman Sena (MNS) issued open threats to our artistes asking them to leave India within 48 hours. Things took a turn for worst when Indian channel, Zindagi, decided to take off Pakistani dramas to show solidarity with their armed forces. And now news is that Shafqat Amanat Ali and Atif Aslam have called off their concerts in India.
According to The Economic Times, at least two concerts by Ali and Aslam have been cancelled. The first concert was to be held at the Forum Mall in Bengaluru on 30th September featuring Shafqat Amanat Ali and the other one, featuring Atif Aslam, was to be held in Gurgaon on 15th October.
Read:Zee Zindagi bans Pakistani dramas, judges & contestants
The events were reportedly cancelled after Amanat's concert received a lot of backlash from the Vishwa Hindu Parisht (VHP) and Bajrang Dal. The parties met with the police commissioner of the city and asked him to not give permission for the event.
Besides Amanat, Aslam's concert also came under fire when members of Akhil Bhartiya Hindu Dal demanded the deputy commissioner of Gurgaon to call off the concert. The organizers then decided to postpone the concert keeping in mind the political situation.
The organizers, Radio Mirchi, maintain that Shafqat Amanat Ali's concert had been cancelled on 20th September, much before VHP and Bajrang Dal asked for a boycott. According to them even the sales of the ticket had been withdrawn.
Pakistani artists like Fawad Khan, Mahira Khan , Ali Zafar, Rahat Fateh Ali Khan, Shafqat Amanat Ali and Atif Aslam enjoy massive popularity in India but ever since the rise in tensions, our artistes are facing a lot of backlash in India.
An Indian journalist even wrote an open letter to Fawad Khan condemning him for not showing solidarity to the victims of the Uri attack and asked im to leave India.
Read:Raees & ADHM to release only if Fawad/Mahira scenes are deleted
Mahira Khan, who has been waiting for the release of her debut Indian film,Raees, alongside Shahrukh Khan for quite some time now, might have to wait a bit longer because MNS has demanded the makers to remove Pakistani artists' scenes from Raees and Ae Dil Hai Mushkil prior to the release.
Some celebrities in Bollywood such as Salman Khan, Saif Ali Khan, Varun Dhawan,Karan Johar and Anurag Kashyap, however, feel that banning Pakistani artists is not the solution to this crisis and it will not solve any problem for India.