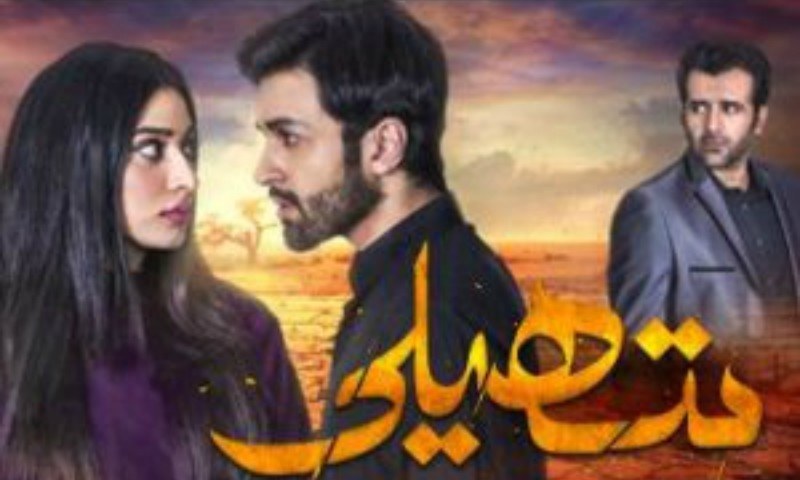 If you are Azfar Rehman's fan, his latest play Hatheli, starring the finest of the industry in completely different avatars, is a must watch. From its very first episode, the show manages to grab attention through an interesting storyline and remarkable characters.
Read: Experience with Tishnagi, not as 'colourful,' says Azfar Rehman
Penned down by Mustafa Hashmi and Mahwish Hassan, the storyline, though not quite different from what we've seen on television before, has depth and helps you connect with it through powerful dialogues.
The beginning of the episode introduces Rubina Ashraf, who plays Salman and Irfan's (Hassan Ahmed) caring mother. Her life revolves around her sons who are quite the opposite from one another. Irfan is prim and proper, has a job and spends time with his mother, while Salman is found lost in his artistic world. His room is a mess, he barely smiles and is always seen reading a book. In fact, his presence in the first episode without any dialogue, made us wonder if Rehman was playing a mute character. However, his dialogue in the preview of the next episode puts our confusion to rest.
A Pakistani neighbourhood is incomplete without a nosy neighbour who loves to drop in whenever possible. Playing that role is Kiran Tabeer's character Samia, who is in love with Irfan and keeps tabs on his whereabouts, but in a rather sweet way. Wanting to get close to Irfan, Samia is often found in his home being friendly with his mother and cooking whenever possible, as she believes a way to a man's heart is through his stomach. Although Samia's mother is unhappy about her frequent uninvited visits to Irfan's house, she hopes they will get Irfan's attention, making him send a marriage proposal. But while she has managed to win his mother, Irfan is not interested in her.
Read: Bin Roye Ansoo to replace Udaari soon
The only person Irfan has interests in is Zeb (Eshal Fayyaz), his friend's sister, who he falls in love with at first sight. Young Zeb is the protagonist of the show, living with her brother and a conservative bhabhi, who wants Zeb to marry her brother. With no parents around, Zeb is not only compelled to live with them but since they will be shifting to Dubai and are unwilling to take her along, she is also forced to marry soon. Hence, when Irfan sends a marriage proposal after their first encounter, Zeb willingly accepts, seeing it as a chance to escape the torment at home.
Their courtship makes us feel bad for Samia, who is heartbroken after finding out Irfan is marrying someone else. Her sudden seizure attack upon hearing the news, also makes the viewers' aware of her chronic disorder. Although the upcoming episode will feature Zeb, Irfan and Samia, we are more enthralled to know Salman and his past, which led to his introverted personality.
Besides it is always a delight to see a fine actress like Rubina on the screen, and to add to her prowess Mohsin Mirza brilliantly shot her every single scene. Another actor who managed to catch our attention with her powerful acting is Kiran. But whether Hatheli will manage to sustain our interest in its upcoming episodes, can only be told through time.
Watch Hatheli every Monday and Tuesday on Hum TV at 9:10 pm and share your thoughts with us.