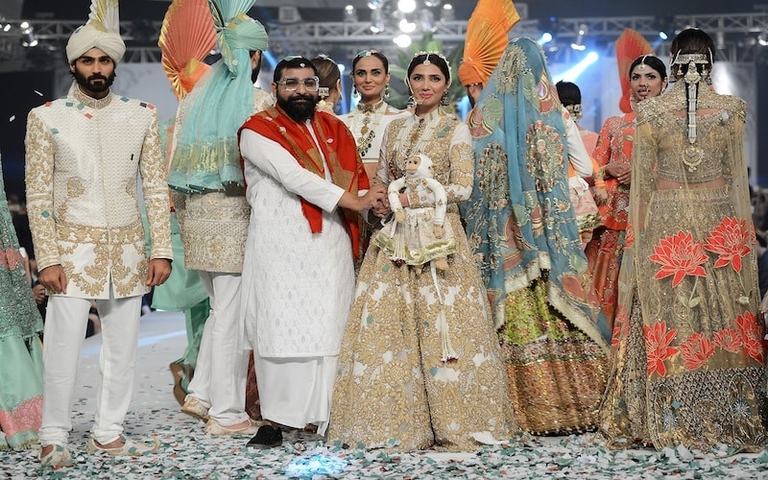 The final day of PFDC L'oreal Paris Bridal Week remained a mixed bag of sorts.

Colours, gossips, and couture; these three things play the largest role in making any fashion event a success. Whether it's bridal wear galore or a simple, solo showcase for the socialites, the more the glitter shines, the more the social butterflies flutter. Thus, when it was time for PFDC L'Oréal Bridal Week 2016's final day, the crème de la crème of the Pakistani high society gathered around in full swing to give this year's PLBW its final farewell.
Read: PLBW16 Day 1 Report: The House of Kamiar Rokni takes it home
In what started off three days ago as a celebration of the business of fashion – which Hasan Sheheyar Yasin kept warmly reminding the audience each day – the show gradually became an interesting amalgamation of the have and the have mores. From fashion's coveted frowers and those whose gowns and tuxedoes took more space than their petite body-frames, to the constant clashes over seats, PLBW Day 3 had its own kick of pure Pakistani style drama that like a river meandered over from the ramp and then crisscrossed through the plethora of attendees.
However, all that changed when HSY, for the final time this year, announced everyone to be seated as the immaculate show, featuring Nomi Ansari, Zara Shahjahan, Sonia Azhar, Republic by Omar Farooq, Muse, and Ali Xeeshan Theatre Studio, took off.
Nomi Ansari
If there is one designer who manages to weave magic in his couture showcase with a carnival-esque feel each year, it's Nomi Ansari. Whether it's the designer's choice of a festive tonal range, which often remains on the vibrant side, or his decision to mix colours and fabrics that otherwise may seem incompatible, Ansari creates perfection like no one else, and this year was no different.
Showcasing his bridal collection titled 'Marjaan' at PLBW, Ansari's collection took inspiration from its title, which in local lingua means sea coral. The perfect hues of pastel pinks juxtaposed with gold and silver embroidery gave way from the coral reefs to the kaleidoscopic capsule that utilized a plethora of colours, ranging from pinks and greens, to vibrant oranges and yellows. Albeit the mix of festive colours are Ansari's forte, the good to see, but hard to pull off couture makes us question its wearability; it surely isn't for the faint-hearted. That being said, with the mix of rich brocades, silks, chiffon and sheer tulle used to create traditional silhouettes like farshi ghararas and lehengas, Marjaan left us pleading for more.
Zara Shahjahan
A showcase that transported the event to the royal diwans of Lahore with its essence, Zara Shahjahan's 'Mehrunissa' perfectly reminded one of the Subcontinent's royal past, which brimmed with swirling courtesans on the beats of the tabla, as the nawab watched. Using a palette of soft blues and pinks, alongside deep reds and gold, Shahjahan's capsule invigorated the concept of pure tradition with cuts and silhouettes that revolved mostly around angarkhas, lehengas for the women, and sherwanis for the men. However, one can't help but say that the Lahore-based designer played it safe, not bringing anything new to the table which kind of felt like déjà vu. Perhaps, the concept of simplicity struck with the designer a little too much.
Sonia Azhar
While each year, there is one collection that stands out due to its intricacies, which makes it all worthwhile to have stayed in the cramped arena for hours; there are some that want to make you run for the door without looking back. Sonia Azhar's collection titled 'Hyponotism' did exactly that. In what started off as a showcase of simple designs incorporating florals with hues of white, turned into a prom-style collection of overwhelming gowns in pinks and reds, which only made us want to close our eyes in distress, while making us wonder when is enough going to be enough.
At the risk of sounding too harsh, 'Hypnotism' was a collection that even the front rowers couldn't stop giggling over. However, if there was any saving grace to the collection that marred its palette with shades of shocking pinks, it was actor Ahsan Khan as the showstopper, who made it all slightly bearable to watch.
Read: PLBW16 Day 2: Mahgul and Shamsha Hashwani uplift an otherwise dull show
Republic by Omar Farooq
A collection of menswear that we are always excited to watch, partly due to the Fawad Khan connection, and partly due to the designs, Republic's showcase at the PLBW 16 titled 'Damask' welcomed a mix of eastern and western cuts for the grooms in a very simple tonal range of monochromes, creams, golds, and reds, which left us underwhelmed to say the least.
In the plethora of designs seen at PLBW throughout the last five years of its existence, Republic's 2016 collection was a passable fluke, which we are sure the designer can do better than. That being said, the floral motif showcased in the capsule may become a popular trend in the near future.
MUSE
Making their debut at the PLBW 2016 stage, MUSE's collection titled 'A Love Like' focused on juxtaposing traditional crimsons seen at weddings with a palette of navy and creams, all with a touch of floral crowns and jasmine. However, the collection brought nothing new to the PLBW stage from the label. Amidst the redundant layers of sequined organzas, that we have seen time after time, the embellishments of threads and sequined churidars were the sole couture that caught our eye amidst an otherwise strictly adequate showcase.
Ali Xeeshan Theatre Studio
When it comes to bringing the theatrics of the proscenium arch to the fashion runway, all with a strong message on its side, there's only one man who can provide the best in his repertoire, and that's Ali Xeeshan. With a collection titled 'Khamoshi', based on child marriages that have marred the nation, the collection spoke volumes like no other over the three days of the show. In true sense, Khamoshi, which otherwise had a dark ethos in its message, managed to overwhelm the audience into a star-struck frenzy, and it wasn't just because of Mahira Khan as the showstopper or the 'jhamuri' stuffed monkeys most models held in their hands.
Primarily, narrating the need to bring our voices to power, the collection which focused on a colour palette of pastels, ivories, corals, greens and blues, provided a much-needed respite to Day 3. With couture that screamed signature Xeeshan with his use of raw silk with tilla-work, pasham, adda on top, the designer's juxtaposition of contemporary with the traditional created the best designs PLBW had to offer.
If we truly had to crown one designer as the king of Bridal Week, with his eccentric assortment of womenswear as well as pure embroidered menswear, it would be Ali Xeeshan.