"Bin Roye the film looked like a drama and now the drama looks like a film," someone tweeted and we couldn't agree more.

Bin Roye - is it a film or is it a drama?
This very question disturbed us throughout the 40 minutes of Bin Roye's first episode. We tried to shake off the feeling after the rather filmi beginning, but then Mahirah Khan - who essays the role of Saba in the drama serial - showed up in a glittering attire just to sight the moon! As soon as we got over her OTT wardrobe choice, came Rahat Fateh Ali Khan in all his 'Badlon Mein Jaise Koi Chaand' glory. Yes, the first episode of Bin Roye featured a proper song with background dancers et al.
It wasn't just the songs and the wardrobe, the entire look and sound of the drama serial resembled a film and the realness and depth of a Pakistani drama serial was found lacking. Let's hope in the coming episodes, either we get used to the dubbed voices and larger than life sets, expressions, and attires of all the actors - Mahirah Khan, Humayun Saeed, Zeba Bakhtiar, and Javed Sheikh - or they become more real.
Read: Of tears and melodrama: HIP goes behind the scenes of Bin Roye Ansoo
Apart from this little glitch that Bin Roye - the drama - looks more film like than Bin Roye - the movie - the first episode of HUM TV's latest drama serial was everything that we expected it to be. We could feel Saba's manic love for Irtiza (Humayun Saeed); it was their in her eyes, her every expression, and move. In fact, it is weird that Daadi and Irtiza aren't yet aware of her severe infatuation.
It is pertinent to mention that Khan, Saeed and the senior actress, who plays daadi, have internalized their roles to perfection because not once did we feel that this girl isn't Saba but Mahirah Khan.
The first episode, which looked like it was directed by Haissam Hussain, started with a very haunted Saba entering an equally haunted mansion with Irtiza. The place is draped in white sheets and Saman's happy voice echoes in Saba's head as she too slowly and gradually turns as white as the sheets covering every inch of the house. Eventually, she fails to take it anymore, runs backward to rid herself of the echoes, and boom we enter the past.
Here, we're introduced with every character. Saba is a spoilt brat. Irtiza is the mother hen - the eldest cousin. Zafar is Saba's annoying elder brother (although he looks younger than her). Saman, whose character will be played by Armeena Rana Khan, is actually Saba's sister but her parents - Javed Sheikh and Zeba Bakhtiar - gave her to Bakhtiar's brother when she was born. This leaves Bakhtiar with Saba and Zafar, and of course Irtiza, who is actually her late brother in law's son. He is Saba's confidante, tution teacher, sports teacher, and someone she can lean on whenever she's in trouble.
Read: Bin Roye: Bringing drama to the movies
This, more than welcoming behaviour by Irtiza, leads to Saba harboring all sorts of wrong ideas about him and one fine chand raat she's seen praying, "Jo mera hai woh mera hi rahay" [What is mine, should always remain mine].
In one short phrase, Farhat Ishtiaq reveals that Saba doesn't need Irtiza's approval for her feelings. She owns him completely. Unfortunately, he doesn't. To him, she's a little kid who likes to dance, with all her windows open so that people can peep in freely, even after a tiring chaand raat shopping spree!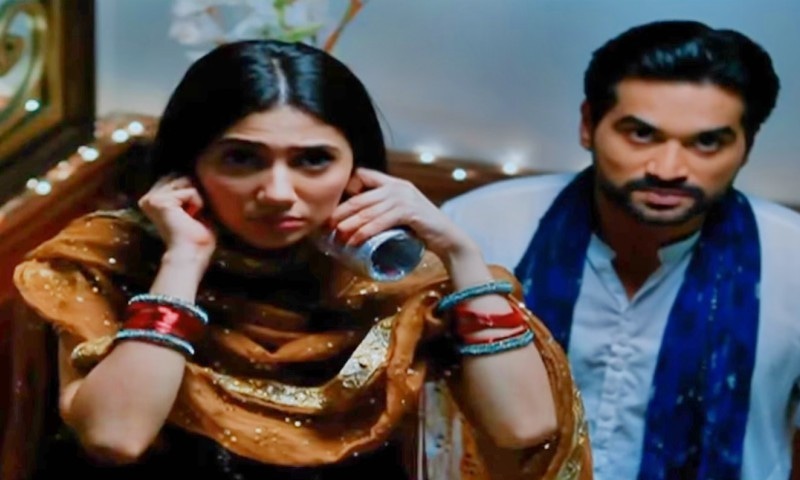 On the other hand, there is Saman (Armeen Rana Khan) who is mature, intelligent and a perfect match for Irtiza. We haven't been introduced to the adult self of Saman yet but as toddlers, Irtiza was seen caring about her and as per the promo of the next episode, he'll spend some quality time with her once he goes abroad and then they'll conveniently fall in love.
People, who've seen the film, might find themselves urging the story to move forward, but if you compare Bin Roye to our usual drama serials, the pace was quite right. The editing was crisp - too edgy at times - but at least there weren't any 'what in the world did just happen' moments. Every frame made perfect sense and the transition from present to past was quite smooth.
This is one drama serial we've all been waiting for; ever since rumours of Sanam Baloch, Mahirah Khan and Fawad Khan appearing in Farhat Ishtiaq's next drama serial came out. Well, the cast didn't quite remain the same and we have Saeed instead of Khan and Armeena in place of Baloch, but Mahira Khan plays Saba and that too quite convincingly.
Read: Bin Roye's 2nd teaser shows the younger side of Irtiza and Saba
It will be challenging for Momina Duraid - who took up the director's chair after Haissam Hussain and Sarmad Khoosat abandoned it midway - to retain the audience's interest because there cannot and will not be any cliffhangers at the end of every episode because everyone knows what's going to happen next thanks to Ishtiaq's novel and the film.
We haven't seen a pure romantic drama serial in a while so we'll surely follow Bin Roye and we have a feeling it will make our Sundays as special as Udaari did.