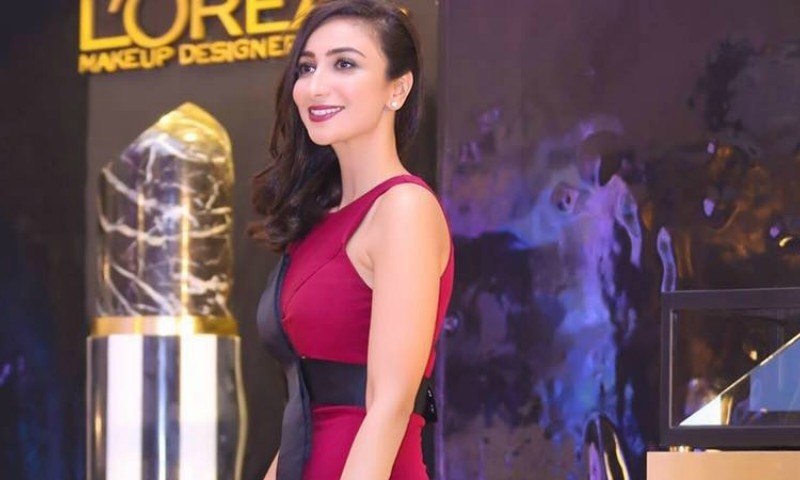 "You may be flying high and suddenly something happens and you land back where you started."

If there's one diva in Pakistan whose hosting abilities are enough to light up any show, whether live or on television with her 100 watt smile and equally amiable personality, it's Anoushey Ashraf. Whether it was seeing her looking super hot in an Elan ensemble at the recently held PFDC L'Oreal Bridal Couture Week (PLBW) or her at any given event, one cannot help but stay mesmerised. However, that's not the only reason why we decided to approach her as things like snakes and ladders kept running in our mind thanks to her recent Instagram post! Thus, we got down to discuss what it was all about and believe us, HIP has a big surprise for in store.
"I just try and do whatever I do with honesty and integrity," says Anoushey Ashraf as we discuss her most recent acting assignment, Saanp Seerhi with her. The title may lead you to believe that it's either a dark comedy or a dark thriller because that's what we thought too but Ashraf was quick to clarify that it is a family drama that revolves around the life of a female journalist.
Wait, didn't Ashraf play a journalist in Sadqay Tumharay as well? Yes, she did, and it seems Misbah Khalid - the director and producer of Saanp Seerhi - was also watching the last episode with us and when role of a journalist came up, she naturally thought of Anoushey Ashraf.
What is Saanp Seerhi all about? And what's the philosophy of the writer behind this rather unconventional title?
"Saanp Seerhi or Snakes and ladders - life is like that. You may be flying high and suddenly something happens and you land back where you started. There are lots of twists and turns in this play [hence the name]," explains Ashraf.
Read: Misbah Khalid's 'Dil Teray Naam' to air on Urdu 1
Co produced by Misbah Khalid and Mahrukh Anis of M&M Productions, the serial which is set to air on Express Entertainment, marks Ashraf's first proper acting assignment in a long time. The VJ turned actress recently shifted from HTV to Dawn News to host the latter's morning show, hence, we were left wondering if she was planning to bid farewell to hosting because, as we've often heard, being a morning show host is a full-time job.
"I just try and do whatever I do with honesty and integrity. Let's see the response I get from this first 'proper' role I'm working on after a long time," she said. "If it works, then I may take up a project at a time but nothing to take away too much of my energy from my hosting."
Anoushey Ashraf isn't leaving hosting as yet and that comes as a relief because arguably she's one (or perhaps the only) best host in Pakistan. She isn't rigid on red carpets. And we don't see her reading the script from teleprompters at events like many of our stars out there.
Coming back to Saanp Seerhi, it turns out, Ashraf has been a fan of Misbah Khalid's work for quite some time now.
"I have always loved Misbah Khalid's work. She's dedicated, patient and fun to work with. And everyone once in a while, I like to stir things up to make my own work exciting. So I had some time on my hands when she approached me and I said yes after understanding the role she offered me," Ashraf delves into what made her say yes to an acting assignment after a sabbatical.
Read: A new dawn for Anoushey Ashraf and Dawn News?
Further talking about her character, Ashraf said, "She's a young journalist. An idealist full of integrity who wants to change the way the system around her works! She takes on a big case and then you'll have to tune in to see what happens!"
There are some big names like Samina Peerzada, Sajid Hassan and Yasir Mazhar associated with the project as well and the all rounder couldn't be happier.
"Just to rub shoulders with them on the same screen is making me feel cool about myself these days!" she said. "The work environment is great. Everyone on the team is helpful and on certain days, if you're lucky, you get to sit down with the great Sajid Hassan and learn much about life's twists and turns and how beautiful it can be. Hope you enjoy it when it's on air!"
Read: Travel Diary: Anoushey Ashraf goes to Delhi, India
Khalid is a veteran director who has given us hits like Mere Pass Pass. Her most recent project was Pakeezah which didn't really resonate with the audience, but we know what Khalid is capable of so Saanp Seerhi does garner our attention especially since the script has been written under the supervision of Umera Ahmed who is known for her issue-based stories.