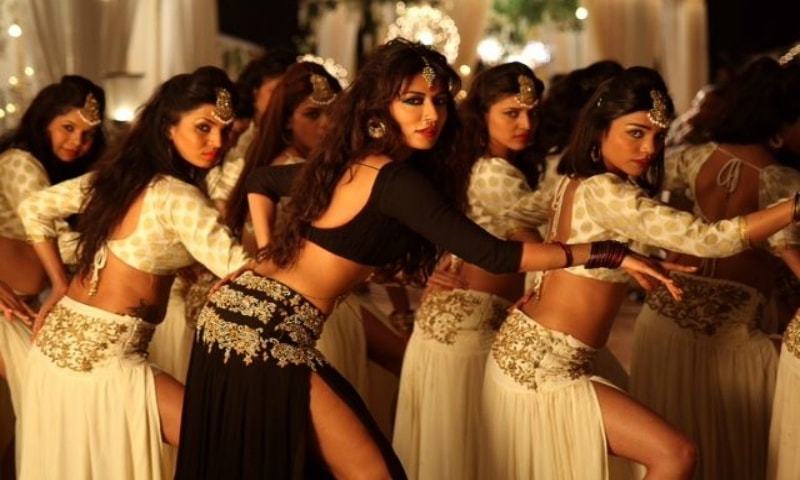 Psst, India, you can ban our artists but can't stop copying our songs!

At a time when the India-Pakistan conflict has actually turned into a full-fledged war on social media than anywhere else, it won't be wrong to say that celebrities have faced the brunt of it all. The whole banning fiasco seems to be fulfilling the wishes of all those who don't want the luminaries of the Subcontinent to progress. Whether it's the constant announcements by the MNS in India about kicking Pakistani talent out or Pakistan's reactionary decision to ban films from across the border, the end of a nascent camaraderie is all we can think of. However, if there is one thing we are thinking about even more than that, it's the death of Bollywood music! How you may ask? Well, HIP has all the answers.
An industry that today sees its proud roots in the blatant copying of songs from all across the world thrives on all it can replicate from Pakistani music. Don't believe us? Here's a small compilation of Pakistani songs you may have heard Indian actors crooning to.
Psst, hey Bollywood, here's us reminding you, how much you need us. #JustSaying
Aao Raja
Remember when changing the name of the title for the song didn't mean you hadn't copied everything inside it? Yeah, we do too. However, it seems Bollywood forgot that. Copying the whole of Naseebo Lal's 'Kundi Na Kharka' into an 'original' track isn't working anymore. We forgive you Bollywood, it's all okay.
Inspiration:
Original:
Main Na Jhoot Boloon
While it's still not all hunky-dory when you steal our beats, but seriously, did you just steal Pakistan Peoples Party's anthem, 'Teer Bija'? We get it that the song stars Amitabh Bachchan and you needed a song with some amazing ethnic beats to it, but you had so many more options! I mean, we know you love us so much and do not want to accept it, but come on!
Inspiration:
Original:
Tu Cheez Bari Hai Mast Mast
Yet another time you showed us that Bollywood has an undying love for Pakistani music but is too shy to tell us as is; you took Nusrat Fateh Ali Khan's 'Dum Mast Qalandar' and made it into a racy number? Kudos! Well, while our favourite maestro isn't in this world anymore and most likely turning in his grave over this insanity, you can take solace in the fact that you still have Rahat Fateh Ali Khan to copy from. So how about we forget the ban?
Inspiration:
Original:
---
Well, we thought three examples were enough at first, but then we realized that it never ended there. We all know how much you do love to listen to our music; it's really no surprise since it really is that great, so just get over the whole pretend drama already! We can still be friends and we like Bollywood music too.
No? Okay, here's some more then. As you can see we're a little feisty too, but, all for the sake of some great music.
---
Dil Dil Hindustan
We know you think you are the world's largest democracy and you make sure there are no stones unturned in telling the world that. But, can we please keep our favourite song to ourselves? We already gave you so much, could we have kept our vital signs crush to Pakistan? We needed it, but then you went on and made the monstrosity that is 'Dil Dil Hindustan'!
Inspiration:
Original:
Mera Piya Ghar Aya
Alright, we knew you would use the beauty of Madhuri Dixit against us in a '90s flashback but can we stop seeing our beloved NFAK being turned into random item songs? Or if not that, is the sanctity of Bulleh Shah not enough? We guess not since you ruined the song 'Bulleya' with Ae Dil Hai Mushkil's rendition of it. Well, we'll let bygones be bygones if you tell us why you took this beautiful song from us.
Inspiration:
Original:
Mera Dil Le Gayi Kamo Kidhar
Whenever we think we're done, you remind us that Bollywood is a gift that just keeps on giving. While we never truly liked the open sexism in Abrar-Ul-Haq's 'Billo De Ghar', it was enough to make us love the classic Pakistani pop that it entailed. But, then once again you ruined it by making it a song on 'Kamo', and that too with Sunny Deol dancing on it!
Inspiration:
Original:
Seriously, this guy?
Babia
Fine, we accept this wasn't Pakistan's proudest moment either since Sajjad Ali also stole his beat from Khaled's 'Didi', but we did it 20 years ago! It took you two decades to steal the song? That too, from Ali's version of 'Babia'? We won't blame you since we know imitation is the best form of flattery and we wholeheartedly accept it. But, next time, can we at least get a better song?
Inspiration:
Original:
Lambi Judai
Of course Bollywood, since you have already taken all of our favourite maestros and ruined their ethereal tracks, it wasn't a surprise when you wanted 'Lambi Judai', again after 25 years! That being said, since how is Reshma's voice something you'd juxtapose with an actor that even you don't like?
Inspiration:
Original:
Tumhari Nazron Mein Humne Dekha
I think we gave you enough examples, but this was a must! From the eternal vocals of Mallika-e-Tarannum Noor Jahan to the lackluster performance by Dharmendra, this was one song that still hurts us to listen to. But, look at us. We are your favourite neighbours, we gave you 'Humari Sanson Mein' and didn't even ask for it back up until Coke Studio!
Inspiration:
Original:
---
Still want to ban our artists? You can try, but let's cut to the chase. We both know you can't survive without us and we forgive you. Now come on back and let's make this world a peaceful place to live in!